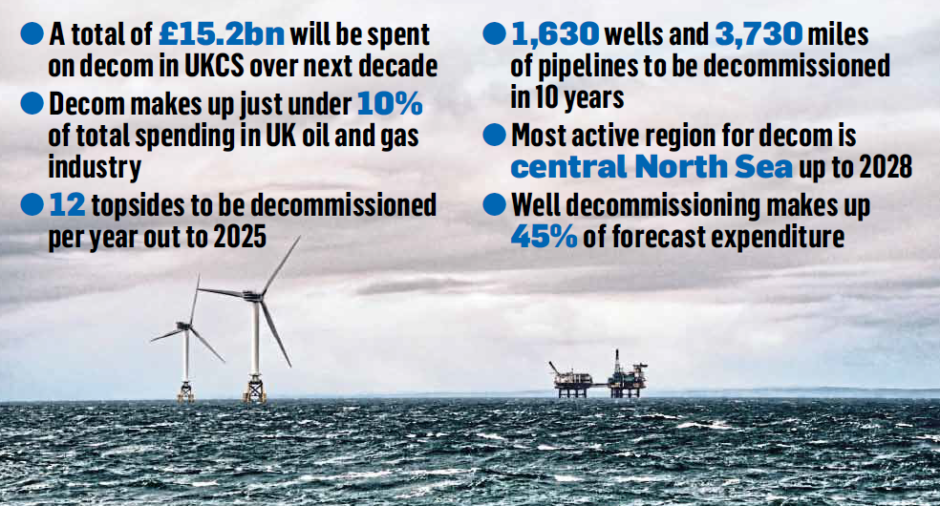 Learning how to decommission oilfields without demolishing the UK oil and gas industry's net-zero pledge is the "next big step", a new report said.
Joining forces with carbon capture, usage and storage (CCUS) project developers could go a long way to solving the conundrum, Oil and Gas UK (OGUK) said in its Decommissioning Insight report.
Building up experience and developing smart techniques to reduce the cost of decommissioning has been the sector's main quest in recent years.
But with the UK oil and gas industry obliged to show it has a role to play in the energy transition, reducing the carbon footprint of decommissioning activities has moved up the agenda.
Roadmap 2035 – the industry's action plan for the next 15 years – was rolled out in September at Offshore Europe.
It said that by 2035 the UK offshore oil and gas industry must be "on track" to become a net-zero emissions basin by 2050.
That means getting emissions as low as possible, with the remainder being mitigated through CCUS, for example.
The oil and gas industry is "fully supportive" of CCUS, which offers "significant opportunities to the UK's energy supply chain", OGUK said in its report.
It said the reuse of oil and gas infrastructure for CCUS would create "new value", but also help deliver the industry's "net zero" commitment.
The report flagged some challenges to developing CCUS, including the limited shelf life of older oil assets and "dormant periods" for infrastructure as it awaits CCUS projects.
Legislation affecting existing assets will also need to be considered if they are reused or transferred to a new legal jurisdiction.
Oil and gas companies are already actively involved in some early-stage CCUS projects in the UK.
Shell and Chrysaor are helping Pale Blue Dot with its Acorn scheme at St Fergus gas plant near Peterhead, while BP, Shell, Total and Equinor are among those backing a development in Teesside.
Mike Tholen, upstream policy director at OGUK, said the sector had done well to reduce decommissioning cost forecasts.
And he urged the sector to apply the same "collective determination and pioneering capabilities to deliver the net zero carbon challenge".
Mr Tholen added: "Decommissioning with the net zero agenda at the forefront of our minds will be the next big step. Where we lead, others will follow."
Recommended for you

UK government says lack of supply flexibility could leave gas system "exposed"