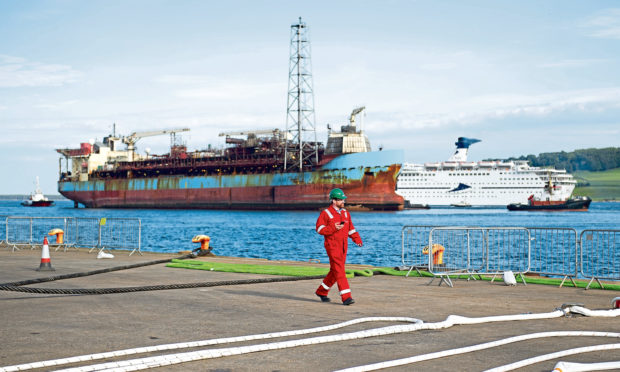 A Scottish politician said yesterday he was "deeply disappointed" that an oil production vessel which has sat in Dundee for a year will be dismantled in Norway.
North-east Labour MSP Lewis Macdonald claimed the scrapping of Shell's Curlew vessel could have been done at a number of Scottish locations "had they been given the opportunity to tender".
Mr Macdonald called for "action" to help Scottish yards win more North Sea oil and gas decommissioning work.
Shell said the decision to award the contract for the dismantling and recycling of Curlew to AF Gruppen had been made after an "extensive competitive tendering exercise".
A spokesman for Shell added: "Our priority is to recycle Curlew safely, responsibly and efficiently."
The Anglo-Dutch major originally intended to take Curlew to Turkey for scrapping once it had been cleaned up by Augean at Dundee port.
But Shell said in February that Augean had been unable to complete the clean-up as the Tayside facility did not have the required ship recycling facilities.
Shell said at the time that Curlew would no longer be taken to Turkey for dismantling, final cleaning and recycling.
AF Gruppen announced a week ago that it had won the contract and would dismantle Curlew at its Vats base in Rogaland, Norway.
AF's yard has carried out a number of major decommissioning jobs involving installations which served UK North Sea fields, including Murchison and Janice.
Though it doesn't have a drydock, the base benefits from having an ultra-deep water quay capable of hosting heavy lift crane vessels used for decommissioning jobs.
In parliament, Mr Macdonald asked Scottish Economy Secretary Fiona Hyslop to explain what steps ministers had taken to engage with Shell in an effort to keep Curlew in Scotland for scrapping.
Ms Hyslop said Energy Minister Paul Wheelhouse was "actively engaged" with all oil companies and that the oil and gas and energy transition strategic leadership group he chairs had been "looking at" the issue.
She added: "Clearly it is essential that we position ourselves to ensure that we can get those contracts that are available in relation to decommissioning and that is something that, as the relatively new economy secretary, I'm determined to do."
Shell has awarded major decommissioning contracts to UK yards in recent years, with Able in Teesside dismantling and recycling the Brent Delta and Bravo topsides.
The Scottish economy did also benefit from the clean-up work on Curlew in Dundee.
In September 2018, the Scottish Government backed Lerwick's candidacy for the construction of an ultra-deep water quay to help Scotland win more contracts for dismantling the largest oil platforms at Norway's expense.
Lerwick's Dales Voe base was chosen to dispose of Repsol Sinopec Resources UK's Buchan Alpha platform, while CNR International's Ninian North installation was slated to arrive there this year.
The Scottish Government has supported the enhancement of ports through its decommissioning challenge fund.
Both the Scottish and UK governments have committed funds to the National Decommissioning Centre in Aberdeenshire through the Aberdeen City Region Deal.
Responsibility for regulating offshore oil and gas decommissioning activity in Britain rests with the Offshore Petroleum Regulator for Environment and Decommissioning (Opred), which is part of the UK department for Business, Energy and Industrial Strategy.
The most expensive part of the decommissioning lifecycle is well plugging and abandonment, making up about half of the total, while onshore recycling and disposal makes up only a small percentage.