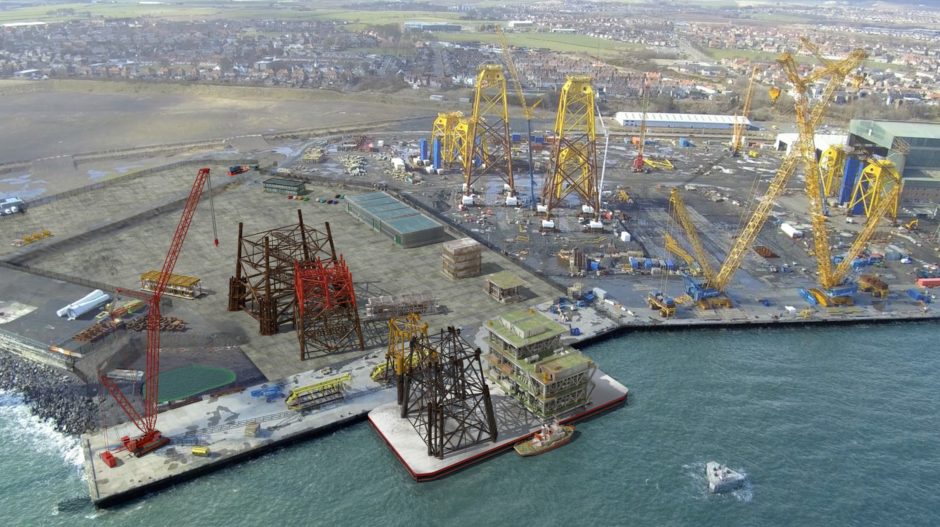 Plans to create an oilfield infrastructure dismantling facility in Fife have been given a six-figure boost by the Scottish Government.
A consortium led by Fife Council received £645,000 from the fourth round of the Decommissioning Challenge Fund (DCF) to pump into Energy Park Fife (EPF).
The council has been working with Scottish Enterprise and decommissioning firm CessCon Decom over the last two years to get the site ready for action.
The trio announced the signing of heads of terms in 2018 and construction work at EPF got under way last year.
Upgrades included extending the quayside and equipping it with a strengthened concrete laydown and dismantling area boasting water collection and treatment facilities.
CessCon chief executive Lee Hanlon told Energy Voice last month that his company had secured a waste management licence from the Scottish Environment Protection Agency (Sepa).
Mr Hanlon said the company was participating in multiple live tenders for decommissioning projects and was looking forward to welcoming oil kit to the yard for scrapping next year.
First Minister Nicola Sturgeon announced the launch of the DCF in 2017 to support infrastructure upgrades, supply chain developments, engineering work and other projects to boost Scotland's decommissioning industry.
It has made grant payments over about £12 million over the past three years.
Energy Minister Paul Wheelhouse said: "Support for the decommissioning sector – and wider energy industry – is more important now than it ever has been as we plan our strategic economic recovery from Covid-19.
"Our Energy Strategy recognises that decommissioning offers significant economic opportunities that can help Scottish industry capture global market opportunities through the export of knowledge and experience, and commits to enhancing the skills and capacity in Scotland.
"The Decommissioning Challenge Fund is crucial in supporting development in this growing industry and I am delighted with the range of projects funded this year. In addition to helping improve the skills of the Scottish workforce, it will support further growth opportunities for the Scottish supply chain."
Altany Craik, Fife Council's economy, tourism, strategic planning and transportation committee, said: "This award from the Decommissioning Challenge Fund presents a timely and significant economic boost for the regeneration of Methil and the wider Levenmouth and Mid-Fife areas. Alongside full match funding from the Scottish Government's Vacant and Derelict Land Fund, this will unlock entry into this key growth sector.
"Fife Council will continue to work alongside Scottish Enterprise and the commercial operator, CessCon Decom, to maximise local supply chain opportunities associated with the decommissioning activity at Energy Park Fife."
Meanwhile, Forfar and Dundee-based firm Oilfield Machinery was awarded £360,000 for heavy-lifting gear.