A contractor has downplayed an incident which took place during work to dismantle what's left of the Buchan Alpha oil rig after footage appeared online.
A video appears to show a worker attempting to run to safety when the structure he's cutting into with a blowtorch, in waters off Shetland, becomes detached and off-balance.
The video, shot at night, cuts off shortly afterwards.
John Boland, regional organiser of the Unite Union, branded the incident "dangerous", while his colleague Jake  Molloy of RMT said it was "shocking to see this kind of 'cowboy' approach to a major scope of work".
But Ocean Kinetics, the contractor behind the Buchan Alpha job, said "while the footage looks dramatic" the outcome was considered a possibility and "safely carried out".
No one was injured and the Health and Safety Executive (HSE) has not been involved.
The HSE has since stated that it is aware of the incident and that an "internal investigation is being conducted by the duty holder", a copy of which will be sent to the regulator once it is concluded.
A boat was also on standby while the work was carried out – and the procedure has been the subject of a "full safe working report" for the client, employees and other parties.
However, many commentators on the video, posted to the Rig Workers Rant Facebook page, remarked it was "scary stuff" and "dangerous work", with a third saying "take it HSE are on holiday?"
Mr Boland said: "It does appear to be Buchan Alpha, and a dangerous situation."
He echoed concerns highlighted recently by Shell and industry body Step Change in Safety about the risks of dismantling oil platforms.
Mr Boland added: "Luckily it appears no-one was injured in this incident, but as decommissioning increases, unless regulated health and safety measures are put in place, we will see injuries and fatalities."
Meanwhile Mr Molloy of RMT said it showed a "blatant error" in carrying out the work on water, rather than a drydock.
He added: "As regards risk assessments; the fact no one was killed or seriously injured is more to do with good fortune and sheer luck than it is good management."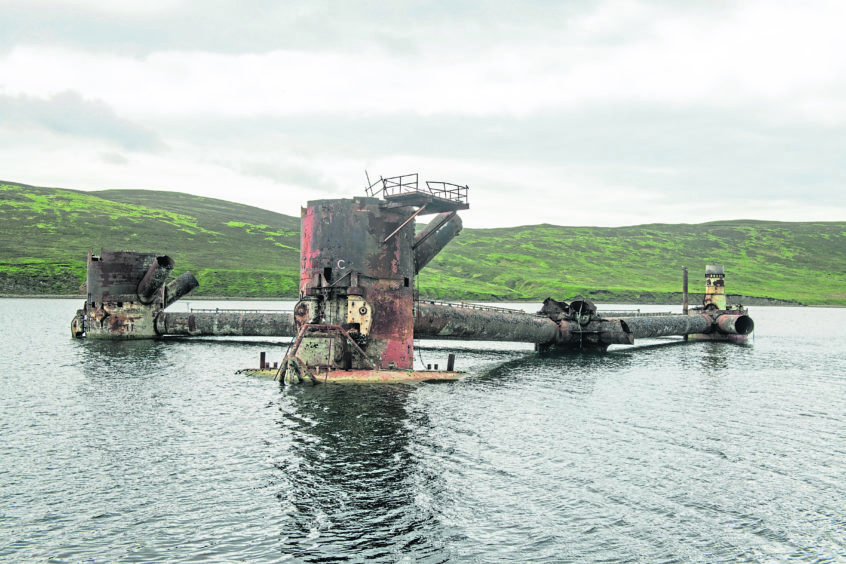 The Buchan Alpha oil rig was taken to the quay at Dales Voe, Lerwick, for decommissioning in 2017.
However, the hull section, with pontoons, broke away from its berth during a storm in November 2019, with Ocean Kinetics subsequently hired to retrieve it.
No action has been taken against any employees for the footage being leaked, Ocean Kinetics said.
It said the procedure, which involved a crane taking the weight on a brace while cutting took place, was "considered the safest approach" due to the way the structure was lying on the seabed.
Managing director John Henderson said: "This whole procedure was carried out after considerable planning with all parties involved.
"Safety was of course the number one driver, and while the video looks dramatic, the unfolding outcome was considered a possibility.
"A well thought out evacuation plan was in place and was safely carried out."
Last month Ocean Kinetics celebrated completion of the eight-week operation, which saw 3,500 tonnes of material removed. The heaviest single lift was 767 tonnes.