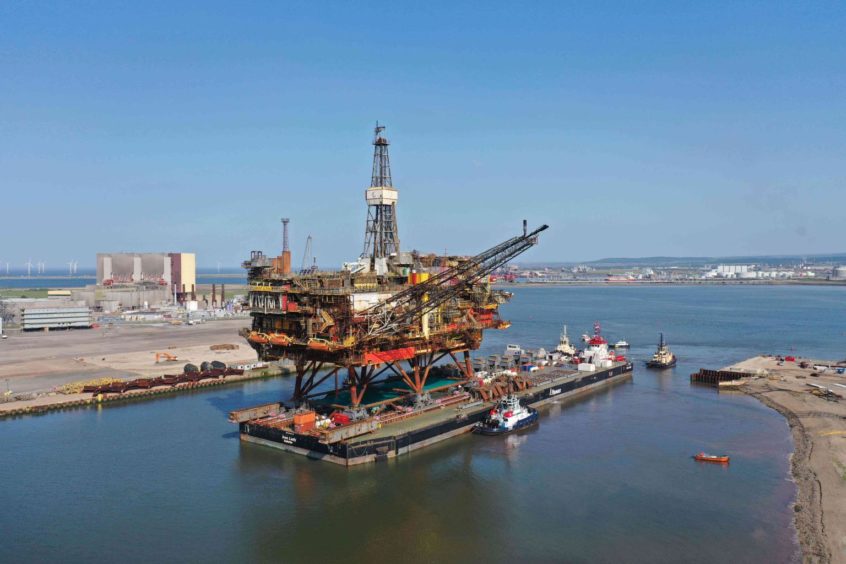 Frustrated by uncertainty around project schedules offshore UK, North Sea decommissioning firms are increasingly looking overseas for work, a sector chief said.
Will Rowley said companies were less confidence of work coming out of the North Sea and were keen to capture a larger chunk of the global oilfield dismantling cash pie.
Rowley, interim managing director of Decom North Sea (DNS), said the trade body was doing a lot of work to help its members understand which opportunities are out there.
DNS has been putting on virtual trade missions and webinar series  with operators in Brunei and Malaysia and is planning events with Petrobras, of Brazil, and the Federation of Indian Petroleum Industry.
Rowley said one of the big advantages of working in some these countries was "visibility".
Most of them have a dominant operator whether that's Petrobras, Petronas, of Malaysia, Brunei Shell Petroleum, or Pertamina in Indonesia.
According to Rowley, they have more robust plans, which creates a higher degree of confidence for supply chain firms that their investments will pay off in the form of contracts for decommissioning products and services.
Rowley said: "That's one of the reasons why, at DNS, we're doing a lot of work on internationalisation.
"We're getting a lot of requests from members who are struggling to see, and have lower confidence of, work coming out of the North Sea, so they want to work elsewhere."
Oil and Gas UK's virtual decommissioning conference later this month will have a "global dimension", providing details about opportunities in other hydrocarbon provinces, which appears to support Rowley's claim.
Clarity and transparency of project timelines could be much better on the UK Continental Shelf (UKCS), said Rowley.
He said uncertainty around timing was a "classic issue" of decommissioning and that the failure to solve it "scuppered" many companies' best laid plans, including some of the specialist decommissioning firms and consortiums which were launched in recent years.
The Oil and Gas Authority's (OGA's) Pathfinder portal provides frequently updated information on current and near-future UKCS decommissioning projects.
A lengthy list of under consideration or already approved decommissioning programmes is available on the UK Government's website.
Furthermore, the latest downcycle has resulted in North Sea companies calling time early on several fields — including Thistle, Heather and Dons (EnQuest) and Balmoral (Premier Oil) — because they were no longer economic.
All of this information is in the public domain. When added to the conversations that go on in private and the research bought at relative expense from consultancies, some could be forgiven for thinking there is plenty of intelligence out there.
Rowley said some of the aforementioned sources of information were more of a guide and that the schedules companies initially set out to achieve are rarely met.
Even when cessation of production has been announced, there is often a sizeable lag before physical decommissioning work gets under way as timelines "elongate".
And when companies say they're delaying a project by a year, the deferral often ends up lasting three or four, according to Rowley.
Rowley is encouraged that the OGA and the UK energy department are making positive noises about putting tighter restrictions in place to stop companies delaying decommissioning work without solid justification.
He believes that the regulators — and most operators – are trying to improve and get more robust on timings, but is realistic enough to know that changes will take time to bear fruit.
Another problem for suppliers, and wider industry, is that some draft decommissioning programmes have been awaiting approval for years.
For example, the plan for the Atlantic and Cromarty fields was submitted by BG Group, subsequently acquired by Shell, in 2016, but is still "under consideration".
Earlier this year, Shell said on Pathfinder that it was reviewing planned timelines for that project, and others, due to the ongoing Covid-19 pandemic.
Then, of course, there is the thorny and complex subject of the decommissioning programme for the Brent field's concrete gravity base structures and their contents.
Those plans were submitted in February 2017 and are still awaiting the rubber stamp amid challenges to the UK Government by other Ospar member countries who aren't happy about the prospect of the oil-sediment escaping into the sea as the GBSs collapse.
Rowley acknowledged some subjects and decisions were undeniably "difficult".
But he said it would "reflect better" on the industry and regulators if judgements were quicker and more transparent.
"If the UK has an ambition to be viewed as world class in decommissioning then we have to work a bit harder to show that," Rowley said.
The bottlenecks, delays and deferrals don't stop the industry producing expenditure forecasts over long periods in an effort to improve visibility.
In last year's decommissioning insight report, Oil and Gas UK (OGUK) predicted annual spend of £1.5 billion throughout the following decade.
In August, the organisation said forecasts for 2020 and 2021 had dropped due to the Covid-19 outbreak and crude price slump.
But it said expenditure would still exceed £1bn in both years, with an uptick expected in 2022.
Rowley said it would be "great" if those estimates turned out to be accurate, but he isn't overly optimistic.
Admittedly, his glass always seems "half empty", as he comes from a service sector background.
"I'd love to be proven wrong, but I think it will be lower than that £1bn," Rowley said, who took up his current role in March, following 11 years as vice president and group analyst for subsea specialist Acteon Group.
"I don't want to give the impression there's no work, because there is some. I just think the number will be smaller.
"Some of that is because plans have been put back and some of that has been blamed on Covid.
"That's fair in some instances, because some projects had practical challenges and Covid messed schedules around, but a number of operators have used it as an opportunity to defer activity to avoid spending the cash, for now."
Saying that certain projects have only been pushed out to 2022-23 and haven't gone away completely is of little consolation to suppliers who are struggling and need the work, said Rowley.
He is worried that some of those firms won't be around for another 12-15 months without support.
Rowley hopes the UK Government will provide some of the financial backing required to kick start some offshore decommissioning activity.
Some well P&A work and topside lifting has continued in the North Sea, including the Ninian Northern platform's removal by the Pioneering Spirit vessel and Petrodec's removal of the Pickerill A topside.
But it's the more lucrative well plugging and abandonment (P&A) campaigns that Rowley and the OGA want to see taking place.
The OGA has asked the Treasury to provide a £100 million loan to stimulate P&A work, which Stuart Payne, the regulator's decommissioning director, claimed last month during an interview with EV would create about 1,000 jobs.
DNS, meanwhile, requested the advanced payment of tax reliefs, which would have to be paid out anyway, to help fund projects next year.
At the time of writing, neither option has been given the green light, though DNS is "engaged" with the Treasury on its proposals.
But Rowley fears time is running out and wants to "see some action soon".
"Every week we get closer to Christmas and the first quarter of 2021, the likelihood of these proposals having a dramatic impact in the first half of next year diminishes," he said.
"These P&A campaigns take weeks, if not months, to work out. It's a real concern. The jobs being lost are significant and will increase in next few weeks."
Rowley said he worries about the redundancies and the associated risk of losing a lot of expertise and knowledge from the sector.
This knowhow will be required not only to capitalise on export opportunities, but also to stop technical, commercial and safety-related "mistakes" being repeated.
He lamented that industry as a whole often treats new projects in "isolation" and forgets to apply the lessons from previous jobs.
"Often we've been there, done that and got the tee-shirt, but industry just can't access its own history to make sure we don't repeat the same mistake," Rowley said.
Rowley said safety was a big focus and that a lot of working was "going on in the background" to improve systems.
He said DNS was involved in project aimed at "capturing lessons in a detailed and pragmatic way" and that fears of losing expertise from the sector was a driver for that.
Clearly, work is needed, as anyone who saw the recent footage of a worker cutting into the Buchan Alpha wreckage with a blowtorch at night will attest.
The engineer had to run to safety when the structure went off-balance.
DNS's Decom Offshore conference in August, William Lindsay, Shell's Brent decommissioning project director, warned too many people were "still getting hurt" during onshore dismantling projects.
Rowley is generally encouraged by the UK's onshore decommissioning capabilities and said facility operators were getting "slicker and smarter".
He is confident UK yards can compete with overseas rivals and win their fair share of work.
An ultra-deep-water quay would be "nice to have" in the UK, but isn't as much of a "blocker" as some people think, he said.
Rowley added: "We've got a lot of positive things as a sector. We've got a lot of great facilities, history, experience and expertise.
"Could we do things better? Yes we could. Could we improve facilities and put ourselves in a better position? Yes.
"There will always be things we could add. That doesn't mean we're bad, it just means we could be even better."
Recommended for you

Poorer nations face unrest as wealthy countries snap up fuel