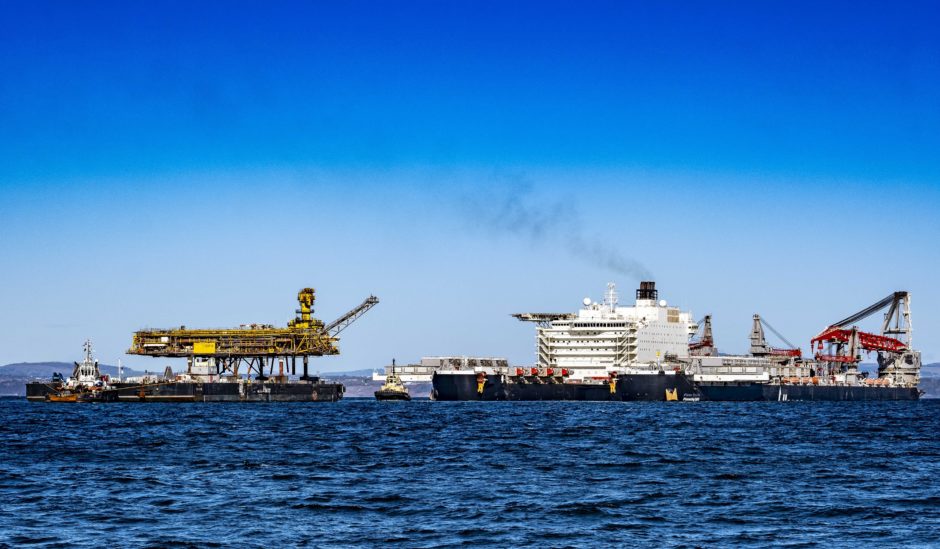 The world's largest construction vessel, Pioneering Spirit, completed a large-scale operation in the Firth of Forth on the weekend.
The vessel, owned by Allseas, transferred Spirit Energy's DP4 platform onto the Iron Lady barge in the Forth Estuary on Saturday, according to Forth Ports.
The following morning the Pioneering Spirit separated from the Iron Lady, then set off once more for the North Sea.
The Iron Lady was towed below the iconic Forth Bridge, then the Forth Road Bridge and finally under the Queensferry Crossing before berthing alongside at the Port of Rosyth.
It will remain moored in Rosyth for around six weeks before being towed back east along the river to the Energy Park Fife (EPF) in Methil, where its cargo will be unloaded for decommissioning.
In January, Spirit Energy said its DP3 and DP4 platforms would be taken from Morecambe Bay in the East Irish Sea to EPF this year for dismantling.
The onshore dismantling contract was won by Scottish firm CessCon Decom.
A spokesman for Allseas said the decision to moor the barge in Rosyth, rather than take it directly to Methil, was based on "other project commitments and operational efficiencies".
Spirit Energy said the stop-off was "part of the planned sequence of operations".
The exploration and production firm said project partners were waiting until the Pioneering Spirit delivered the identical DP3 platform to EPF in June.
At this point, both platforms can be loaded onto the quay at EPF back-to-back in a single operational window.
Spirit explained that the load-in from the barge to the dismantling site required self-propelled mechanical trailers (SPMTs) being hired and mobilised from the Netherlands.
Undertaking the load-ins back-to-back would cut down the length of time these SPMTs would need to be on-hire.
Rosyth was deemed a sensible location for the temporary mooring as it is more sheltered than Methil.
Stuart Wallace, chief operating officer at Forth Ports, which owns the quays at Rosyth and Methil, said: "It was a truly spectacular sight to see this huge vessel offloading its cargo within our deep water on the River Forth. Watching the Iron Lady towed safely into the Port of Rosyth by our tugs against the backdrop of all three Forth crossings was a bit special too.
"However, we can expect to see sights like these more and more frequently as oil and gas decommissioning projects from the North Sea and elsewhere gather momentum.
"The Forth Estuary's deep and sheltered water, alongside the decommissioning facilities on both the River Forth and River Tay, make this an ideal location for operations like this weekend's."