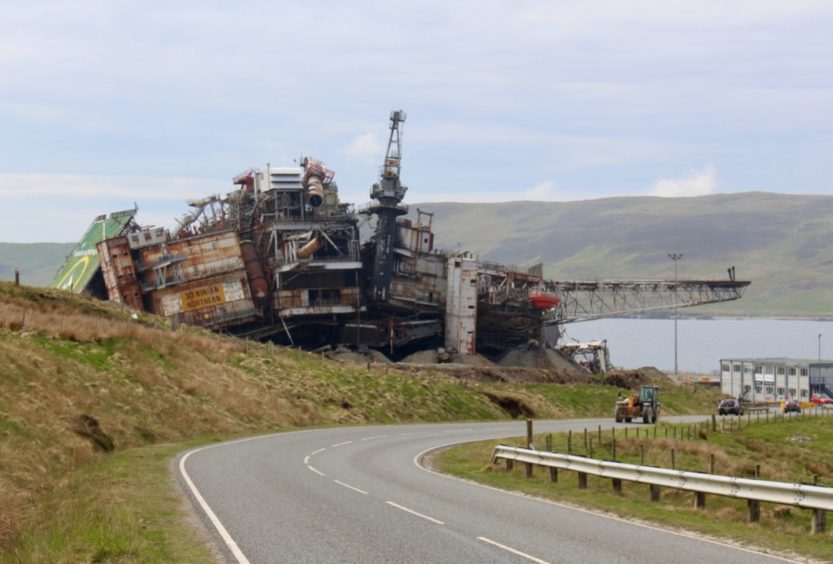 The legs of the Ninian Northern platform have been blown off using explosives as part of a decommissioning project at a yard in Lerwick, Shetland.
Photographs show the rusted wreckage of the topside modules sagging on top of mounds of earth and stone following the loud blast, which was conducted on Saturday.
A joint venture between waste, water and energy management services firm Veolia and logistics company Peterson is responsible for scrapping Ninian Northern.
Veolia said on Monday morning that the explosives job had been a "success".
The company said: "The Ninian platform is a 14,200 tonne steel structure that was delivered on eight legs, each around 30m high.
"To significantly reduce the risk to the workforce working at height, and allow for remote demolition via specialist excavators, extensive planning with key stakeholders over several months enabled the explosive collapse of the platform legs to bring the structure much closer to the ground."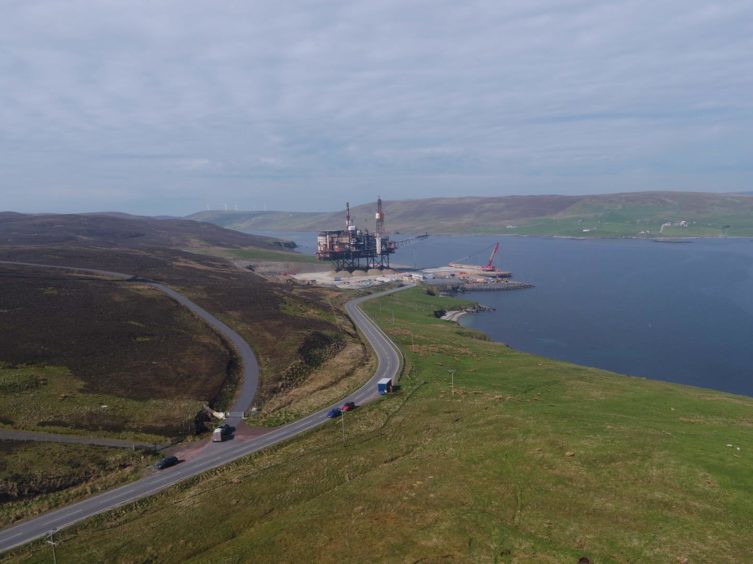 Ninian Northern arrived at the Dales Voe yard in August 2020 for dismantling by the Veolia-Peterson, which plans to recycle 97% of the materials.
The structure used to serve Canadian operator CNR International's Ninian field, 100 miles north-east of Shetland.
It was first installed in 1978 and started producing in 1980, reaching its peak of 90,000 barrels per day a year later.
CNR International halted production in 2017 and the platform was removed by Allsea's huge Pioneering Spirit vessel in a single lift operation last year.
On arrival in the voe, it was transferred to the Iron Lady barge before being slid onto a newly-built, heavy-duty concrete pad at Dales Voe.
Lerwick Port Authority (LPA) hailed the project as the port's biggest to date.
LPA invested £11.95 million in extending the Dales Voe quay in 2016 specifically to attract single-lift projects.
Port bosses hope to construct an ultra-deep water decommissioning facility there so that Lerwick can compete for more of the biggest platform dismantling jobs.
Other platforms brought to Lerwick for scrapping in recent years include Buchan Alpha, which arrived in August 2017.
Unfortunately, that project ran into difficulties when the Buchan Alpha hull section, with pontoons, broke away from the quay at Dales Voe during a storm in November 2019.
It was grounded on the west side of the voe, about a kilometre away, while Veolia-Peterson formulated a recovery plan, which was executed last year.
Engineering firm Ocean Kinetics was contracted for the recovery job, which involved using a crane vessel to take the substructure to LPA's Greenhead Base for final dismantling and disposal.
Trade union bosses criticised Ocean Kinetics when footage emerged online showing a worker running to safety when the structure became unstable in the water.
He had been cutting into it at night using a blowtorch.
The Health and Safety Executive did not issue any improvement or prohibition notices to Ocean Kinetics for the incident.