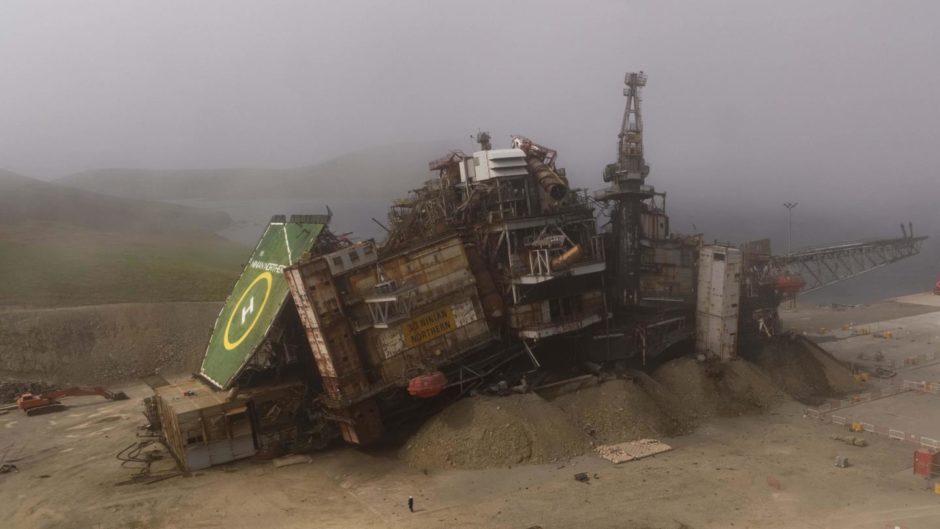 A top inspector says she has "no issue" with waste management firm Veolia's handling of the Ninian Northern oil platform dismantling job after a union boss raised safety concerns.
Jacqueline Western, from the construction division at the Health and Safety Executive (HSE), said people would only go aboard the structure, which had its legs blown off, if there was "no other option".
Ms Western said the regulator was "not going to walk away" from the project and would keep working with Veolia until completion.
The platform's legs were removed using explosives at the Dales Voe yard in Shetland this month in what Veolia described as a "successful" operation and the culmination of months of "meticulous" planning.
By bringing the structure closer to the ground, more than 90% of working at height exposure for the site team was eliminated, the company said.
Veolia added that contractors would later carry out remote demolition work using specialist plant and equipment.
RMT regional organiser Jake Molloy said Ninian Northern looked at risk of "falling over at any time" and that he wouldn't want to go "within 100 feet" of it.
Mr Molloy said he would have "real concerns" if contractors were considering putting anyone onto Ninian Northern to remove parts of the platform.
Echoing Veolia, Ms Western said the explosives operation went to plan.
She also said it was "a first" for the sector and that there would be "lots of learning points for everyone".
HSE worked with contractors during the nine months leading up to the explosion and was "satisfied" with the measures that had been put in place.
Ms Western said HSE regulations required duty holders to eliminate the need to work at height as far as possible, which is why the legs were blown off.
Having the structure at a lower height would mitigate the impact of Shetland's wind speeds on contractors' ability to safely use cherry pickers and long-reach excavators.
She said the requirement for people to go on board would be "continually assessed" and would only happen if there was "no other option".
Veolia is assessing the structure — which sits slumped on mounds of gravel — and deciding exactly how it will approach the next stage.
Ms Western said: "I'm sure when they've decided, they will give us an overview and information and if we have concerns we will raise those. That's what we did for the preparation of the legs removal."
HSE does not approve methods of work for companies but the watchdog does intend to have regular meetings with Veolia.
Mr Western added: "We're not going to walk away. Our intervention work is ongoing until the project is completed.
"We have a continuing commitment to engage with the contractor and that's what we will do.
"As far as we are concerned, from the work so far, we've no issues with the way Veolia is doing the work."
Ninian Northern arrived at Dales Voe in August 2020 for dismantling by Veolia, which plans to recycle 97% of the materials.
The structure used to serve Canadian operator CNR International's Ninian field, 100 miles north-east of Shetland.
Industry chiefs raised concerns about the general state of onshore decommissioning safety standards at a conference in August 2020.
William Lindsay, Shell's Brent decommissioning project director, said too many people were getting hurt.
Ms Western said HSE worked "proactively" with companies in the decommissioning and dismantling sector and had a strategy in place to make sure projects were carried out in a safe manner both on and offshore.
Recommended for you

UK winning majority of onshore decommissioning work, figures reveal