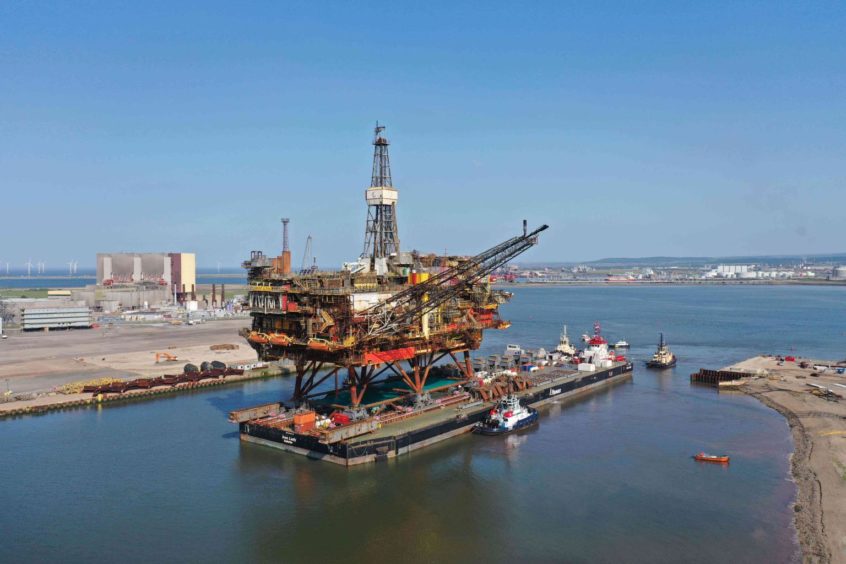 The cost of decommissioning in the North Sea has fallen to £46billion, however the Oil and Gas Authority (OGA) has warned that a "slowdown" means its target could be missed.
Operators and the supply chain have cut the bill by 23% from an original estimate of £59.7billion in 2017, in what the regulator described as "good news for the industry and taxpayers" in its 2021 decommissioning cost estimate report.
Oil and gas firms can claim tax rebates on their decommissioning costs, which led to the OGA target to reduce the overall bill in the UK by 35% by 2023 to £39billion.
Costs have fallen consecutively since 2017 at an average of almost 6% per year, totalling nearly £14bn.
However, in 2020 and 2019 respectively costs dropped 4% and 2%, showing a drop in pace from the 10% cut made in 2018 and 7% in 2017.
Last year saw £420million less spent on decommissioning in the UK than had been forecast the prior year, in large part due to Covid and activity deferrals.
However, spending is expected to "rebound and increase" in 2021-2024, reaching a peak of more than £1.8bn in 2022.
Speaking at an Oil and Gas UK (OGUK) industry event on Wednesday, OGA head of decommissioning Pauline Innes said: "Last year we saw signs that reductions are beginning to plateau, and this years figures suggest that's continuing.
"If we keep doing the same things we may continue to see marginal savings, but it is unlikely we'll meet the target."
Ms Innes continued to say the industry has "yet to reach its full potential" to make improvements and consolidate learning, with the OGA report pointing to "real inconsistencies" in cost performance.
Iain Lewis, Taqa's decommissioning director for Europe, joined Pauline Innes on the OGUK panel, saying it was "great to see the target being moved towards" but conceded the 4% cuts made in 2020 were "modest".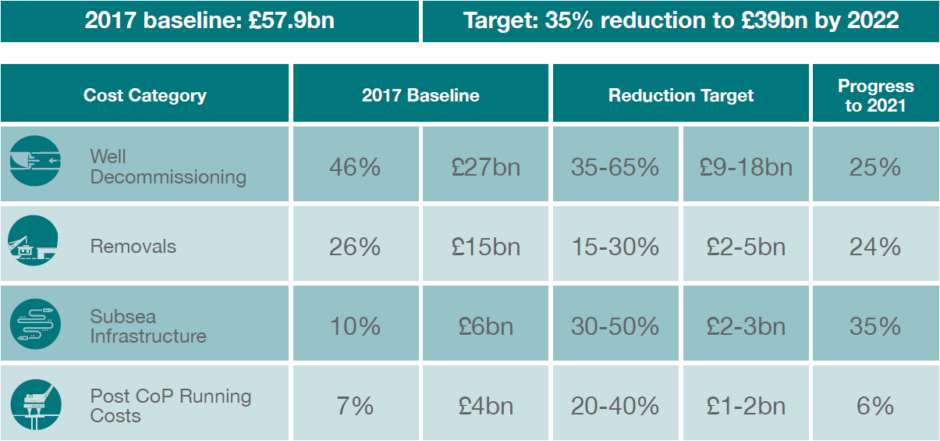 Well decommissioning and removals have seen a drop in price, accounting for a £10billion reduction to date, but post cessation of production (COP) running costs have been "predominantly flat" and is highlighted as an area for focus.
Campaign approaches, which involve multiple fields and/or multiple operators, are also a key opportunity to reduce costs, though these have yet to become mainstream, the OGA said.
A lack of collaboration, delayed planning activity and the possibility of oil sector cost inflation are among the key risks identified, though it is hoped the regulator's new project pathfinder website, providing visibility on opportunities, will help.
Stuart Payne, OGA director of Supply Chain, Decommissioning and HR, said that collaboration is key and firms "must forget rivalries and work together in this area" in order to reduce costs.
Fraser Moonie, CEO of industry body Decom North Sea, said: "The industry has made good progress but there is still a lot to do before the end of 2022 to meet the government's target."
The report also pointed out that, although repurposing of infrastructure for new sectors like CCS, hydrogen and renewables will play a "useful role", the impact on decom is still uncertain.
It said: "With limited technical experience and evolving regulatory and commercial frameworks the overall decommissioning cost impact of the energy transition plus any potential repurposing is uncertain and expected to remain so for the next 2–5 years."
Recommended for you

Exclusive: NSTA pushes North Sea operators on well decom commitments