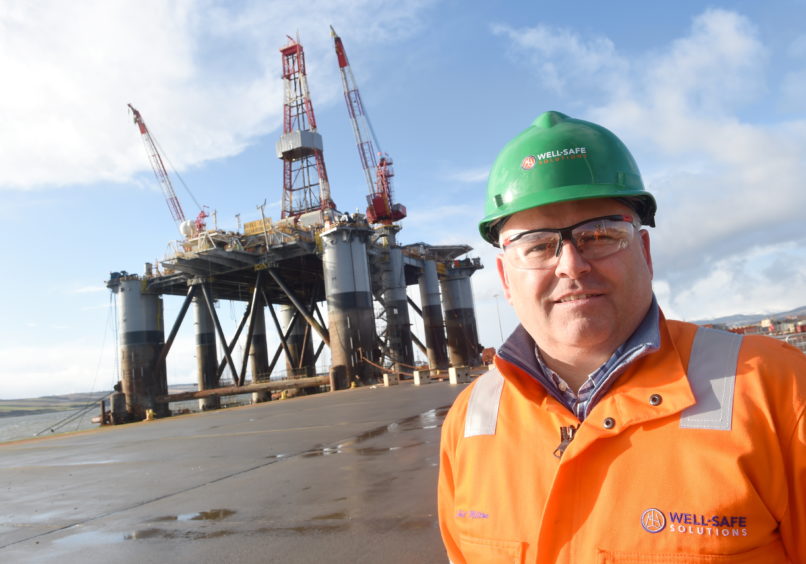 Well-Safe Solutions bosses have said higher oil prices, an easing of the pandemic and careful management of the firm's cost base have positioned it to take advantage of an upturn in decommissioning activity.
Aberdeen-headquartered Well-Safe Solutions also said it was in "active discussions" with prospective clients about new contracts, while also getting back after projects which were curtailed by Covid.
The company did concede there was uncertainty around the speed and timing of contract awards, but said the downturn had not made the market any smaller.
Chief executive Phil Milton made the comments in the firm's accounts for the year to March 31 2020, which showed pre-tax losses of £13.6 million, widening from losses of £2.7m a year earlier.
Turnover jumped to £17m from £2m on the back of a number of contract awards, but the cost of managing its first rig and coordinating the offshore work weighed down on the firm's balance sheet.
Well-Safe Solutions has helped plug and abandon five wells on Repsol Sinopec's Fulmar field in the UK North Sea.
It was also managing the decommissioning of wells belonging to DNO in the southern North Sea using a Valaris rig and crew.
This programme had to be suspended due to Covid, leaving four wells mechanically suspended but not fully decommissioned.
Work on those wells resumed in May 2021.
The company also recorded an impairment of £6.6m on the value of its first rig, Well-Safe Guardian, acquired from Diamond Offshore in April 2019.
However, Well-Safe insisted the write-down was an "accounting adjustment only and likely to be "temporary".
The firm expects the impairment to be reversed as it secures contracts and generates cash.
The impairment has no impact on Well-Safe's strategy or ongoing investment in the rig to convert it into a dedicated well plugging and abandonment unit, the business said.
Well-Safe has come up with a P&A club concept, which involves creating multi-well, multi-operator decommissioning campaigns aimed at generating a substantial volume of work and keeping a lid on clients' costs.
The company said an independent legal review had been carried out, confirming the model was not at odds with anti-trust and anti-competition regulations.
Well-Safe was founded in 2017 by oil and gas industry stalwarts Mark Patterson, Alasdair Locke and Paul Warwick.
Mr Patterson has since left the business but Mr Locke and Mr Warwick remain as chairman and non-executive director respectively.
In October 2019, a consortium led by MW&L Capital Partners – launched in 2018 by leading City bankers Matthew Westerman and Julian Metherell – pumped in £66m to fund Well-Safe's growth.
MW&L led a further investment of £26m in November 2020, just a few months after Well-Safe acquired its second rig, now called Well-Safe Protector, from Seadrill.
In its accounts, Well-Safe said it had significant cash reserves of more than £12m at the end of June 2021 to support the final pieces of refurbishment work on its fleet, readying them for an increase in offshore activity in 2021-22.
Well-Safe also said it had drawn up four possible scenarios – out to July 31 2022 – as part of a "going concern assessment".
All four showed the company could continue for the "foreseeable future.
A spokeswoman for the company said the refurbishment of Well-Safe Guardian had been completed and that Well-Safe was "into the operational readiness phase prior to contract mobilisation".
She added: "We do not require any additional support from our investors or banks to complete this phase and mobilise the Well-Safe Guardian on contract but have access to further financial support should that be a requirement going forward."
Recommended for you

Well-Safe Solutions signs global decom deal with BP