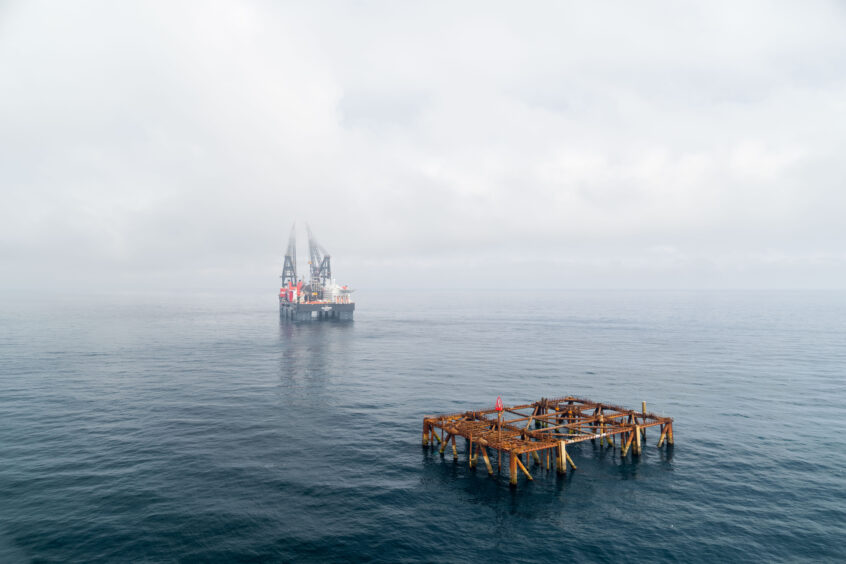 Taqa has reached a major milestone in one of the North Sea's largest decommissioning projects, removing the topsides of the Brae Bravo platform.
The Abu Dhabi-headquartered firm said the removal project, 175miles north-east of Aberdeen, involved up to 500 people at its peak, totalling nearly 400,000 man hours.
Taqa employed the world's two largest crane vessels, Thialf and Sleipnir operated by Heerema, for the work, bringing them together in the North Sea for the first time to remove the 33-year-old platform.
The initial campaign began with both vessels removing the cranes, helideck, the Brae Bravo flare tower and its jacket,  followed by the bridge.
Sleipnir then returned to remove the remaining modules and transport them to the dismantling yard.
With more than 500 people and nearly 400,000 man-hours, TAQA has completed one of the last stages in the decommissioning of Brae Bravo. https://t.co/OkDHWokp51 pic.twitter.com/7Pxn4OiYxB

— TAQA (@TAQAGroup) August 13, 2021
The 36,000 tonne structure has been sent to the AFOD Environmental Base in Vats, Norway to be processed, with the aim of reusing or recycling 95% or more of the material.
Only a navigational aid and the top of the main jacket, which is scheduled for removal in 2022, is now visible at the site, and a dedicated 500 metre safety zone remains in place.
Taqa managing director for Europe, Donald Taylor, said: "The Brae Bravo decommissioning project is a landmark moment for both Taqa and the North Sea offshore industry. The scale of this engineering feat cannot be overstated.
"Despite the challenges faced by the on and offshore team of the Covid-19 pandemic, this was completed on schedule and without any major incidents recorded – highlighting our commitment to health and safety.
"Decommissioning and late-life management of offshore assets will play a major role in our journey to a lower carbon future, and Brae Bravo will be the blueprint for all future Taqa decommissioning programmes in the North Sea."
Brae Bravo was installed in 1987, with first oil was achieved on 13th April 1988 reaching a peak production of 94,567 barrels of oil equivalent per day.
The platform ceased production in December 2017, having produced more than 500million barrels of oil equivalent over its lifetime.
Taqa said that more than 300,000 people travelled to Brae Bravo over the course of its life, working with 5,000 different companies.
The company added that the platform is widely recognised in the industry as an "iconic asset in the pioneering Brae fields".
Recommended for you

Exclusive: Over a third of North Sea workers too heavy for lifeboats