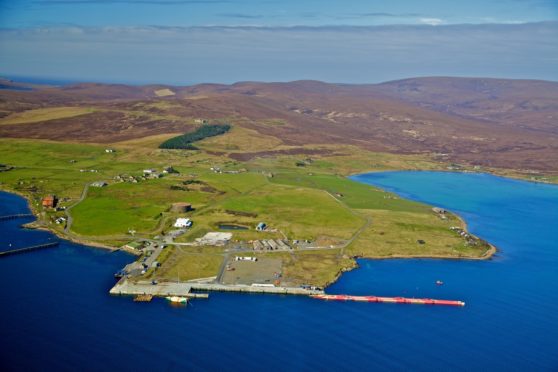 Orkney is pushing ahead with plans to develop the Lyness port into a decommissioning base after a snub from the Ministry of Defence (MoD) over a decades-old oil spill.
The council's plan to revamp the port hinges on clean up of a spill from the 1970s, when Lyness was a fuel depot for the Royal Navy.
In 2019, Orkney petitioned the MoD for help in meeting its estimated of £384,000 costs for the cleanup, which the MoD denied.
Despite this, the council has now issued a £300,000 contract for remedial work at the site, on the island of Hoy, as it proposes to push ahead with the work.
The council said tenders are currently being assessed.
Councillor David Dawson has been a firm backer of the plans.
He said: "Lyness has great potential to serve as a support base for a number of potential operations but nothing can be developed until such time as the pollution in question can be addressed.
"If we do nothing the site will effectively remain undevelopable and opportunities that could present themselves in the future could be lost."
The incident occurred due to a pipe spillage in the 1960s, before the council took over ownership of the Lyness Harbour area in 1977.
The MoD wrote to the council in 2019 stating it does "not support the MoD assuming liability".
Orkney Islands Council is taking legal advice on the next steps.
The council believes there is huge economic opportunity for Lyness in terms of decommissioning work due to its geographic position.
It is located within Scapa Flow, one of Europe's largest natural harbours, which sits between the North Sea and North Atlantic which makes it an "ideal" site for energy-related activities.
Developer DSM Demolition took a decision in 2018 to "scale back" from a project on Lyness which was first announced in 2016.