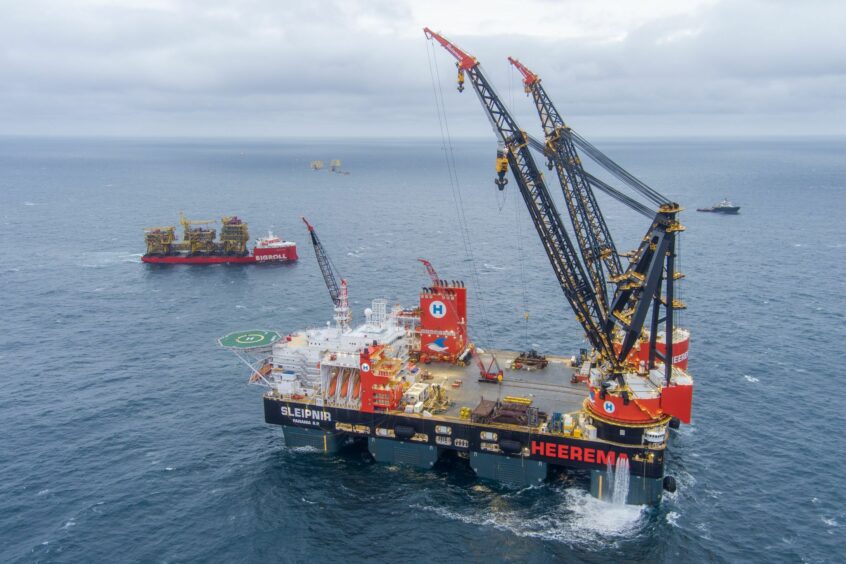 Oil & Gas UK (OGUK) has warned that the decommissioning market is increasingly interacting with that of offshore wind, increasing pressure on project timeframes and onshore yard space.
OGUK's latest Decommissioning Insight report noted a recovery in activity in the wake of the COVID-19 pandemic, with £16.6 billion now expected to be spent on decom over the next decade.
OGUK said that increased spend and activity was a sign of "business returning to its usual pace" following an uncertain 2020.
The report also notes increasing interaction between the decommissioning lift market and that of other offshore activities, specifically offshore wind installation.
Both sectors require heavy lift vessels (HLVs) to either remove or install infrastructure – particularly smaller oil and gas assets in the southern North Sea – and as project calendars fill up, competition is likely to increase.
Oil and gas clients will typically offer longer time windows of two to three years for a lift contractor to remove an installation, OGUK said. Doing so has allowed contractors to remove assets during quieter periods, which increases vessel utilisation and cuts operator costs.
However, as offshore wind farms and turbines get larger, installation campaigns may now require a lift vessel for hundreds of days at a time.
"This means that even though oil and gas removal projects have offered windows, the timeframes for removals are constrained," the Insight report notes.
It warns of a similar effect onshore, where multiple topsides removals could quickly eat into yard space. "With many assets being removed during short time periods this could in future have a knock-on effect on onshore disposal facility capacity," OGUK warned.
Furthermore, as the size of turbines and wind farms increases, the largest capacity vessels usually reserved for oil and gas installations may find work in offshore wind. And, as older wind farms reach the end of their lives, they too will need decommissioned, again drawing on the same pool of vessels and skills.
This is a positive signal for contractors and the supply chain, but competition may also increase costs for both sectors.
"While these industries will benefit from a supply chain expertise born from decommissioning oil and gas structures, as many of the skills and infrastructure are easily transferable, competition for resources may also drive up prices," OGUK noted.
'Bottleneck'
Rystad Energy made similar forecasts last year, warning of an "undersupply of installation vessels by the mid-2020s" for the offshore wind market.
At the time, it also warned that there were only four vessels in operation that were capable of handling the largest, next-generation turbines reaching the market in 2021.
The post-2025 bottleneck would spur new specialised vessel orders as well as "oil and gas heavy lift vessel conversions," it said.
"We identify the heavy-lift vessel segment as the key bottleneck for offshore wind development from the middle of this decade, and the need for next generation vessels may slow the cost reductions expected in offshore wind," Rystad's product manager for offshore wind, Alexander Fløtre, said at the time.
Speaking to Energy Voice in response to OGUK's findings, Rystad analyst Martin Lysne said that specialised turbine installation vessels are usually preferred by wind farm contractors over oil and gas HLVs.
"As such I do not believe the O&G HLVs will be competing for the turbine installation jobs to an increasing extent, but rather likely to install the foundations," Mr Lysne said.
He noted that that purpose-built foundation installation vessels were also entering the market, alongside some turbine installation vessels also able to install foundations.
"From my perspective I would say it looks like offshore wind installations are moving increasingly towards specialised vessels," he added. "But there will still be work for traditional O&G HLVs until there is a sufficient specialised vessel fleet, at least on the foundation installation side."
This is all the more notable as other regions such as Asia-Pacific and Australia also begin to look at their decommissioning portfolios, and the need to acquire or redeploy HLV capacity.
Recommended for you

Strengthening the future of clean energy with TRAC Renewables