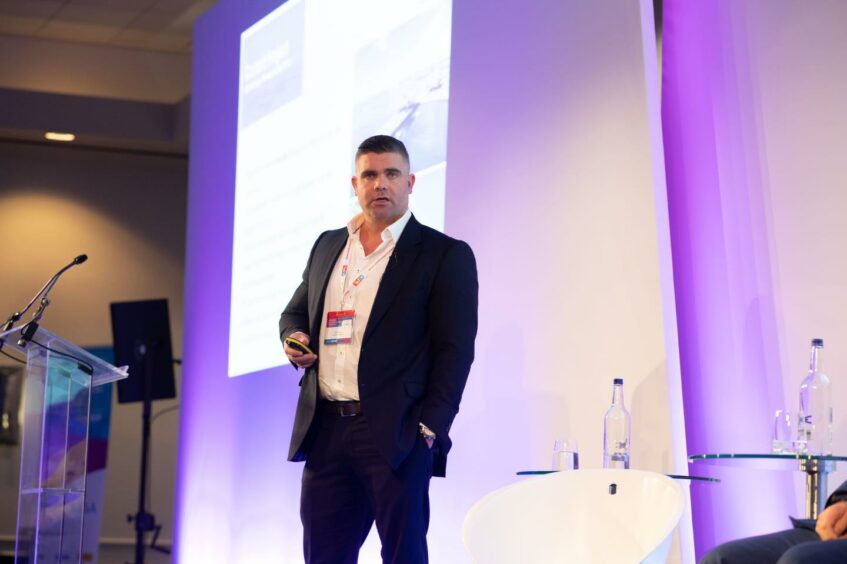 The chief executive of CessCon Decom has warned that a potential "bottleneck" could emerge for onshore dismantling over the coming years as North Sea decommissioning ramps up.
Lee Hanlon, who leads and co-owns the Fife yard operation, said there has recently been a "step-change" in the number of tenders as oil and gas installations reach the end of their lives.
With offshore electrification not being viable for older assets, Mr Hanlon said new emissions reductions requirements will mean some oil platforms will be shut down sooner than expected.
This comes while the handful of yards which can take on onshore dismantling in the UK are being gradually tempted by work for offshore wind.
He said a deficit could therefore arise of locations with capacity to take on offshore platforms for decommissioning.
"We're trying to transition to electrification of power generation offshore and this is having some effect, especially around late-life or ultra late-life assets. The CAPEX required to execute the brownfield mods to get to this position to reduce the carbon footprint is sometimes too big and we just can't achieve that.
"Sometimes this is pulling the life of field estimates in a few years and, eventually, as we see it, there will become a potential bottleneck."
He then added that, to date, it has been the heavy lift vessel owners who dictate schedules to subcontracted yards like Cesscon's, however he expects that to change.
"Sometimes that's a year or two the heavy lift market get to do that. I can see it in the years to come the heavy lift market will come to us and, hopefully, we'll be saying 'sorry guys, we're full'.
"Maybe things will change a bit and we'll dictate the window that it's going to be delivered. They ultimately can't lift their platform to remove it if they don't have anywhere to take it to, so we'll have to work together on that."
Earlier this year, CessCon Decom in Fife took delivery of two Spirit Energy platforms for dismantling, transported via Allseas' Pioneering Spirit heavy lift vessel and Iron Lady barge.
Mr Hanlon was speaking at the Oil and Gas UK decommissioning conference at St Andrews last week, citing regulator figures showing typical approvals of decom projects have increased from an average of five per year in 2010-2018 to 22 this year.
Meanwhile the rising rate of offshore wind work means there's demand for yards with sufficient laydown space, with the sector offering very competitive rates compared to decom work meaning "somebody's got to make a decision".
He added: "Then there's business optics that goes with that as well: Do you want to go down the 'clean renewables' route or do you want to go down the 'dirty decom' route, as it can be classed.
"Both markets are here, both are competing for the same vessels, the same real estates, the same ports. Needing the same resources, the same skill sets, so we do have a fight on our hands. Who will win, is the question.
"How do we fix this? Collaboration. We love the word collaboration. Sitting around the table, ultimately.
"If we sit down together with operators, the heavy lift market, with ourselves and say who has got which assets to be removed, when do you want to remove them, when can they be removed and when can we accept them to make this work."