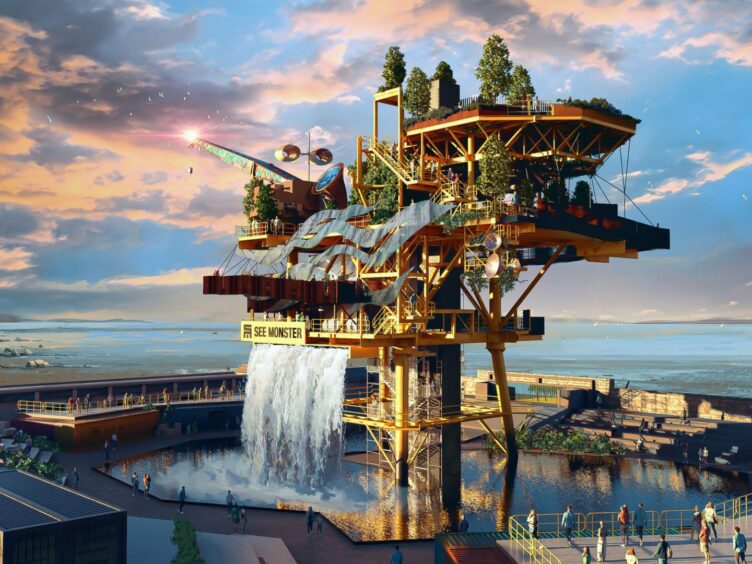 An oil and gas industry leader has highlighted an initiative to use a decommissioned platform as an art installation, asking 'why isn't this happening in Aberdeen?'
"SEE Monster" is planned for Weston-super-Mare this year, in the same place that the artist Banksy created his "Dismaland" project in 2015.
The scheme is part of a UK Government initiative called Unboxed, designed to deliver greater connectivity between the arts and industry.
Sam Long, interim CEO of Decom North Sea, said: "To me this is about offshore meets onshore, industry meets arts and culture, and underneath all of that, is the piece that we need to be doing: we need to advocate what we do in the decommissioning work, we need to speak loud and we need to reach out to broader communities."
A similar idea of an oil rig museum has often been floated in Aberdeen but never brought into fruition.
Perhaps the closest proposal to SEE Monster in Aberdeen were plans for an oil rig in Rubislaw Quarry.
Those advocating these projects have pointed to a similar project in Galveston, Texas using an old drilling rig.
Mr Long, speaking at the DNS conference last month, highlighted that Weston-super-Mare has "nothing to do with the oil and gas industry" and asked why similar initiatives aren't happening in regions like Aberdeen, Norwich and Newcastle.
Part of the project's goal is to highlight the legacy of offshore structures, and to underline inequality and, as the project organisers put it, the downturn of coastal communities in the UK.
Mr Long said: "Their idea here is that it's about repurposing for taking a previous offshore installation for installation as an asset for us and making it an art installation. They want to touch on the physical, social and environmental issues.
"There's some nice words there about that I think are relevant to us: What do we do with the structures that we inherit? What actions can they inspire?"
The name of the platform itself – a small gas installation formerly in the North Sea – is subject to a confidentiality agreement and cannot be disclosed, Mr Long said.
"My final point here: Why isn't this happening in Aberdeen? Why isn't this happening in Newcastle?
"Why aren't we doing this in Norwich?
"Why does it take a creative agency who have got government funding to come knocking on our doors as an industry and come say 'you're gonna come and do something that' – why aren't we doing more of this?"
Recommended for you

SEE Monster: Old North Sea platform – turned art exhibit – being dismantled