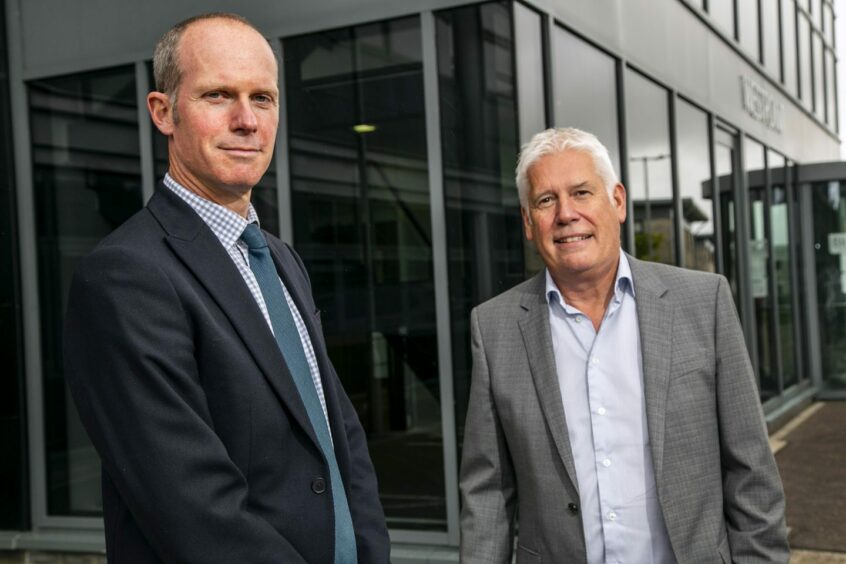 After a tough few years for Decom North Sea (DNS), a new leadership team is now ready to give the organisation some deserved "love and attention".
It was recently confirmed that, following several months as the decommissioning-focussed industry body's interim chief executive, Sam Long would take up the reins on a permanent basis.
Meanwhile former board chairman and industry veteran Callum Falconer, has been drafted in as operations director as DNS plans for a brighter, and less turbulent, future.
"Callum and I have known each other for a long time – I've been supply chain and he's been operator. It's actually really refreshing to come together," said Long, who has a career spanning more than 20 years with companies including Wood, Petrofac, Baker Hughes and Aker Solutions.
"This organisation deserves some love; deserves some attention; and it needs to find its mojo again.
"The combination of Callum and I is a nice way forward for that; we bring both of those backgrounds to the table. We've also got a friendship there, which means we can rally, argue and still get on with it."
Something of a revolving door
A period of consistency is something DNS and its 230 or so members have likely craved in recent years.
Not to dwell on the point, but to recap, in March 2020, then-CEO John Warrender left the organisation after just 20 months in charge.
Industry stalwart Will Rowley stepped into the frame temporarily while a search for a new permanent boss was carried out.
Fraser Moonie was then unveiled as DNS' new CEO in April 2021, but a few months later he stepped down, with Long taking over, initially on an interim basis.
Now, with its top brass set in stone and two firm hands on the tiller, the membership body can begin to plan for the long-term once more.
And with Falconer, who spent almost 30 years at Marathon Oil, on board, the group also benefits from the input of someone that knows it inside out.
He said: "I personally go back almost to day one of Decom North Sea. I have been on the board; I have been the chairman of the board, and I have hired CEOs as chairman. Perhaps most importantly, I have seen the ability of Decom North Sea to be relevant, current and an attractive proposition for members.
"We had nearly 500 members at one point, admittedly when decommissioning became very fashionable, but then we did go through our wobble.
"Decom North Sea had CEOs who didn't stay very long, leadership behaviours that weren't aligned with the membership, and we lost credibility with a lot of key stakeholders. That led to attrition and then Covid came along. It was a perfect storm and the organisation was in a bad place."
Opportune timing
That is now in the past, and the attention of Long and Falconer is on "making a good fist of getting this organisation back where it should be".
Working in their favour is that, in recent years, the decommissioning market has become "more material" and is becoming "increasingly more mature".
Over the next decade, the UK industry is tipped to spend over £16.6 billion removing and scrapping old assets, according to research.
That will provide a huge shot in the arm for Scotland's energy supply chain, which was on the sharp end of the Covid-induced industry downturn in 2020.
Long said: "The supply chain value in the UK and globally of decommissioning just continues to grow. But, you're never going to hear Callum or I get up in front of an audience and claim that it is the future of our industry and everyone is going to line their pockets – that's not realistic.
"It's just a portion of what's going on right now, and it is a relatively stable market that underpins all that activity.
"Decommissioning is a bridge for jobs, for welders and black trades into hydrogen, carbon capture and storage, and what's left of low carbon oil and gas production. That is the message we're trying to get out there."
Not to state the obvious, but when DNS was founded in 2009, its primary focus was decommissioning in the North Sea.
A lot has changed since then though, and it is not just the UK oil and gas sector coming to terms with the looming requirement to remove and recycle assets.
Falconer said: "We recognise that decommissioning is equally as important in renewables – there are 6,000 or so monopiles in the North Sea alone that have to be removed.
"There is floating wind, onshore wind, and by the end of the oil and gas era, there will be petrol stations and refineries needing safely shut down. Then we have nuclear too."
A new name for a new dawn
In order to support the full decommissioning spectrum, DNS is expanding its cross industry scope, as well as setting its sights beyond the North Sea.
"It's decommissioning, its end of life, but it's across the whole energy sector. That's the transition we need to make – we can't stay simply as North Sea and decom," said Long.
Along that vein, DNS has decided that, given its wider focus and settled leadership team, now is the right time for a rebrand.
Discussions are currently taking place on a new name for the organisation, one that will highlight its fresh approach.
Falconer said: "If we're repositioning the business, then it has to look and feel different, otherwise it's a difficult sell to our stakeholders.
"We have members in the Gulf of Mexico that want to sponsor events, but we can't rock up over there as Decom North Sea, because that won't fly. So there's a good reason why we need to change our name."
Long added: "We're also building bridges with our members; spending time with them and having conversations about what's working in their business and where we can help out."
Clear on the challenges
The pair are understandably bullish about the future, driven by a reinvigorated DNS and bountiful opportunities for the decommissioning sector.
But such a mammoth amount of work inevitably brings with it trials, tribulations and disappointments for industry.
There was recently a clear feeling of frustration, mixed with a sad inevitably, when the Foinaven FPSO, which spent 25 years operating West of Shetland, was sent to Denmark for breaking up.
It is a story the UK decom sector knows all too well, though there is growing optimism that a change could be afoot.
A target, albeit it voluntarily, of 50% local content for decommissioning work by the end of the decade was included in the landmark North Sea Transition Deal.
And Falconer expects light to be shed on what that means for the sector before too long.
He said: "We've been speaking to our friends at the North Sea Transition Authority around the metric by which that will be measured and our understanding is they are going to declare that shortly."
Bottlenecks ahoy
Businesses may well find themselves fighting for space and vessels to carry out the work though, with the wheels of North Sea activity well in motion.
Oil and gas players are seeking to boost supplies, offshore wind companies want to install turbines, and decommissioning firms need to retire assets.
"We're hearing that there are at least two bottlenecks developing," said Falconer, "one is heavy lifters and the other is facilities.
"Installing renewables is more predictable, less risky, and it can take a long time. That is a big attraction for vessel contractors, and they are now filling up their books with that work.
"On facilities, I used to work at Dundee when there was a big focus on decommissioning. Now 99% of it is on renewables."
"It gets bigger than that though," added Long, "where are all the trades going to come from?
"There have been huge commitments to wind development programmes and the licensing rounds, and yet, in the meantime, there's a heap of industrial activity that's going to go on. There are some conflicts coming."
Backing the supply chain to deliver
To its benefit, the UK's energy supply chain is nothing if not accustomed to dealing with and overcoming tough situations.
That know-how gives Long and Falconer confidence that firms will cash in, not just on the energy transition, but also on the decommissioning boom that many have been waiting so long for.
Long said: "Covid really stretched the supply chain, even harder that it has been stretched since 2014. But any supply chain that has survived that deserves a slap on the back.
"Your oil and gas supply chain is probably one of the most adaptive sectors we can think of in the industrial background of the UK. Their ability to adapt is really good and will prove invaluable."