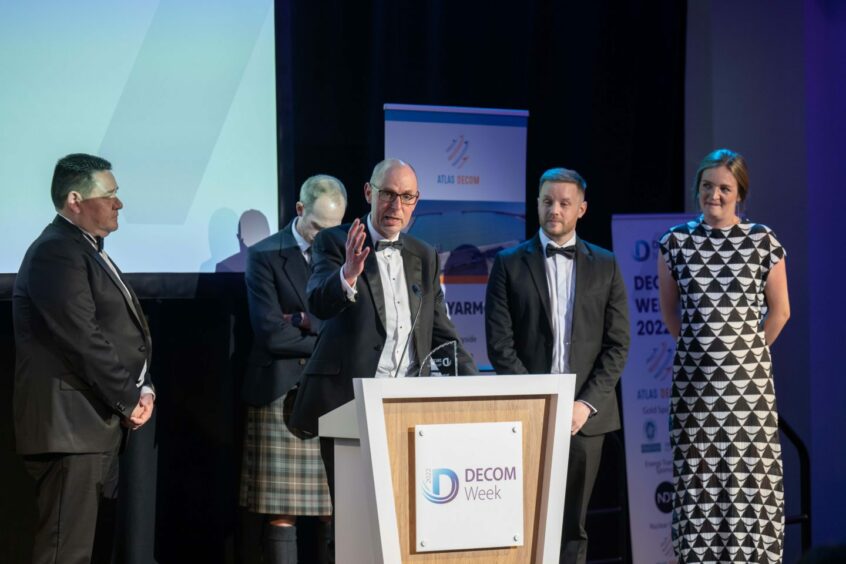 The sixth annual Decom North Sea Awards are coming to Aberdeen in the energy industry's only awards dedicated to decommissioning excellence.
Applications for the awards show's five categories are now open ahead of the event taking place on the 16th of May at the Granite City's Ardoe House Hotel.
Taking place as part of Decom North Sea's flagship conference, Decom Week, the show will be showcasing both individual and company performance, and will focus on all forms of innovation, the sector's community of emerging professionals and sustainable activity in decommissioning.
A new category has been announced for the sixth year of the Decom North Sea Awards: entrants can submit their pictures of decommissioning activity in the Decom North Sea Photography Award.
The organisation said its looking for snaps that " tell the decom story and capture some of the recent successes of the sector."
Decom North Sea also highlights that its Decom North Sea Member category will be returning, which acknowledges outstanding achievement from within the organisation's UK and international membership.
Other award categories include: Sustainability, Innovation in Decommissioning, and Emerging Professional in Decommissioning.
Decom North Sea chief executive, Sam Long, said: "There is a huge amount to celebrate within the decommissioning sector right now, and we know first-hand from our members that 2023 is set to build upon an active 2022.
"The impressive technicality and scale of what's been achieved during the past 12 months deserves to be justly acknowledged through the Decom North Sea Awards."
Discussing this year's categories, Sam points out: "It's important to note that the Emerging Professionals category is not age-specific.
"Whilst looking forward to receiving entries from those relatively early in their career, we would also strongly encourage entries focused on individuals who have transitioned into decom from elsewhere, thus reflecting the transferable nature of the energy industry skillset."
The closing date for entries is 28th February 2023, with full entry details available here.
Recommended for you

North Sea giants win big through INTOG floating wind auction