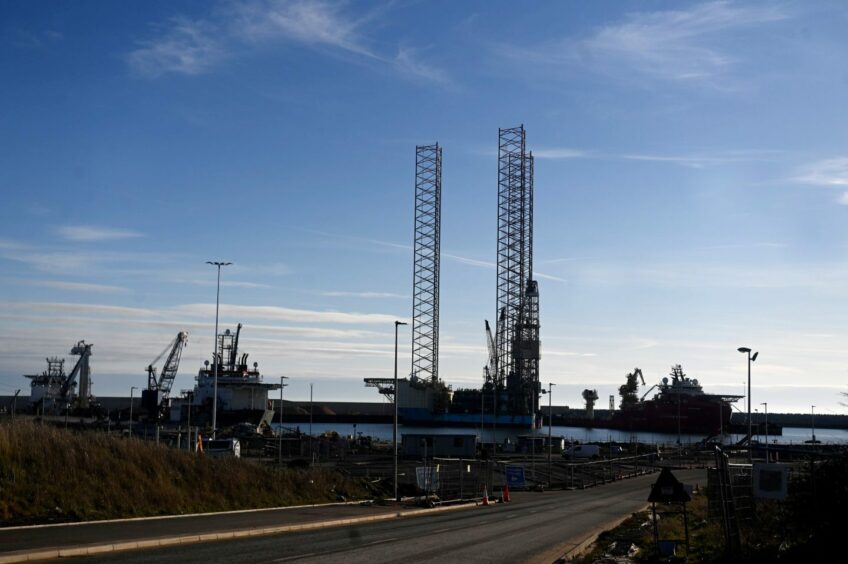 A huge oil rig docked in Aberdeen will kick off work for oil giant BP in May, according to new contract details.
Noble Corporation (NYSE: NE) has outlined the work in a new fleetFebruary 11. status report for the Noble Innovator, which arrived at the Port of Aberdeen's South Harbour on
The oil rig will leave Aberdeen for a one year contract with BP from May 2023 to May 2024, at a day rate of $135,000.
Now a part of the Aberdeen skyline thanks to its huge jackup legs, the Noble Innovator will be working on decommissioning of oil and gas wells for the major in the Central North Sea.
It is currently moored at the £400m south harbour for maintenance work.
Noble has also added a contract in the UK for its 2008-built Noble Resilient, which will kick off work with Ineos this month, through to June, on a $87,500 day rate.
Elsewhere the Noble Intrepid remains warm-stacked at Kishorn on Scotland's west coast.
Texas-headquartered Noble, which merged with Maersk Drilling last year, has released its 2022 annual results, with pre-tax income of $191.5m on revenues of $1.4bn, compared respectively with $770.3m and $102.3m in the previous period.
Since the merger, Noble said $50m of cost savings have been made, of a total $125m synergy target.
It comes amid a shot in the arm for the global drilling sector as contracts pick up amid demand for energy – though the North Sea chapter of the IADC consortium has warned that vessels are leaving the UK for better (and more fiscally-stable) prospects overseas.
Noble CEO Robert Eifler said: "Since the closing of the merger, our team has come together impressively. As a newly combined company, we generated strong free cash flow, implemented a return of capital program, and are well on track to achieving our synergy target of $125 million, with $50 million realized as of the end of 2022.
"I would like to thank all of our employees for their tremendous effort and commitment throughout the critical first few months of our integration. I'd also like to thank our customers for their continued trust and support as we pursue our quest of creating the leading offshore drilling company."
Recommended for you

Well-Safe Solutions signs global decom deal with BP