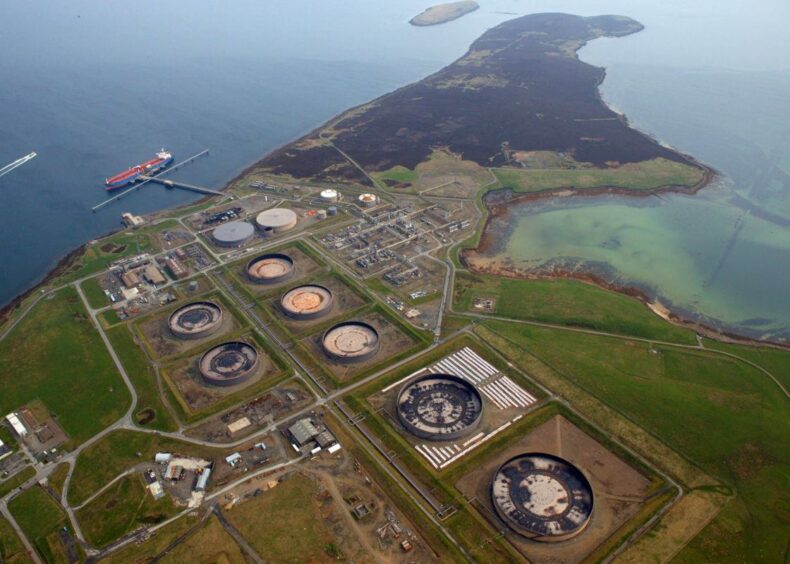 Repsol Sinopec Resources UK (RSRUK) and CNOOC have confirmed plans to continue exporting oil to the Flotta Terminal for years to come.
A deal has been struck to continue sending fluids from the Golden Eagle, Piper and Claymore fields to the Orkney facility until end of field life in the 2030s.
It ensures work for years to come for Flotta, first opened more than 45 years ago.
Discussions are also ongoing between the two oil companies to explore a "variety of growth areas", including renewed drilling and several third party tie-backs.
Supporting Flotta's transition
It comes as RSRUK explores plans to create a new hydrogen hub facility at Flotta, where 150 people are employed.
Given its proximity to a number of planned offshore wind farms, there are ambitions to turn the site into an industrial scale hub for processing the low carbon fuel.
It would give Flotta a life after oil and could support hundreds of jobs as the terminal is repurposed.
RSRUK is working with renewables consortium Offshore Wind Power Limited (OWPL), which features TotalEnergies, on the proposals.
OWPL was selected to build a huge wind farm in the recent ScotWind leasing round.
Funding for the project is expected to be secured this year, with first hydrogen on the slate for 2029 at the latest.
Increased production
Drilling programmes have also recently been completed at Golden Eagle, Piper and Claymore, increasing production at the fields.
The owners are also actively engaged with a number of third parties that are considering the use of the offshore facilities.
José Luis Muñoz, RSRUK's chief executive, said: "The Flotta Terminal has been in operation since 1976 and has made a significant contribution to Orkney's economy and communities for more than 40 years.
"The renewed commitment from the Golden Eagle, Piper and Claymore field owners highlights confidence in the Flotta Terminal and wider Flotta Catchment Area. It is our objective to continue to produce and develop existing and new field reserves in line with the North Sea Transition Authority's MER strategy and with Net Zero ambitions front and centre of our minds."
A brief history
Situated on the edge of the Scapa Flow, Flotta was selected by Occidental North Sea Group as the landfall site for its Piper oil field, 125 miles east of Caithness.
The facility covers about one sixth of the island and started up in 1977 – it was originally expected to operate for about 15 years.
Over the years Flotta has changed hands a number of times. In 1991, Occidental Group sold it to Elf Aquitaine, who operated it until 2000.
It was then bought by Talisman Energy, now RSRUK.
Piper field
The Piper field is located about 120 miles north-east of Aberdeen in the Central North Sea.
An eight-legged fixed steel jacket supported installation, the Piper B platform stands in approximately 145 metres of water.
It was installed in 1992 and commenced production in February 1993.
Piper B is operated by RSRUK.
Claymore field
Claymore stands in around 110m of water, around 100 miles north-east of Aberdeen.
It comprises two fixed steel bridge-linked platforms, the Claymore Production Platform (CPP) and Claymore Accommodation Platform (CAP).
The platforms are linked by a 106-meter bridge.
Claymore is also operated by RSRUK and since 1982, the platform has been a tie-back host for the nearby Scapa field.
Golden Eagle field
Located around 70 miles north-east of Aberdeen, Cnooc's Golden Eagle field has been transporting fluids to the Flotta Terminal since 2012.
The nearby Peregrine field and Solitaire field also form part of the Golden Eagle Area Development.
Recommended for you

Shelf bags £13m North Sea drilling work with CNOOC