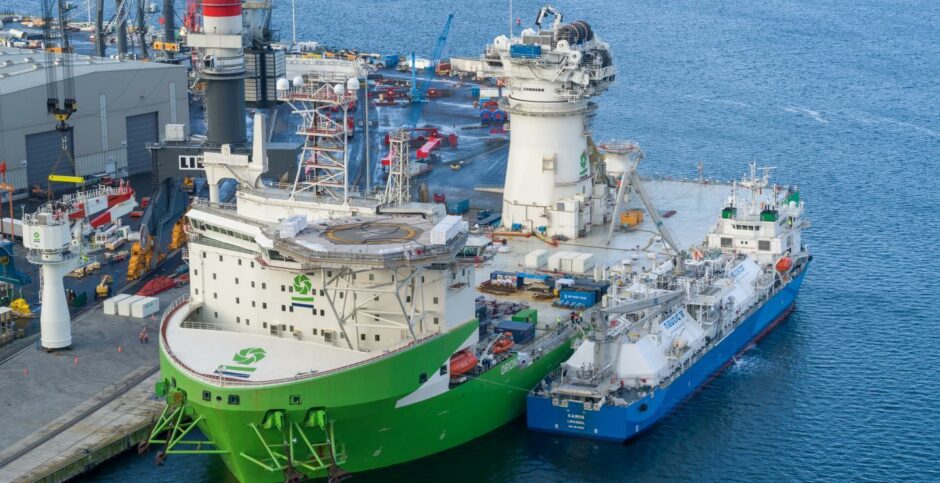 One of Europe's most successful shipyard groups, Damen, has decided to build on spec a trio of crew-change vessels for the rapidly expanding offshore renewable energy services market.
The 24-passenger Fast Crew Supplier (FCS) 2710 Hybrid boats are based on the Dutch company's highly successful axe bow concept and will be built and held in stock at the Damen Antalya yard in Turkey.
The aim is to enable rapid final equipping and delivery to customers in a hurry and who require vessels with a zero emissions capability to enable emissions-free operations in wind parks and in harbours.
Customising options offered include the fitting of cranes, deck equipment, lay-out of deck and interior spaces as well as the number of passengers seats and crew accommodation demanded.
Building for the off-the-shelf market is not new to Damen. The company has done this successfully for a number of years, notably with compact tugs.
Fast and stable crew transfer vessels that are able to operate at rough seas have become a necessity in offshore energy production and Damen is a world leader in this regard. The North Sea is on its doorstep and is an excellent proving ground for new vessel designs and innovations.
Work leading to the wave-piercing axe bow started back in the 1980s  The forefoot is deep and narrow, and the freeboard relatively high, with little flare so that the bow profile resembles an axe. The first axe bow designs were monohulls but twin-axe catamaran style craft soon followed.
Vessels for crew and supplies need to be versatile, stable and sturdy, to be able to manoeuvre in between turbine towers and to offer safe and fast transfers from and to shore stations and in-farm mother ships.
The catamaran design offers great stability together with a lot of deck space. The slender, sharp and deep bows slice through seas and don't suffer from uncomfortable slamming in a seaway.
This latest Damen cat development also features a two-speed gearbox, which improves close quarters handling, especially when holding station against the crew transfer docking points of a wind turbine.
The FCS 2710 class is fabricated from aluminium and measures 26.8m length overall by 10.5m beam. It can achieve up to 25 knots. The class was introduced in 2018 … it is diesel engined.
The off-the-shelf trio are hybrids and can run on diesel or switch to electric propulsion; however, Damen is also working on the development of an all-electric E-FCS 2710. The hybrids will be ready next year; the all-electric version in 2024.
Four years late…but nearly there
DEME's new DP3 class offshore installation vessel Orion is in the final stages of commissioning following a delivery trip from Bremerhaven to its base near the Dutch port of Vlissingen in the Netherlands.
The ship is four years late. Two years were lost as a result of a major mishap in 2020 when the 145m lifting  jib of its 5,000-tonne Liebherr crane collapsed during fitting out in the German port of Rostock.
There were about 120 people on the ship at the time of the accident, which alone led to a two-year delay to the Orion's delivery.
The 216.5m ship was built by the COSCO Qidong shipyard in China, where the basic vessel was launched in November 2018 and then transferred to Europe.
Orion is said to be the first vessel of its kind to be fuelled by liquefied natural gas (LNG) and diesel, but the fifth in its diverse fleet of specialised ships to be so equipped.
In addition to the dual-fuel engines, machinery provider Wärtsilä provided its LNGPac fuel storage and supply, and propulsion systems.
Even without the crane collapse, this has been a slow-burn project. DEME placed its first Wärtsilä order in Q4 2016 followed by a second in February 2017.
In fact Wartsila has been involved in the Belgian new-build from the conceptual design stage and it was the Scandinavian company's type 46DF engine that was selected for the main propulsion package.
All-told, the Orion is powered by four 9-cylinder Wärtsilä 46DF dual-fuel electric propulsion engines, and two 6-cylinder Wärtsilä 20DF dual-fuel engines. Total installed power capacity was stated to be 44,180kW at the time the orders were placed.
Deck space has been maximised to provide exceptionally high transport and load capacity.
Anticipating the next generation of super-large wind turbines, the vessel has been designed to take the heaviest monopiles, jackets, power heads and other  components and structures in a single shipment.
Orion is to be deployed by DEME's subsidiary GeoSea and also be available to the oil & gas market … both for construction and decommissioning.
Orion is not the only newbuild that DEME is involved in. Last month, the  Green Jade DP3 heavy lift and installation vessel was named at the CSBC shipyard in Kaohsiung, Taiwan.
The vessel is being built for the CDWE consortium of which DEME and the shipyard are members.
Like the Orion, the 206.5m Green Jade is designed to handle the next generation of multi-megawatt turbines, jackets and components.
"'Green Jade' will be the second of these exceptional vessels to enter the fleet," said DEME in a statement.
"Both 'Orion' and 'Green Jade' bring a game-changing installation concept to the offshore energy market, They have an unrivalled combination of load capacity, impressive lifting heights and green technology," the company claimed.
"With a 4,000-tonne crane capacity, this pioneering vessel will enable CDWE and its customers to transport multiple jackets and foundation components for the new giant wind turbines in a single shipment, making it extremely cost-effective."
For the time being at least, Green Jade is staying in Asia-Pacific
The vessel is currently line up for work on the Hai Long and Zhong Neng offshore wind farm projects where 14MW turbines are specified..
Like Orion, Green Jade is fitted with a Wartsila dual-fuel main machinery package, with a 'Green Passport and Clean Design' notation.