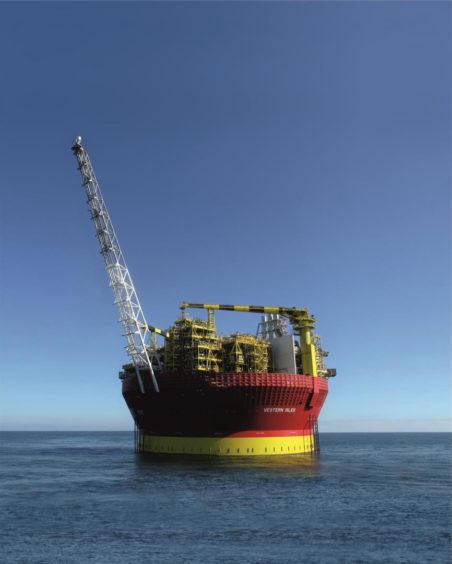 A probe has been launched by the offshore safety watchdog after a fire onboard a North Sea floating production storage and offloading (FPSO) vessel.
It happened in October, when a blaze in the low voltage switch room of Dana Petroleum's Western Isles FPSO – about 100 miles east of Shetland – caused the facility to lose power.
Though nobody was injured, production from the vessel was paused while the operator carried out an investigation and made necessary repairs.
The Health and Safety Executive (HSE) has now confirmed it is also examining the Western Isles blaze, which Energy Voice understands caused significant damage to the immediate area.
Western Isles FPSO
The Western Isles FPSO produces oil from the Harris and Barra fields in the Northern North Sea – first oil was achieved in November 2017.
Dana Petroleum, owned by the Korea National Oil Corporation, has a 77% operated stake in the FPSO – Neo Energy holds the remaining 23%.
Harris and Barra sit in 165 metres of water – at reservoir depth of some 6,000 feet – with estimated reserves of 45 million barrels of oil equivalent (mmboe) economically recoverable
Peak production rates from the FPSO are around 40,000 barrels of oil equivalent per day (boepd).
The £1.5 billion Western Isles project was sanctioned by the UK Government in 2012.
A spokesman for Aberdeen-headquartered Dana Petroleum said: "A fire in the low voltage switch room resulted in the loss of power on-board the Western Isles FPSO on 30 October 2022.
"There were no injuries to any personnel. Western Isles was returned to production once an investigation was completed and subsequent repairs carried-out."
Backlog fears
Concerns about the North Sea's unresolved maintenance backlog are growing after a glut of HSE improvement notices in recent months.
During the Covid-19 pandemic, swathes of upkeep work was shelved as industry focused on keeping the lights on.
But accounts from offshore workers suggest that backlogs aren't cleared, in part because there aren't enough bodies to do the work.
Unresolved maintenance backlogs spur fears about potential disaster that could be 'curtains' for North Sea
A trade union chief has warned North Sea operators that they are playing a dangerous game by not carrying out upkeep work, particularly given the microscopic focus on the sector from all quarters.
On the Western Isles blaze, an HSE spokesperson said: "HSE is aware of a fire onboard the Western Isles and is investigating."
Similar incidents
Last year Norway's watchdog launched a probe after a fire broke out on the Asgard B semi-submersible facility, which serves Equinor's namesake North Sea field.
It was subsequently extinguished, but not before it produced smoke and led to a shutdown – production did not restart for almost a week.
At the time of the blaze there were 118 people on Asgard B, 56 of which were transferred to a nearby facility by search and rescue helicopter.
Similarly BP (LON: BP) and Altera Infrastructure launched an investigation in April after a fire broke out on the Petrojarl Foinaven FPSO, West of Shetland.
A blaze was detected in a store room on the vessel, and coastguard helicopters were called to evacuate 30 non-essential workers to nearby installations.
Five people had to be assesed for smoke inhalation but required no further treatment.
Recommended for you

Dana warned by HSE over training and supervision at Western Isles