VIDEO: Step aboard the £3billion Seagreen wind farm's state-of-the-art Montrose-based mother ship
This is the stunning ship set to become a familiar feature at Montrose Port in its key role for the multi-billion pound Seagreen wind farm off the Angus coast.
The state-of-the-art Edda Brint has already caught the eye of locals after arriving alongside as the service operation vessel (SOV) for the huge offshore development.
And they can expect to see the craft every fortnight for the next decade and a half.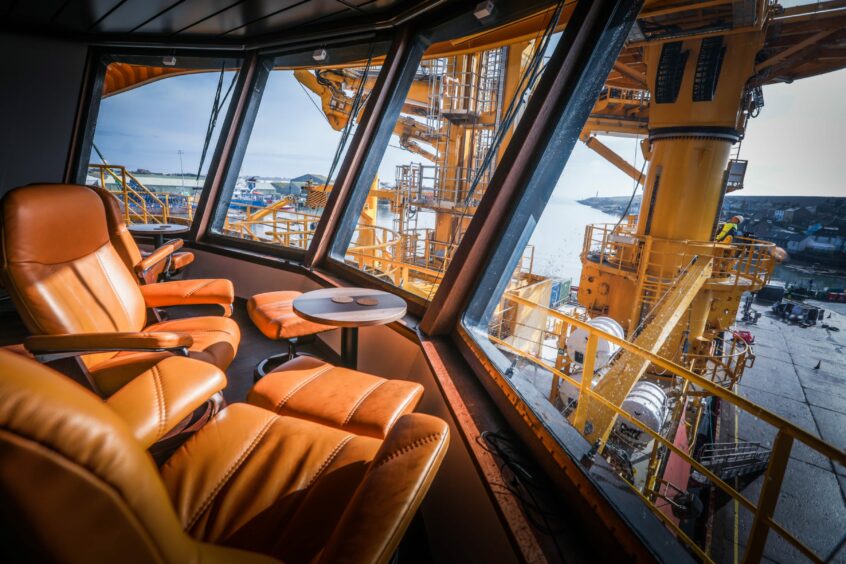 Zero emission capability
Built in 2022, the 82-metre vessel can house up to 60 crew.
And they will enjoy a new standard in the offshore wind sector on a vessel that includes a hospital/sick bay, gym, day room and game room.
It also features a motion-compensated gangway system enabling it to land on any kind of offshore facility.
The ship's green credentials include a hybrid hydrogen power capability to prepare it for future zero emissions.
Montrose Port is home to Seagreen's operations and maintenance base.
The SOV will help support safer and more efficient operations around the wind farm and visit Montrose every two weeks.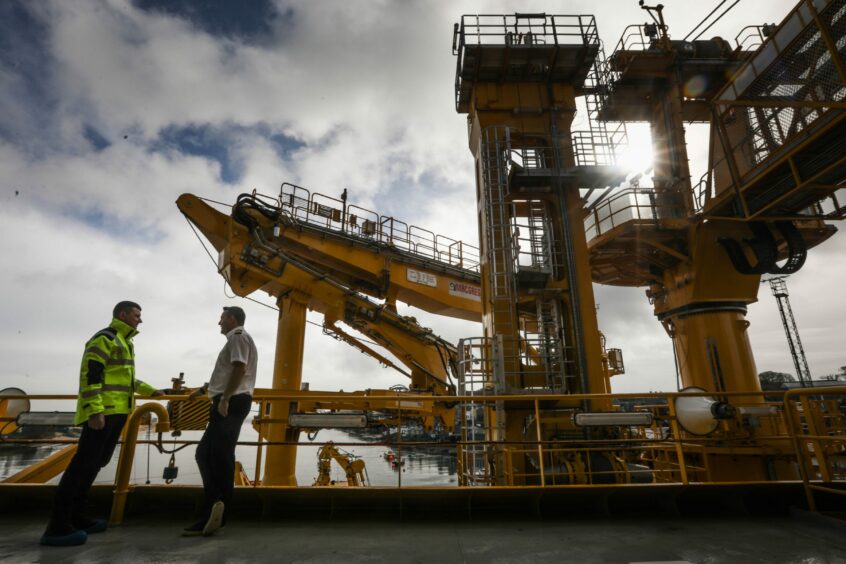 Norwegian manufacture
It was produced by Norwegian offshore wind service vessel company Edda Wind who secured a 15-year contract with Vestas to perform operation and maintenance work for what will be Scotland's largest offshore wind development.
Edda Brint is expected to begin operations at the wind farm, located 16 miles off the Angus coast, in the coming weeks.
Robert Bryce of SSE Renewables said: "The arrival of Edda Brint to Montrose Port marks another milestone in the Seagreen project.
"The vessel will serve as the mother vessel for Seagreen for the next 15 years.
"Its primary role will be to operate as a platform from which technicians can perform operational and maintenance of Seagreen's offshore wind turbines.
"At SSE Renewables we care about our supply chain and are always looking at ways we can reduce carbon emissions and promote green energy.
"The Edda Brint, in a few years, will be capable of supporting the maintenance of SeagReen without generating carbon emissions.
"It is the future of SOV's."
The Seagreen Wind Farm is a joint venture project between SSE Renewables and TotalEnergies.
When complete, the wind farm will consist of 114 Vestas V164-10.0 MW turbines.
The first turbine was installed at the end of 2021 in what is the world's deepest fixed-bottom wind farm.
First power from Seagreen was produced in August 2022.
Once complete, the wind farm will be capable of generating around 5,000 GWh of renewable energy annually – enough to power more than 1.6m UK homes.
Recommended for you

Final jacket foundation in place at Seagreen