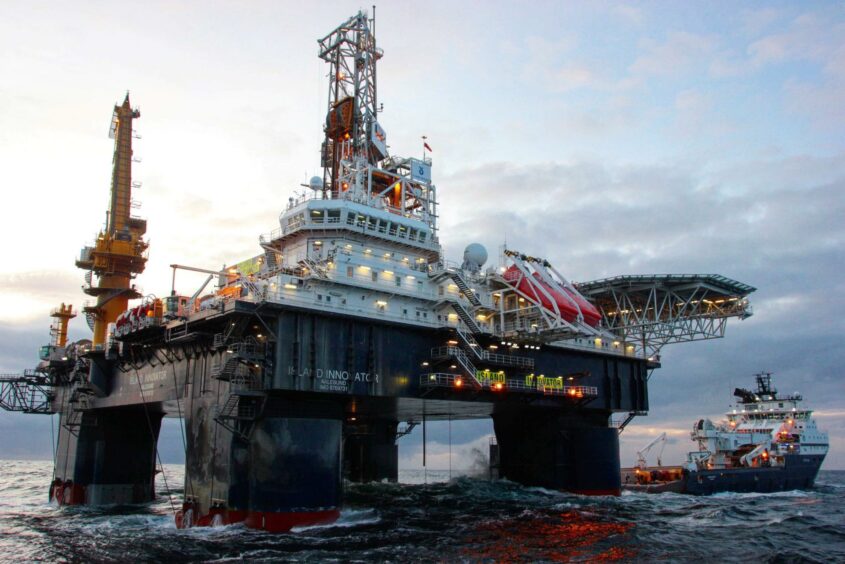 A huge semi-submersible drilling rig is bucking the current industry trend and setting course for the UK North Sea.
Island Drilling's sole vessel, the Island Innovator, recently left Norway, analytics firm Esgian reports, in order to begin work for Dana Petroleum about 120 miles east of Aberdeen.
The 4,000-foot, 6th generation rig arrived in Semco Maritime's Hanoytangen yard in April having made the trip from Mauritania, where it was carrying out work for Tullow Oil.
During its stay off the North West African country the Island Innovator carried out plugging and abandonment work at the Banda and Tiof fields.
Following the completion of preparatory works in Norway, the vessel will embark imminently on a four-well work programme with Dana.
Esgian expects the Island Innovator reach the Guillemot field today, June 8, while the campaign is projected to take 110 days.
Once the contract, worth around $30 million, with Dana runs its course, the vessel will head back to Africa to work for Trident Energy in Equatorial Guinea.
Esgian said: "Island Drilling has recently upgraded the rig with two SpaceX's Starlink systems, bringing real-time data relay between offshore and onshore teams for faster decision-making and high-speed internet for data-heavy tasks and software updates."
The arrival of the Island Innovator is a rare bit of good news for the UK drilling sector, following months of reports about a rig exodus from the region.
Political sentiment, combined with the ongoing impact of the windfall tax, has prompted rig owners to send their units elsewhere.
Apache slams UK windfall tax as it cancels North Sea drilling contract
Announcing earlier this year that the vessel was on its way to Norway, Island Drilling said: "Island Innovator has now carried out P&A operations in deep water (1200 WD). This is a great milestone. Next up is coiled tubing which will be another milestone.
"These kinds of operations show that Island Innovator is able to conduct highly efficient operations for our clients. With our active heave compensated crane (165 mT) the rig is a multi-task rig that can perform a variety of operations and be a strategic rig for any kind of operation for our clients.
"We look forward to cooperating with Dana Petroleum to perform safe and efficient operations on its next project."
Guillemot
Guillemot is one of a number of fields tied into the Triton FPSO – Bittern, Clapham, Pict and Saxon are the others.
Dana acquired operatorship of the vessel in 2012, and holds 52% stake – Serica Energy and Waldorf Production accounting for the remaining 46% and 2%, respectively.