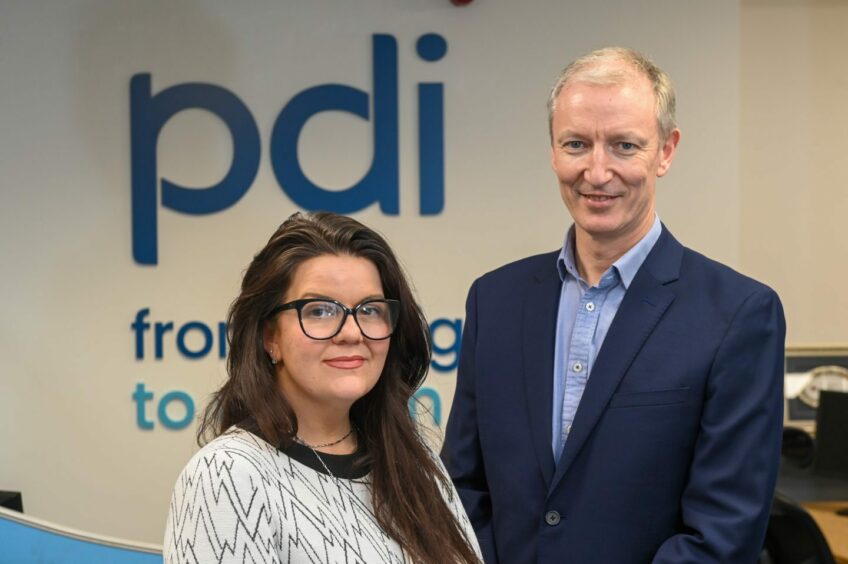 "Oil crashed, and then Covid hit; but with those things now behind us, to some extent, the time to grow is now," says James Drummond, managing director of PDi.
His grand ambition is backed up by concrete plans, targets and cash, as the Aberdeen subsea engineering consultancy and project management firm goes for gold.
In the next five years, the company aims to grow at least tenfold, from revenue of £3 million today, to north of £30m by 2028 – acquisitions are also on the cards towards the back end of that timeframe.
A key facet of that expansion will be in low carbon opportunities, where PDi plans to increase its energy transition activities from 30%, to 70% of turnover.
The wheels are already in motion to bolster the company's headcount, and an advisory board, featuring legal and operatorship expertise, is firmly in place.
Underpinning these aims is initial backing of £500,000 that PDi has secured from its parent company, Tattva Group, with a commitment already agreed for more cash along the line.
Tattva relationship maturing
"Within the next 12 months we'll also attract other significant growth funds to the company, to support further investment in the business," said Drummond, a subsea engineering veteran who has spent time at the likes of Oceaneering and TechnipFMC.
India-based Tattva acquired PDi, or Project Development International, in 2016, around 13 years after the consultancy was initially established.
Having now taken the time to get "familiar" with one another, and having overcome various macro challenges, Drummond says it is the right time to plot an ambitious course for the company.
He said: "Tattva has changed the leadership team, put an advisory board in place, and made the funds available. All of that is the driving force, alongside the external validation of our five-year strategy.
"The market conditions are also favourable, but I'm a big believer that our destiny should be in our own control, and not just down to a general upturn."
Lots to be getting on with
Nevertheless, "favourable market winds" will play their part, with PDi pursuing opportunities in its legacy oil and gas, and decommissioning businesses – including a move to do work on topsides.
That is in addition to energy transition openings, an area the company knows well, having secured its first renewables project – an audit for the Barrow Offshore Wind Project – way back in 2007.
A mammoth amount of work of that ilk is coming down the road too, with PDi looking to capitalise on opportunities arising from ScotWind and INTOG, particularly those of a floating nature.
"There is plenty for us to be getting after," assured Kirstie Langan, PDi's new global business development director.
There is also a chance for PDi, which has an office on Gallowgate in the centre of Aberdeen, to utilise its existing subsea expertise to assist in the repurposing of pipelines and infrastructure for hydrogen and carbon capture and storage.
Growing the team
Of course, this all requires pairs of hands, and a recruitment drive is in motion, to add to the company's 30 staff and 100 contractors, most of whom are based in the north-east.
Langan said: "We're revitalising our graduate programme; both the programme itself, and the number of graduates we'll take on.
"At the same time, we're looking to do resources and recruitment in house – to leverage the expertise we have already – and we have and will continue to bring in key hires."
Sourcing new recruits is easier said than done currently though, with the UK in the midst of a skills shortage – one the energy industry is feeling particularly acutely.
Drummond is hopeful that PDi's "value proposition" can act as a major pull, particularly the chance to do a variety of work for different clients; Spirit Energy, Repsol Sinopec and Baker Hughes to name but a few.
Langan, who has previously spent at a number of services firms – including TechnipFMC, Apollo and Helix Energy Solutions – is also keen to stress that despite its lofty ambitions, PDi won't lose sight of its culture and ethos.
"We are at a pivotal point in our journey, and what we have to offer is completely unique, and exactly what the market needs right now.
"It's like a community of best practice, but obviously we're a company, and that's the reason why we've a number of people who have been with PDi from the start. That mix of expertise, with an injection of graduates; it creates a lovely atmosphere."
Drummond added: "I know people say the client comes first; but by putting employees first, you do put the client first. They're motivated, they're engaged in what they're doing, and it shines through."