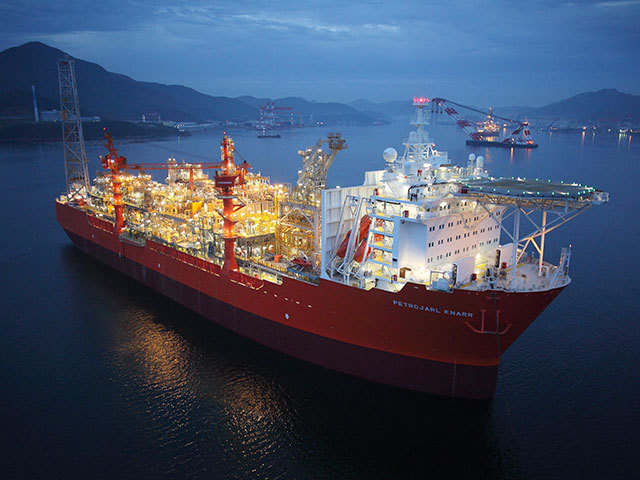 Energy giant Equinor and Altera Infrastructure are "fully engaged" in a study that could result in the vessel owner's Petrojarl Knarr FPSO being picked for the 300 million barrel Rosebank gig.
A spokeswoman for Altera said Petrojarl Knarr was a "strong candidate" for deployment in "harsh waters", such as those found at Rosebank's location.
Altera, whose principal office is in Westhill, near Aberdeen, also said the ship could be powered using clean electricity from shore, which would lower the project's emissions.
One of the UK Continental Shelf's largest remaining oilfields, Rosebank was discovered in 2004 and lies about 80 miles north-west of Shetland.
Upstream Online reported that Petrojarl Knarr FPSO looked "almost certain" to be selected as the preferred development option for the project.
Norwegian firm Equinor declined to comment on the report.
But Altera's spokeswoman said: "We are fully engaged in a concept study with Equinor for the possible redeployment of an FPSO to the UK Rosebank field that is west of Shetland.
"The Petrojarl Knarr FPSO is a strong candidate for redeployment in harsh waters.
"Petrojarl Knarr is a relatively new and modern asset, and it was constructed to allow for electrification to be provided from shore, which would reduce operational CO2 emissions.
"We continue to be actively engaged in discussions and study work for a range of different redeployment options for the Knarr FPSO."
Petrojarl Knarr was built by Samsung Heavy Industries in South Korea and delivered in 2014.
It has been operating on the Knarr field offshore Norway since 2015 – and last year an extension of the lease until at least March 2022 was agreed.
Equinor bought its 40%-operated stake in the field from Chevron in late 2018.
The deal heralded the company's return to the project after an absence of more than five years.
Equinor previously held a 30% non-operated interest in Rosebank, but sold it to Austrian firm OMV in 2013.
In June 2019, Equinor said it had pushed back the final investment decision date for the project to May 2022.
Energy consultancy Wood Mackenzie previously said developing Rosebank would cost about £4.5 billion and require a floating production, offloading and storage vessel, and up to 20 production wells.
But Equinor believed it could lower the project budget if it spent more time weighing up the development options.
Equinor's partners on Rosebank are Canada-based Suncor Energy (40%) and Aberdeen-headquartered Siccar Point Energy (20%).
This morning, ahead of its capital markets day update, Equinor set out the ambition to reduce its net carbon intensity by 20% by 2030 and 40% by 2035, building on its mission to become a net-zero company by 2050.
Equinor, which used to be called Statoil, expects to invest around $23 billion in renewables from 2021 to 2026.
It will increase the share of gross capex for renewables and low carbon solutions from around 4% in 2020 to more than 50% by 2030.
Meanwhile, consulting and engineering giant Wood, of Aberdeen, has been awarded an extension to its existing framework agreement with Equinor to support the operator's offshore assets in the Norwegian Continental Shelf
With the agreement extending through to Q1 2023, Wood will work with Equinor to drive down costs, increase efficiency, and improve sustainability on the Snorre A, Snorre B, Visund, Grane, and Martin Linge platforms.
Recommended for you

Ithaca welcomes 'strategic progress' on Cambo, Rosebank in Q3