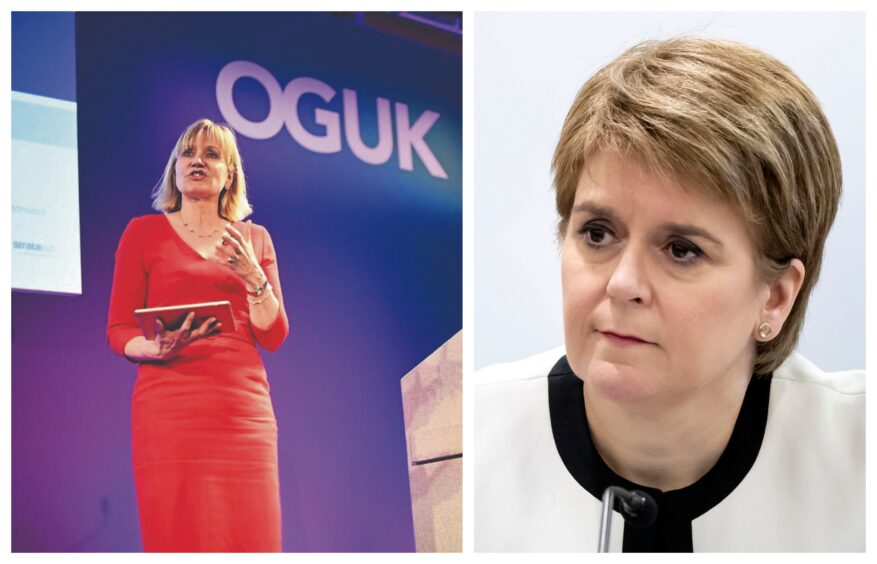 The chief executive of Oil and Gas UK (OGUK) has written to the First Minister Nicola Sturgeon, issuing a jobs warning over "high-profile negative campaigns" against the Cambo oil field.
Deirdre Michie sent a letter to Ms Sturgeon today saying "it is key that projects like Cambo proceed" and "further jobs will be lost in Scotland" if investment in oil and gas projects is stopped.
It comes after The First Minister wrote to Prime Minister Boris Johnson earlier urging the UK Government to "reassess" existing oil and gas licences, including the controversial development in the West of Shetland.
Ms Michie said that ceasing investment in new projects would "undermine the energy transition" adding that "highly transferable" skills in the sector "will be key to Scotland delivering on its climate change targets".
She added : "As an industry we are proud of the contribution we continue to make to the economic wellbeing of Scotland, both in terms of satisfying its ongoing energy needs and in relation to driving the energy transition forward.
"The two are inextricably linked and for as long as activities in the transitioning oil and gas sector are in line with the CCC supply and demand pathway, it is key that projects like Cambo proceed."
It's understood that oil industry chief had intended to get the letter to Ms Sturgeon prior to the Cambo news breaking earlier today.
The OGUK boss also highlighted that the industry supports an estimated 71,000 jobs (including indirect and induced roles) across Scotland and that 78% of its energy needs are met from oil and gas.
Ms Michie added that any increase in imports would generate a greater carbon footprint, offshoring its emissions and responsibilities, and the country would have "no means of controlling or reducing such emissions".
In her letter to Boris Johnson, Nicola Sturgeon noted that the recently-signed North Sea Transition Deal will introduce climate checkpoints, but added "I believe we must go further" and that the UK Government should "reassess" projects such as Cambo.
In response, the UK's department for Business, Energy and Industrial Strategy (BEIS), said: "The UK is the only G7 country to have agreed a landmark deal to support the oil and gas industry's transition to green energy by 2050 while at the same time supporting 40,000 jobs.
"Even though demand for fossil fuels is falling and we continue to break records on our use of renewable energy, the advice of the independent Climate Change Committee is that we will continue to need oil and gas in the coming years as it is still vital to the production of many everyday essentials like medicines.
"We have already ended support for fossil fuels overseas, and are already designing a climate compatibility checkpoint which will ensure any future licenses will only be granted if they are aligned with the UK's climate change objectives."
Recommended for you

First Minister 'disappointed' at Rosebank field approval