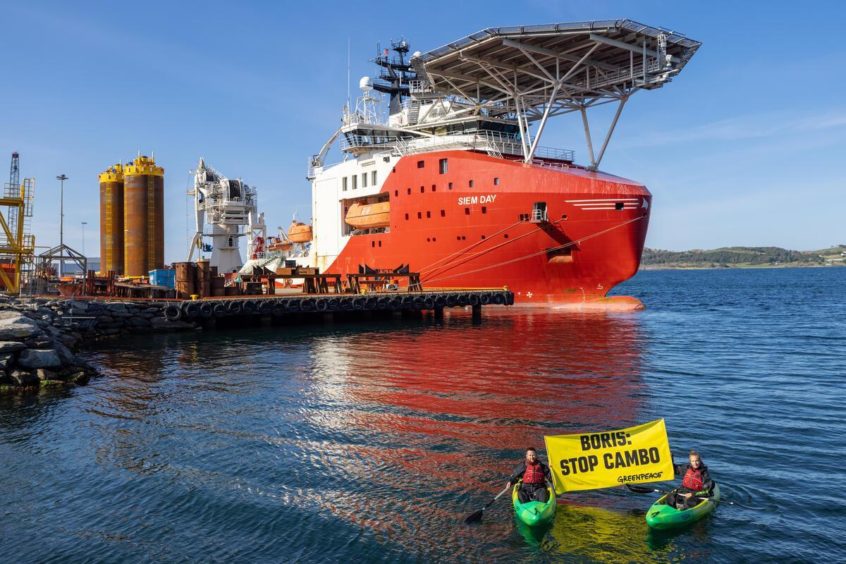 Two activists in kayaks confronted a vessel in Norway amid suspicions that the UK Government and an oil company were set to "jump the gun" on the Cambo project, west of Shetland.
The pair yesterday paddled out to the Siem Day ship, which, they understood, was going to take drilling kit out to the Cambo field from Stavanger, Norway.
A Notice to Mariners indicated the work was going to get under way tomorrow.
Greenpeace questioned the legality of doing this work as operator Siccar Point Energy's field development plan has not been approved yet.
The campaign group said it had written to Business Secretary Kwasi Kwarteng, asking him to ensure that the job does not begin without a valid permit.
However, Siccar Point, whose project partner is Shell, said this morning that the vessel's departure to the Cambo field was not imminent and insisted it was doing everything by the book.
The company said its contractor, Petrofac, had applied for consent to install the "conductor anchor nodes" through the appropriate channels.
Siccar Point, of Aberdeen, said the work had to be carried out ahead of well construction activities and, as such, could legally sit out with the full field development environmental consent process.
The contractor was still waiting for approval from the UK Government for the task and would not have started without this in place.
In any case, a decision has now been made to postpone the work until next year due to "operational issues" and in light of the closing weather window, west of Shetland.
The Oil and Gas Authority said it did not comment on individual applications.
However, the regulator did explain that consent from both itself and offshore environmental regulators within the UK Government would be required before well foundation installation work could take place.
Consent would include a condition to remove installed devices if the well is not drilled by a specified date.
Furthermore, any such consent would not allow Siccar Point to drill wells or start fully developing or producing from the field.
A spokeswoman for the UK Department for Business, Energy and Industrial Strategy said: "Final consent for preparatory work at the Cambo field must first be granted by the Oil & Gas Authority. Without this consent, the work cannot commence. Ministers are not involved in this process."
The Cambo project has been the focus of intense scrutiny and criticism from campaign groups and some political parties who want the proposals to be rejected ahead of the COP26 summit.
They say it would compromise the UK's efforts to reach net-zero emissions by 2050.
Private-equity backed Siccar Point hopes to develop the field in stages, the first of which targets about 170 million barrels of oil.
The company argues that the project would create employment and help ensure security of energy supply for the UK.
Recommended for you

Oil protestors flooded Kwasi Kwarteng with 20,000 emails to block Cambo