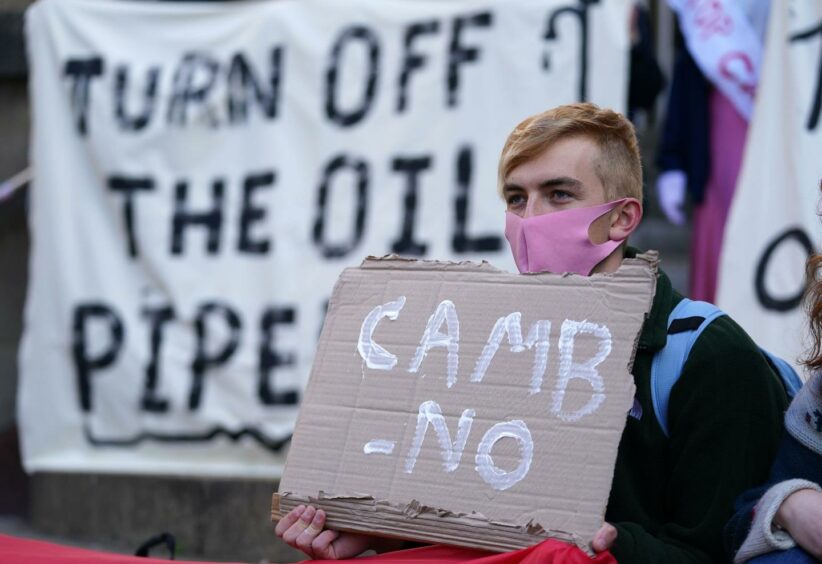 Siccar Point Energy has said it is "pausing" the Cambo oil project in the West of Shetland after Shell decided to pull out of the controversial development.
Shell, which owns 30%, sent shockwaves through the industry last week when it decided to not to continue investment, raising huge doubt over its future.
In a statement, Siccar Point Energy, which operates Cambo and holds the remaining 70%, said it cannot now proceed on the originally planned timescale.
Chief executive Jonathan Roger said: "Following Shell's announcement last week, we are in a position where the Cambo project cannot progress on the originally planned timescale. We are pausing the development while we evaluate next steps.
"We continue to believe Cambo is a robust project that can play an important part of the UK's energy security providing homegrown energy supply and reducing carbon intensive imports, whilst supporting a just transition."
It comes as the licence for the Cambo project is due to expire in March.
Shell cited economic reasons and the potential for delays as part of its reasoning for leaving the project, while environmental campaigners claimed it was a "death blow" to the project.
Shell North Sea boss addresses Cambo controversy at industry gala
The West of Shetland project is initially targeting 175 million barrels, but subsequent phases would go after additional resources, according to the phase one Environmental Statement.
It has been a major battleground in the run up to and during the COP26 climate conference.
Cheerleaders throwing energy security 'under the bus'
The GMB union said the move was damaging for security of energy supply, citing Oil and Gas UK figures that the UK has forked out £18bn for imported fuel in the first six months of 2021.
Gary Smith, GMB General Secretary, said:  "It's meant to be a transition to a low carbon economy, not a surrender of the national interest.
"The cheerleaders for Cambo's shutdown aren't just throwing energy workers under the bus, but also our security of supply for the gas we will still need on the road to 2050."
Meanwhile Friends of the Earth Scotland said it was "another nail in the coffin" for the development.
Head of campaigns Mary Church added: "The UK Government must officially reject the Cambo proposal once and for all and end licensing for all new oil and gas projects if it wants to play its part in limiting dangerous climate warming.
"Planning for a rapid and just transition to renewable energy cannot wait any longer or continue to be left to the whims of fossil fuel companies and the market."
Trade body Oil and Gas UK has made a case for new fields in order to maintain production as the industry gradually transitions to net zero.
Supply chain and operations director Katy Heidenreich said: "This is a commercial decision and while we can't comment on specific projects, we know that continued investment will be required to avoid increasing reliance on imported energy, protect security of supply and deliver a homegrown energy transition."
Friends of the Earth and Greenpeace have called for Westminster and Holyrood to officially reject the project.
Last week the Scottish Government, led by the SNP in coalition with the Scottish Greens, re-stated its position calling for all approved licences where drilling has not yet been approved to be "urgently reassessed".
Scottish conservative Shadow Cabinet Secretary for Net Zero, Liam Kerr MSP said: "The hostile SNP-Green stance on projects like Cambo is making it less attractive for energy companies to invest in Scottish oil and gas.
"This announcement from Siccar Point Energy is extremely concerning for the oil and gas industry.
"Without investment in these projects, we risk becoming even more dependent on foreign imports rather than making use of Scotland's domestic reserves of oil and gas."
Energy remains a reserved matter for the UK Government.
A BEIS spokesperson said: "While this is ultimately a commercial decision to be taken independently by Siccar Point Energy, we remain committed to our domestic offshore oil and gas sector, which continues to keep us warm, fuel our cars and strengthen our security of supply while we grow our renewables sector.
"Without a domestic source of gas, we would be even more reliant on foreign imports."
Shell
Earlier this week, Shell North Sea boss Simon Roddy said the decision was "not taken in a vacuum" and highlighted that a  "predictable and supportive environment is the key to the future of the North Sea".
Analysts have given their views on the matter, some pointing to the investment case in the UK.
Ashley Kelty of investment bank Panmure Gordon said the backlash to Cambo, along with regulatory issues on the Jackdaw scheme, means Shell is "likely to see the UKCS as a difficult place to invest".
Meanwhile Ruaraidh Montgomery, global head of upstream research at Welligence, said he was not shocked by the decision from Shell "given the controversy that has dogged this project for a long, long time".
He added: "Shell has this global portfolio of opportunities, for Shell it is a relatively small project in their global portfolio and Shell will just reallocate that capital elsewhere."
Siccar Point Energy is backed by private equity firms Bluewater and Blackstone.
When Shell first farmed into the project in 2018 commercial details were not disclosed, however it was noted that Shell would cover a carry cost "on any subsequently approved development on Cambo".
Up until Shell's announcement last week, the industry had been awaiting a decision from the Oil and Gas Authority, and by extension the UK Government, on whether to give the project a regulatory green light, which would have allowed it to proceed to a final investment decision.