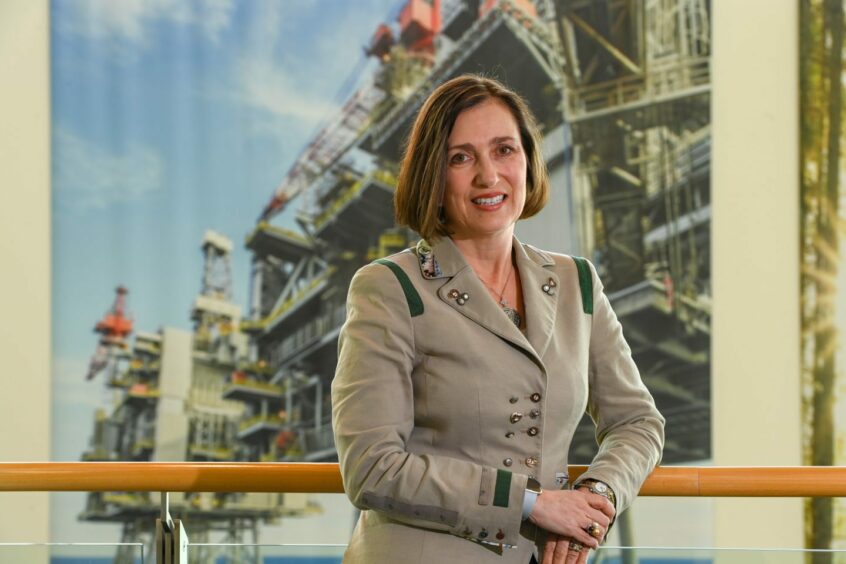 BP (LON: BP) is looking to the next phase of its giant Clair oilfield in the west of Shetland, with a key final investment decision (FID) hoped to be reached next year.
Clair South – now known simply as Clair Phase Three – is the latest stage for developing the largest hydrocarbon accumulation in Western Europe, with a total seven billion barrels in place on the overall Clair field.
UK managing director Doris Reiter told Energy Voice that a bridge-linked platform is being considered, which would be bolted on to the existing Clair Ridge facility, or a previously-mooted all-subsea development could be selected, and are seen as the frontrunner options.
"What we're unlikely going to be doing is an integrated facility," says Reiter, meaning a standalone platform is least likely.
The firm "should come to a resolution" on the development option within the next three to six months, with BP "hoping to get that to FID next year".
A green light would come as part of a package of activity ongoing in the West of Shetland, alongside the central North Sea, as part of commitments to energy security and low-carbon developments.
But there are tensions with further development; approval would come after the United Nations said bluntly last month that rich countries should quit coal, oil and gas by 2040.
On the flip side, the UK industry regulator said in 2021 that current reserves in Britain could only sustain until 2030 without new fields coming online – while research last month showed the country imported a record of more than £100bn of energy in 2022.
BP says its strategy is seeking to address the supply crisis and energy transition.
In February, CEO Bernard Looney said the major would be investing in the energy transition "and – not or" today's energy system, which is predominantly oil and gas.
To that end, the firm is investing globally up to $16bn more than previously planned by 2030, split down the middle between "transition growth engines" and fossil fuels.
Reiter says: "We are leaning into our strategy, and governments around the world have approached us, given the tragic events that happened a little over a year ago that showed the fragility of the current energy supply.
"And it's clear that we need to continue producing energy in the moment  – for today, tomorrow, and so forth – to make sure that security of supply is stable and affordable whilst we continue on our path to net zero."
'Leaning into our strategy'
In the UK, BP is "more than doubling" its capital spending programme relative to last year as it presses on with activity.
BP started production of Clair in 2005, followed by the huge Clair Ridge expansion in 2018 through a near-£5bn investment.
The firm has been weighing its options on the third phase of the oilfield, and a potential FID was pushed back in 2020 to ensure it aligned with its low-carbon ambitions.
Now, the potential to develop Clair Phase Three comes as BP has signed a pact with Equinor and Ithaca Energy on electrification, aimed to decarbonise assets in the west of Shetland region.
That's one of the points being considered for any potential FID on Clair Phase Three.
"We realise that as we go into the decades to come, both within the North Sea transition Deal which we obviously signed on to, plus our global targets, that we need to decarbonise our facilities," says Reiter.
"So as we're looking to Clair Phase Three, that piece will certainly be a component."
Electrification has come a long way from a "standing start a year of so ago", says Reiter, who notes it as a "key lever" for decarbonisation – and also highlights that BP in the North Sea has "reduced our emissions by 30% already" from 2019.
Doubling capital programme
Aberdeen is a "microcosm of BP's journey from International Oil Company to International Energy Company", says Reiter, the first woman to lead the major's portfolio in the North Sea, who took up the post last year.
"I was really thrilled to be asked to take on this role. Clearly the North Sea is a material business for BP, we've been here about 60 years or thereabouts and we plan to be here for several more decades to come."
She notes BP's work on a hydrogen hub, based in Aberdeen, with an FID expected later this year, ahead of first production targeted by the end of 2024.
From its Dyce base, BP also has people establishing an offshore wind centre of excellence and working on its Teesside carbon capture, utilisation and storage project.
But the oil and gas sector continues to be a key driver, and the firm isn't letting up there.
A "real buzz in the building" for the firm's Dyce headquarters "is having this foundation of what we call resilient hydrocarbon business, underpinning our transition to net zero".
In the west of Shetland, BP is running a big seismic campaign in the region – over the Clair field, starting in April – and is already drilling extra wells in its Schiehallion area using the Ocean GreatWhite rig.
This year, BP is standing up three rig lines, in addition to one already running on Clair Ridge.
Elsewhere, the firm will, this year, bring on Seagull, a central North Sea tie-back to its ETAP hub, with Neptune Energy, alongside plans in the works for another tie-back called Murlach.
Something of an elephant in the room is the Foinaven field in the west of Shetland, whose ageing FPSO was taken off site last year for decommissioning.
BP is still sitting on a sizeable development there – with an estimated 200 million barrels remaining in reserves.
But amid sale speculation, Reiter wouldn't be drawn; "We're evaluating our options on this".
And with all of this activity, there raises a question of whether BP spending has been impacted by the windfall tax, otherwise known as the Energy Profits Levy (EPL).
Trade body Offshore Energy UK (OEUK) estimates 90% of operators have slashed spend due to the levy.
BP's package of spending planned for 2023 predates the introduction of the EPL, but  Reiter says the tax is being monitored as future investments come through, and considered on a case-by-case basis.
"The position we are in with our portfolio and the assets we have is making our investment propositions quite robust.
"Obviously, as the nature of our business, we would evaluate impact and our investments are still competitive.
"As we bring those forward for investment decisions, they will be evaluated on an individual basis."
Don't call it a rollback
In February, BP announced it was slowing down its retreat from fossil fuels as soaring oil and gas prices drove it to its highest ever set of earnings.
Rather than a 40% cut in production of oil and gas by 2030, the cut will instead land at 25%.
Reiter "would not describe it as a rollback of our strategy", highlighting that governments have approached BP for more production in the wake of Russia's invasion of Ukraine.
Meanwhile the focus on low-carbon and renewables is moving forward, as set out in August 2020.
"What's really exciting is we laid out the strategy a couple of years ago for the North Sea, that's very much in line with the broader BP strategy and we are now – 2023 – in a really exciting year to gear up and executing on that strategy."
She goes on to highlight that investment in "transition growth engines" has gone from 3% of BPs capital budget in 2019, to 30% this year, with plans to increase that to 40% by 2025 and 50% of total capital outlay by 2030.
However, some have viewed the oil and gas move as a means of bolstering shares, as BP sees the performance of its oil and gas-heavy US rivals, and reducing its position as an energy transition leader.
To that, Reiter replies: "I think BP is still very distinctive in what we are doing in terms of our strategy, our commitment to net zero.
"I see our job as three things: continuing safe, reliable operations, plus investing in the hydrocarbon business on the theme of security of supply and affordability.
"We are paying our taxes, but then our shareholders (are) our owners, so it's important that they are big stakeholder that we need to look out for as well.
"When we look globally, we spend about $16 billion in capital expenditure, spend $15 billion in taxes last year and $10 billion in share buybacks, so just to keep that (in perspective)."
Labour and labour
For the UK, Ms Reiter is clear that a stable fiscal regime is "hugely important" for long-term decisions.
That comes as the sector braces for a general election, with a strong possibility of a Labour government coming in to tax the sector more heavily.
Another, perhaps more pressing, issue for the industry right now is worker unrest with unions, at time of writing, threatening a "tsunami" of strike action, which will hit BP assets, among others.
Asked about this, Reiter replies: "What's important to know this we are working really hard with our suppliers across the basin to make sure this remains an attractive place to work, but at the same time the basin also needs to stay competitive.
"And that means to be competitive within the global context and within a global context of the likes of BP.
"This is a cyclical industry. Prices go up and they go down. And within that, we need to make sure that we make sure it's remains a great place to work, but also remains competitive."
First woman to lead BP in North Sea
Reiter worked as vice president for subsurface for the North Sea and Angola for more than three years  – topping a 20-year career at BP – before she took on her current position as senior vice president for BP North Sea.
She follows Emeka Emembolu, Ariel Flores, Mark Thomas and Trevor Garlick in the position and, despite an improving landscape at executive level, it remains relatively rare for a woman to be in her role.
Reiter says she is "hugely privileged" to take on the job and noted the industry "still has a long way to go on diversity and inclusion (D&I)".
Her own leadership team is – excluding Reiter – 40% female and 10% ethnic minority; close to parity.
"We've come a long way. I think it's easier than it was 20 years ago, but I don't think it's easy yet, and I feel hugely privileged if I can serve as a role model."
Cultural changes, including opportunities being opened through remote working, have improved matters.
"We need to think about how we allow women to transition back into the workplace successfully after they had they have children.
"That's a real passion mine because the most successful teams are diverse teams. So it's going to be an agenda that that we'll continue to keep pushing."
BP has partnered with groups including AFBE to ensure there are more opportunities for ethnic minority engineers in the sector, and skills body OPITO to bring up apprentices.
For Reiter, the draw is clear: "It's a fascinating industry and you get to do some really great stuff that brings energy to the world – whether that be in the hydrocarbon business or whether it will be in the low carbon business."