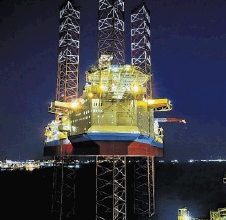 French oil giant Total has extended its agreement with Maersk Drilling for the use of one of its rigs.
The Maersk Intrepid rig has been on contract for Total on the Martin Linge field in the Norwegian North Sea since 2014.
The contract has now been extended by 196 days, with an options for an extra 61 days.
The contract extension will commence in September 2018 and covers accommodation work for hook-up and commissioning of the Martin Linge production topside, as well as potential drilling operations.
Lars Østergaard, chief commercial officer at Maersk Drilling, said: "It is very rewarding that we are able to secure an extension of a long term contract in a strategically important market.
"This contract is founded on a strong and long standing relationship with customer Total and it is a prime example of our ambition to offer long term value to our customers.
"With this extension we are securing work for the rig all the way to Q2 2019."
Recommended for you

Maersk Drilling lands £30 mill contract with Ineos