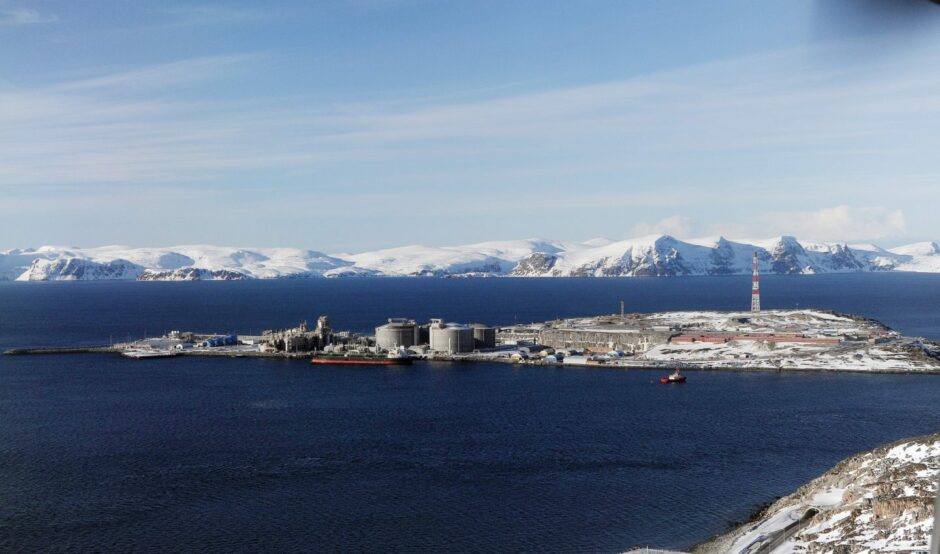 Equinor (OSLO:EQNR) and its partners have today submitted plans for new compression and electrification facilities at the Hammerfest LNG plant (HLNG), securing gas exports beyond 2030.
Snøhvit is a gas and condensate field that lies northwest of Hammerfest in northern Norway, output from which is routed via a 90-mile pipeline to the Melkøya gas facility (HLNG) near the town.
Operated by Equinor (36.7%) and partners including Petoro (30%), TotalEnergies (18.4%), Neptune Energy (12%) and Wintershall Dea (2.8%), it was the first development in the southern Barents Sea.
Now the partners intend to prolong output from the field and the facility via a NOK 13.2 billion ($1.3bn) investment in new onshore compression and electrification infrastructure at HLNG, as part of a project dubbed Snøhvit Future.
The state-owned energy giant submitted a plan for development and operation (PDO) for the scheme to Norway's Minister of Petroleum and Energy on behalf of the partnership on Tuesday.
The PDO covers an onshore compressor, transformer station and electric steam boilers on Melkøya; a new grid connection including a transforming station at Hyggevatn; and the development of a new 420kV power line from Skaidi to Hyggevatn.
The additional grid capacity available to Hammerfest will also pave the way for further industrial developments in the area, they said.
Onshore gas compression will provide enough flow from the reservoir to extend plateau production and maintain high gas exports from HLNG beyond 2030, while electrification will support an emissions reduction of 850,000 tonnes of CO2e per year at HLNG – equivalent to around 2% of Norway's annual emissions.
During normal production conditions, HLNG delivers 18.4 million cubic metres of gas per day, or 6.5 billion cubic metres (bcm) per year – around 5% of all Norwegian gas export.
However, output has been disrupted by a 20-month shutdown following a fire on an air intake at one of the plant's power turbines in September 2020. Production resumed in June of this year.
Geir Tungesvik, Equinor's executive vice president for projects, drilling and procurement said the new upgrades would "strengthen Norway's position as a reliable and long-term supplier of LNG to Europe" and secure operations and exports from Melkøya "towards 2050."
"Snøhvit Future is a comprehensive and complex project in which expertise, collaboration, and experience in the Norwegian petroleum cluster and within the partnership have brought us to an important final investment decision. The project has good socioeconomic benefits and will create strong ripple effects in the north," he added.
Around 70% of the value from the development phase is expected to come from Norwegian companies, more than one-third of which will be committed to Northern Norway, the partners said.
"The Snøhvit Future project underlines our commitment to the North. It is crucial to secure operation and maintain existing jobs on Melkøya. In the development phase we estimate additional regional employment of around 1680 full-time equivalents. We are focusing on meeting the ambitions of North Norwegian content in the contracts to be awarded in the project phase towards operation start in 2028," added Grete B. Haaland, Equinor's senior vice president for exploration and production north.
Neptune's managing director for Norway and the UK, Odin Estensen, welcomed the "key milestone," which he called "a major step towards the decarbonization of our production."
Neptune Energy is also a partner in the Equinor-operated fields Njord, Gudrun and Fram, which are all in the process of being electrified. The Gjøa field in the North Sea, operated by Neptune, is already powered by hydroelectricity, generated onshore.
Recommended for you

North Sea wildcat well bears fruit for Equinor