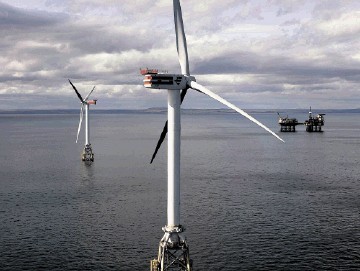 Much of this issue is given over to subsea oil & gas and the crisis that it faces.
As the big subsea contractors watch their backlogs shrink and doubtless cringe at the thought of taking delivery of the next seagoing "Swiss Army Knife" ordered during the boom and as firms further down the food chain wonder if they'll still be in business three . . . six months from now, necessity becomes the mother of invention.
As I stated last month, it wouldn't matter if the oil price doubled now, recovery will be painful, slow and, in the North Sea, probably only partial.
But there is work out there, though harsh bargains will be the name of the game. Subsea firms that have done well on the capex front are having to accept the fact that the offshore developments pipeline is drying up.
That basically leaves IRM (inspection, repair & maintenance) as production infrastructure has to be kept up to scratch in compliance terms at least.
And, by the look of it, there will be a lot of decommissioning too as more and more operators throw in the towel, unable to make a crust out of creaking North Sea infrastructure and sick of fiscal jiggery-pokery.
However, there is another major opportunity out there that this industry must grasp and do properly this time.
I'm talking about offshore renewables . . . that now £multi-billion opportunity that FM Nicola Sturgeon failed to mention in her Aberdeen City Deal letter to PM David Cameron.
And which Ian Wood failed to cover in his oddly titled "Museum or Renaissance" address at the Robert Gordon University City Deal Summit before Christmas just past. I raised the Wood omission in an Energy Voice commentary recently and make no apology for repeating it.
I also mentioned my concern about maritime renewables in a note to Scotland's energy minister Fergus Ewing not many days ago (see Pages 18-19 and 23).
And what about the new north-east economic development entity, ONE, that replaces defunct predecessor ACSEF?
It seems that renewables are being pushed aside, even though there are two offshore wind projects of immense strategic importance to Scotland, the wider UK and Europe.
I am of course referring to the European Offshore Wind Deployment Centre (Aberdeen Renewable Energy Group and Vattenfall); and Buchan Deep (Statoil). Approximate joint capex is £400million and the EOWDC still has a 40million euros grant attached to it.
Do a quick Google and you'll find this statement: "Opportunity North East (ONE), led by senior business figures from across the region, aims to broaden and strengthen the economy by investing in and accelerating the delivery of projects of scale and impact through four key sector boards covering oil & gas; food, drink & agriculture; life sciences; and tourism."
Education appears to have been sidelined too, even though it is a major economic activity in its own right . . . the two universities, a large regional college and various specialist institutes. And what about clean-tech?
There are three stories in this edition that very clearly point to the renewables opportunity that the oil & gas supply chain, where relevant, must grab.
On Page 40 is a review of the Buchan Deep project. Operator Statoil is now a major player in maritime renewables and sees the huge value of applying heritage oil & gas expertise.
On Page 4 is an exclusive on a radical new wind turbine blade erosion protection system developed by TRAC of Aberdeen.
And opposite, we report on Bibby's major investment in the first offshore wind operations support ship of its kind ever built. It's the sort of thing Craig Group should be doing.
Aberdeen is stuffed with companies where a bit of lateral thinking has helped them generate business from maritime renewables projects . . . much of it toe in the water stuff but which could lead to big opportunities in the future.
And those big opportunities are increasingly out there as £multi-billion projects get to the final investment decision stage. And some are through that gate.
Are we seriously going to downplay the renewables opportunity by sending out the kind of headline messages that ONE (pump-primed to the tune of £25million by Wood) is, that Sturgeon did in her letter and that Wood did at the summit?
I was asked recently whether Aberdeen had turned its back on renewables . . . Trump and all that carry-on.
Same person observed: "But what about all the subsea stuff that goes into renewables?"
He was referring to thousands of turbine foundations, spread mooring systems for Statoil's Hywind, sophisticated subsea kit, ROVs and a new generation installation ship for the Pentland Firth MeyGen project, thousands of miles of cables, thousands of connectors, huge requirements for diving services and ROVs, survey vessels and so-forth.
My reply was that he was preaching to the converted; he hadn't realised that I had been the founder/chairman of AREG and on the board for the EOWDC project.
Nor did said person realise that the EOWDC is fully approved AND attracted the largest grant that the EU has ever offered to this area.
I can imagine that some of our North Sea neighbours are laughing at Aberdeen . . . an oil & gas has-been that cannot move with the times and be a real energy capital.
Are you aware that foreign media are currently paying a lot of attention to Aberdeen?
Some have visited to find out whether it has become a ghost town yet. They even ask about Trump and the windfarm because of the battles in court that made global headlines.
I warned last month that the oil & gas recovery when it comes will take years to kick-in. Pinsent Mason's view is too optimistic, given past history.
Meanwhile there is a complementary business opportunity staring us in the face . . . maritime renewables, complete with its considerable subsea content.
Are we seriously going to let foreign competition and other centres in the UK including the Central Belt of Scotland grab the lion's share of maritime renewables business?
Or are we going to stand up and fight? If so, then make it clear that maritime renewables are right up there as a key strategic objective. Right now they're not . . . witness the City Deal final document signed by Sundry & All. The term 'renewable energy' is missing.