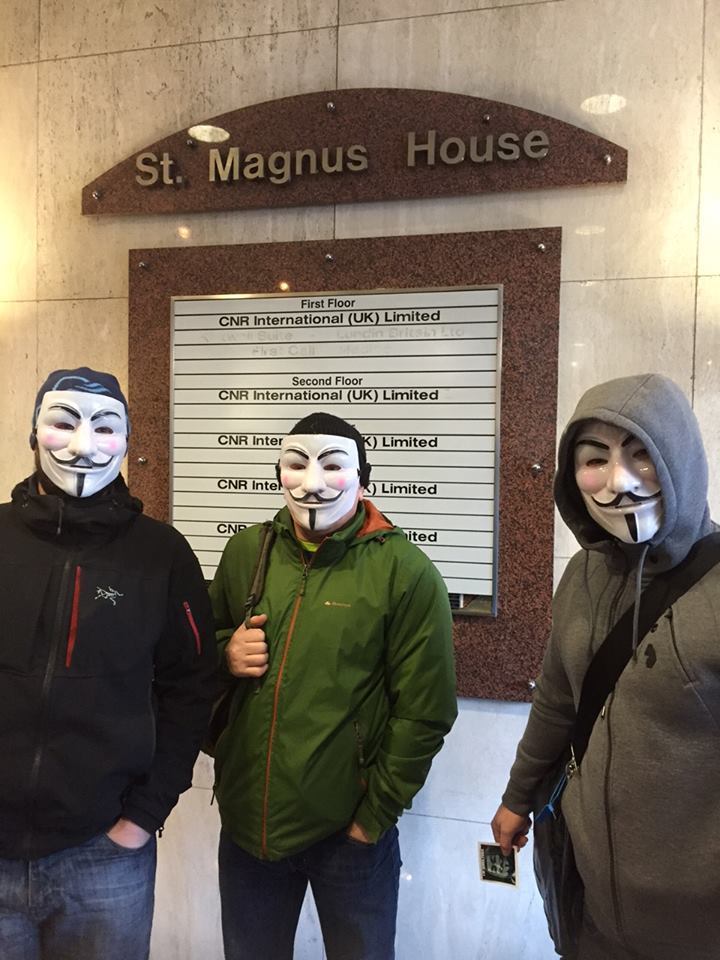 The past month has been an interesting one.
We've been the recipient of an anonymous letter, there has been commentary on anonymous reporting in the Scottish Parliament Economy, Energy and Tourism Committee's recent publication, and we have been paid a visit from 20 or so masked protesters.
"So what?" you may ask…
Well, taking each one in turn, I want to start with the anonymous letter which highlighted concerns about wearing XBR armbands during offshore travel.
While some may be keen to dismiss or immediately file in the 'too difficult box', our first reaction was to take it seriously.
Now I am sure the issue presented is not widespread, and in this case may even have been isolated, but we will discuss it at a steering group meeting nevertheless.
If someone takes the time to write, then at the very least we can take the time to understand if there is something we can do to address the issue.
What frustrates me is that I don't know who this person is and I cannot engage or emphasise that we take these things seriously. Which takes me to the second matter.
The health and safety section in this year's "Future Prospects for Oil and Gas in Scotland" report covers the issue of reporting.
From our own research into workforce engagement, it highlights two very important points about raising health and safety matters.
Our own industry metric indicates that 90% of workers completing the Step Change in Safety workforce engagement survey over the past three years can raise concerns relating to a procedure or work practice.
However, this falls to 80% when it relates to an individual. Why? There is simply more at stake.
After all, it's easy to criticise an inanimate object such as a procedure or a practice, or even an organisation that we don't think is delivering the right outcome.
But directly challenging a colleague we work with poses the prospect for potential conflict, or at least a difficult conversation. All of us can be forgiven from shying away from conflict in the interests of sustaining a relationship and a more harmonious work environment.
The evidence suggests that we have a good reporting record and while there is always room for improvement, the question we should ask ourselves is: "Has it changed as a result of the current challenges faced by the industry?"
Building on my first point, we must ensure that we take time to understand the issues raised in the parliamentary report and not dismiss them right away; using the tools at our disposal to help us address these.
We have a tremendous engagement resource in the role of the Elected Safety Representative, safety committees and management visits to help us identify areas for improvement.
If that fails, we have the workforce engagement survey tool that gives us an objective benchmark on which to build.
Many industries have well established anonymous reporting tools and they appear to work well and there are often calls for us to replicate if we can, but the fact that these are still required points to more systemic cultural issues.
Having achieved a measure of 80-90%, our efforts should be focused on addressing any obstacles and barriers to engagement to increase this number, and not in creating even better, confidential and anonymous reporting systems.
I must admit that I welcomed the formation of the trade union's Offshore Coordination Group, a little bit of joined-up thinking can go a long way, but where do the masked men akin to the anonymous hacker movement fit in? Surely engagement is part of the answer here too.
The problem of anonymity boils down to the fact that engagement is central to our ability to deliver change, be it safety improvements or how we must collectively face the challenge of the low oil price.
Without it, there is little hope in finding a common understanding on which to build from. Failure to do so has the potential to leave us all with egg on our face and a lot less to play for.
Les Linklater is an executive director at Step Change in Safety.
Recommended for you

Can Africa's OPEC producers seize their opportunity?