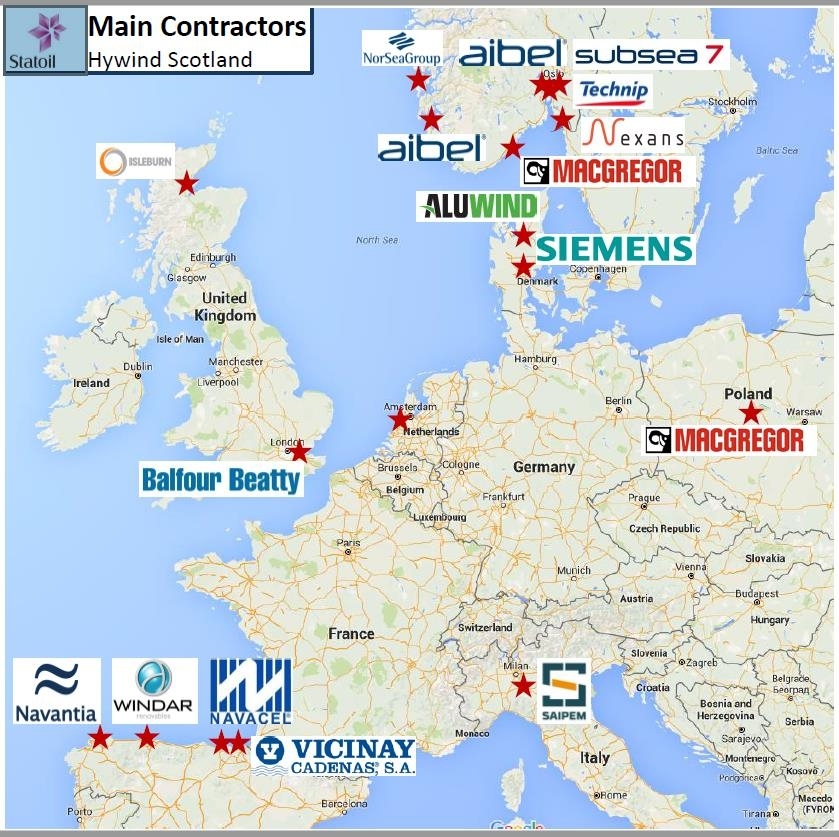 Local content has for long been a major issue in the UK oil & gas industry. It has become one with renewables too.
In a nutshell, my view is that far too little of the content of either is genuinely local, bearing in mind that much of the manufacturing capability and capacity on UK soil is foreign-owned.
There is of course also the small matter of not having the ability to do something in the first place:
Like manufacturing power heads for all but the teensiest of garden shed wind turbines – we can't
Like building service vessels for either offshore oil & gas or maritime renewables – we can't except dinky stuff
Like building offshore drilling rigs or drillships – we can't
Like building production ships
Like building heavy-lifters
Like much else besides
Like nuclear power stations
Along the past 50 or 60 or so years we have lost the ability to manufacture any of the above, or we never had it in the first place.
We even had big turbine technology – think James Howden; but that went to the Danes years ago.
Put bluntly, it's appalling.
It really wouldn't matter which industry one looks at, Britain is the little country with grossly overblown ideas about its ranking on the global stage and which simply buys what it needs off someone else's supermarket shelves with its bust credit card.
Last month, I got a shock when I saw Statoil's presentation to the All-Energy conference stolen by Glasgow from Aberdeen a couple or three years ago. The topic was the Hywind floating windfarm project of which the Norwegian energy semi-parastatal is justifiably proud and which has made Aberdeen its UK offshore energy home . . . thankfully.
But take a moment to look at to whom and where the main contracts for Hywind were awarded. Only Balfour Beatty and Isleburn (a unit of Global Energy Group) secured anything and then it was grunt stuff . . . crumbs.
The spar hulls contract, for example, went to Navantia in Spain. Why? The wages at Navantia are, it is said, paid by the Spanish government. If that is the case then the contract must have been grossly underbid. If anyone in the UK bid for that work, I was told that they didn't stand a chance.
That map says it all. It is an indictment on UK government policy and actions as much as anything else.
Late last month, Scottish & Southern Energy, operator of the almost 600MW Beatrice windfarm, and other partners in the £2.9billion project, made their final investment decision and grandly rolled out news on the three main contracts for the development that is expected to generate 900 jobs during the construction phase, whatever that really means.
One of the statements issued by SSE says of the who gets what at this stage reads as follows:
"The windfarm is being developed with a Tier-1 supply chain comprising Seaway Heavy Lifting, Subsea 7, Nexans and Siemens and is expected to deliver c. £680m into the UK and Scottish economy via employment and supply chain opportunities during the construction phase and c. £400m – £525m during the windfarm's 25-year operational life."
So, less that 25% of stated capex money is to be spent in Britain, it seems.
As for opex, divide 400 by 25 and you get 16. In other words, SSE & Co calculate that £16million a year (without tapering to allow for inflation) will about cover the UK's share of annual running costs. Or it seems that way.
That's buttons. Is the figure correct?
None of the Tier-1 contractors is British. Yes, Subsea 7's global operations hub is Aberdeen, but it's a Norwegian company. As for Siemens, while it is apparently planning to make blades at its new Humberside plant, the juicy, high-value power-heads, for example, get built elsewhere . . . like in Germany.
I've figured that the only Tier-2 companies in Scotland within a reasonable shout of landing biggish packages of work are Global Energy Group on the Cromarty Firth and BiFab in which SSE has a 15% stake and where massive political pressure has been applied in the hope that the Fife company gets the 84 turbine jackets to build.
I shall be very hacked off indeed if both don't secure respectable packages.
Scouting has generated nothing in the way of clues that I can regard as credible. SSE has everyone muzzled. All Global would say was: "We are in negotiations and Global hopes to be successful."
Bifab's MD John Robertson expressed hope but also worry.
I have been told that "SSE wants two bites at the cherry". They want to announce the benefits to the Scottish supply chain and Scotland's new energy minister Paul Wheelhouse will cash in by creaming some kudos, even though all the real action happened on predecessor Fergus Ewing's watch.
Wheelhouse said of the FID and Tier-1 awards: "The Beatrice Offshore Windfarm has the opportunity to deliver so much to Caithness and Scotland as a whole, in terms of employment and community benefit. Scotland's renewables sector is stronger than ever …", etc.
Renewables rank as Scotland's largest power generation bloc, but that is all. There is little else to show for it except a few bits and pieces, with companies like BiFab struggling to stay alive.
About three months ago, I happened to be in the same room as Tord Lien, Norway's petroleum minister. He was really pumped up, having just initiated at Kvaerner, the construction of the platform topsides for the huge Johan Sverdrup oilfield development.
What he said about its value to Norway was music to my ears: "It represents enormous value creation and employment opportunities for decades . . . generations to come."
Wheelhouse could usefully learn from Lien, EU or no EU!
Recommended for you

Dutch shipyard Damen wins huge UK wind farm boats order with Purus