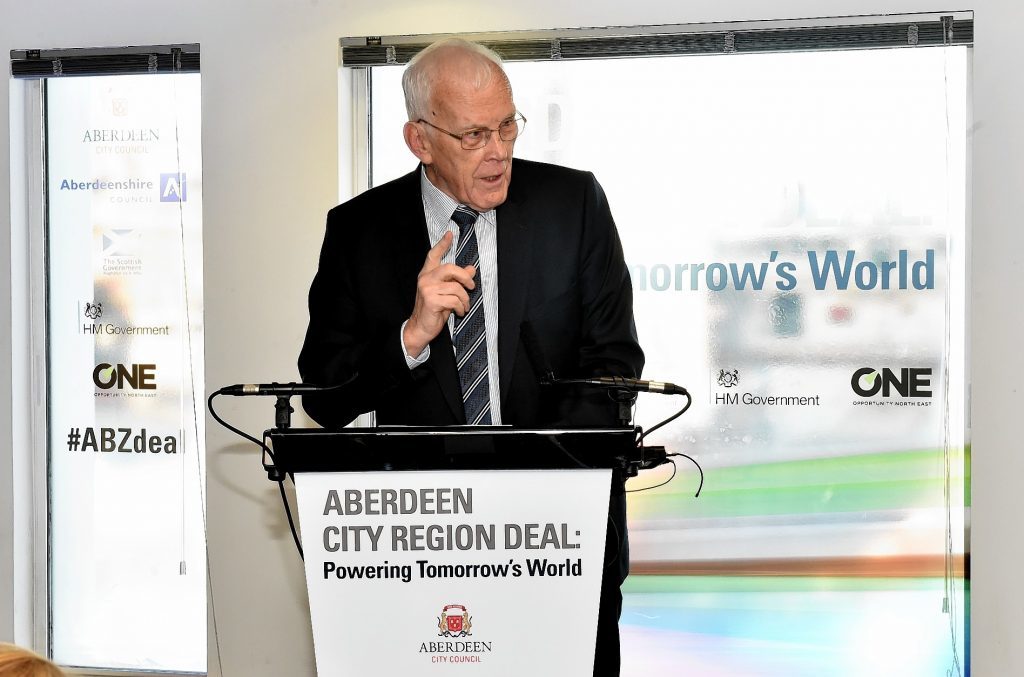 As Europe's offshore oil and gas capital, our region has a well-earned reputation for enterprise and innovation, but the eventual depletion of North Sea reserves over the next 25 to 35 years gives us a serious long-term economic challenge.
Our current production of 1.6million boe (barrels of oil equivalent) per day is liable to be down to less than 0.2million by 2050. This represents one eighth of current production.
Opportunity North East was set up by industry to address this challenge and I firmly believe that across both private and public sectors, there is now greater awareness of the imperative to plan and act now.
There are two very contrasting visions. The first is renaissance, which will require economic planning and development to maximise the remaining North Sea opportunities and stimulate, diversify and broaden our economy for the post-North Sea oil era.
The second is that, as the oil price recovers, we relapse into complacency, fall back on bad habits, don't plan and invest ahead, and in 25 to 35 years' time become a historical monument to the oil and gas era.
This region must adopt the renaissance vision and mindset. In maximising the North Sea oil and gas opportunity, we must evolve from offshore operations and services to become a major technology development centre and here the new Oil and Gas Technology Centre will play a vital role.
ONE is about business and industry working with others, focused on investment and action to stimulate economic growth, safeguard jobs and create new employment opportunities with strong sector initiatives in food, drink and agriculture, life sciences and tourism.
The City Region Deal is a major vote of confidence in the growth potential of our key industries, with £210million of the funding allocated to innovation projects.
We have a wealth of talent in our businesses and two successful universities, Aberdeen and RGU. This innovation funding must transform how we work together to solve industry's technology challenges in oil and gas, food, drink and agriculture, and life sciences.
Our food and drink sector employs more than 22,000 people. We provide 25% of Scotland's primary agricultural output and half of its fish landings.
The new Agri-Food and Nutrition Hub will catalyse the creation of new products focusing the region's world class research expertise on sustainable agriculture and nutrition. It will stimulate spin-outs and start-ups, and support established companies to diversify.
The life sciences sector is smaller but represents a significant part of our high-value economy. With more than 2,500 jobs, the sector has, in the last five years, attracted almost £250million in research funding and secured £175million investment.
The Bio-Therapeutic Hub for Innovation will enhance the status of our life sciences community, building on its strength in biologics, developing therapies and treatments for modern diseases including Alzheimer's, cancer, diabetes and antibiotic resistance. The hub will support spinout and growth companies. This will ensure companies achieve their potential and will act as a magnet to attract talent and inward investment to the region to build critical mass.
The challenge in oil and gas is to play our role in maximising economic recovery for the UK but also maximising the local opportunities for our region.
The new Oil and Gas Technology Centre (OGTC), with clear global aspirations, should become the magnet to encourage a significant number of our hi-tech supply chain to stay in the region post the North Sea.
The speed with which we have taken the OGTC from concept, through testing with industry and government, through business case development, and now a standalone operating institute, signals the ambition and urgency of our resolve.
Today is the end of the beginning. We recognise the challenge, we now have some funding and plans to greatly enhance our innovation facilities. We must now all work together and deliver a rebalanced, healthy, sustainable economic future.
Recommended for you

AREG Energy Futures conference to highlight size of prize for north-east