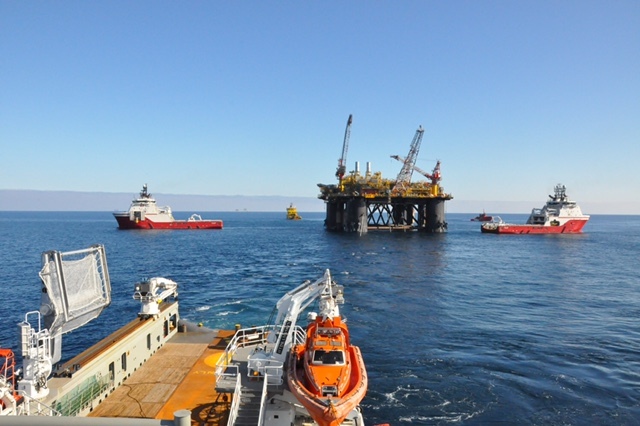 As 2016 draws to a close, I find myself reflecting on what the future holds for us all and how increasingly urgent it is that we must adapt if, as a species, we are to remain viable.
That of course implies that – unless you are already living in a totally sustainable way – and industrialised man most certainly is not, massive changes must happen.
The Worldwide Fund for Nature research into human-induced mass extinction and published as the Living Planet Report 2016 is irrefutable evidence of this.
One of the areas of all our lives where huge changes are under way, hopefully for the better, is the harnessing of energy. In a nutshell: if we don't get to a totally sustainable position then we're sunk on that alone.
Anyone who has read Peter Tertzakian's book 'A Thousand Barrels a Second' will be aware that there have been several energy transitions and that each takes around 60 years.
None are total, but each is of an immense scale …arguably much greater than most of us are prepared to concede. They also overlap a lot.
Tertzakian's book was published in 2006 and reckoned to be timely, bearing in mind that the "next" energy revolution was already gaining traction. By that, I mean the increasingly necessary shift to low carbon energy; a push, nay battle, that began in Aberdeen in 2000 with the launch of All Energy, may I remind.
Tertzakian clearly articulated why it was that Big Oil had to adapt or die.
Ten years on, and respected analysts Wood Mackenzie have just trotted out a report that in so many words delivers the same message – if Big Oil doesn't adapt then it will die.
"The next global energy transition is already under way, posing risks for some of the world's largest energy companies," says WoodMac.
It warns that coal and oil demand could peak well before 2035.
That's not long given that this wee newspaper has been around for 15 years and that interval of time has gone by in a flash, and an average UK offshore development takes 17 years from initial discovery to first production.
The three main risks for global oil majors identified in Wood Mackenzie's study: "Fossil fuels to low-carbon: The Majors' energy transition" are: the growth in renewable energy, intensifying carbon policy, and increasing low-carbon competition.
Paul McConnell, research director of global trends for WoodMac, said of his team's analysis: "As carbon policy intensifies, the oil and gas majors will face more regulatory burden, and are likely to face increasing costs.
"Green financing could also mean higher cost of capital for more carbon-intensive oil assets, such as oil sands, as investors shift to alternative fuels and lower-carbon technologies."
WoodMac's study shows that only 13% of global emissions are currently covered by a price on carbon.
It says that the vast majority of the petroleum majors' upstream operations are not yet directly impacted, with most policies primarily focused on the power and industrial sectors.
"Up to 50% of their production could be hit with carbon costs over the next decade – but only if the countries and regions that currently price carbon extend their policies to the extractives sectors."
For now, these are commonly outside the scope of emissions-limiting schemes, as the analyst's fact crunchers and scenario artists observe.
"Global major oil companies are under pressure to de-risk their existing business models and diversify into low-carbon energies," says WoodMac, stating the obvious. However, diversification into renewables will be challenging. It will be difficult to both justify allocating already scarce capital to low-returning projects and transform existing business models," it argues.
But anything of scale is challenging for heaven's sake. And this is an industry that has done a terrific job of screwing itself up, which, besides the political dimension, is a fundamental reason why we have the current and enduring slump.
So will transition to low carbon energy be any more difficult?
That surely depends upon mind-set. Most of us are familiar with the expression "where there's a will, there's a way".
DONG of Denmark is a great example, in my view. This state-owned entity has transformed itself in recent years. From its roots as Denmark's national oil & gas company, to becoming one of the world's leading offshore wind developer, it is an example of what is possible.
Engie is another good example. Rooted in utilities but with a sizeable gas production operation, this French group also sees its future in green power generation.
And, while parastatal Statoil is hardly likely to dump its very much larger oil & gas portfolio any time soon, it too is a major player in the green space. The same cannot be said of any of the super-majors, and I mean ANY.
McConnell says the timing of a transition to low-carbon energy will be critical. Errr, yes. But what does that really mean?
Again the blindingly obvious: "Diversifying to renewable energy will be a balancing act. Moving too quickly could leave money on the table from the majors' fossil fuels business. But too slowly, and they could miss their window of opportunity.
"The biggest risk for oil & gas companies is to do nothing, and be left exposed to investors making their own minds up."
I haven't a clue what he means by the money on the table bit …city jargon perhaps?
As for doing nothing; that's pretty much what they've mostly been doing; with many effectively living in denial.
On March 28, Tim Worstall wrote an excoriating piece about Big Oil and transition to low carbon in that American Establishment, Ivy League mouthpiece, Forbes.
On the very idea that Exxon, for example, let alone any of the majors could make the shift, he wrote: "The oil majors would not be good at this, in fact they'd stink at it."
And later: "The idea of converting a company which has absolutely no clue about renewables into a company that does renewables just isn't going to work."
Well he got the last bit wrong, witness DONG especially. But DONG is that one swallow and, to chuck another great old saying into this commentary, "one swallow does not a summer make".
And who is Worstall? Wiki notes that he's a British-born writer and senior fellow of the Adam Smith Institute.
But there's a piece of the conversation that's missing …almost totally missing. And that's feedstock.
Everyone talks about low carbon, low carbon and low carbon again. What they really mean is green electricity (including terrestrial transport).
But even having totally eliminated Big Oil from the power generation equation, that still leaves everything else. That everything else requires feedstock and, so far, no-one has come up with anything resembling a viable suite of genuinely scalable substitutes.
And so, there's a long-term role for Big Oil after all!