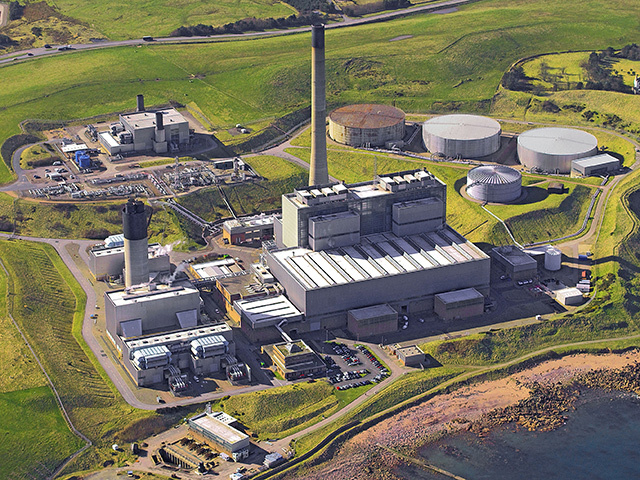 We could be forgiven for thinking that the transition to sustainable energy has been achieved. In 2014, renewables generated 49.9% of Scotland's electricity output, and 59.4% in 2015.  On 7 August this year, renewable power provided more electricity than Scotland needed [2] and, in the third quarter, it produced 26% of the entire UK's needs.
A pipeline of projects is primed to take us up to and over the 100%. Danish former oil company Dong has reinvented itself as an offshore wind giant, and Shell has bought into Kite Gen wind turbines. And Scotland is now in a world-leading position by exceeding its carbon reduction budget – six years ahead of schedule. These are formidable achievements.
Seen another way, this is the easy part, to decarbonise 21% of energy through closure of Scotland's heritage industries and especially power plant. From now on, sustainable energy gets harder. Not only does Scotland need to reach an 80% reduction of carbon dioxide (CO2) emissions by 2050; we must also attain "net zero" emissions before the middle of this century, following the Paris CoP21 climate agreement. And asking people to pay more is not an option; in 2015, around a third of Scottish households were fuel poor.
The uncomfortable reality is that, although annual averages are impressive, hour-by-hour electrical power from wind or tide is not reliably dispatchable when needed. And it is well established that the wind does not always blow somewhere else in Europe, so international interconnectors cannot supply Scotland with electricity when gaps occur. Inevitably, following the closure of the Longannet coal-fired power station, there is now an 80-fold increase in imported electricity from England for around half of the year.
So can energy storage save us? As the late Sir David Mackay frequently said, "Your energy arithmetic has to add up". Adding up the large pumped storage reservoirs in Scotland is straightforward: Cruachan (440 MW) 7 gigawatt hours; Foyers (300 MW) 6 GWh; Glenmuckloch (400MW) 1.7 GWh. So, to meet a future peak demand on a calm evening in a renewable Scotland, these resources of 14.7 GWh would supply 5GW for just three hours – generously six hours, allowing for efficient demand reduction. To avoid blackout, Scotland has either to rely on dispatchable electricity from other nations or build and maintain storage or different sources of energy.
To store the equivalent energy to meet a seven-day gap in wind generation will require more than 20 Cruachan developments. Or every household in Scotland buying a week's worth of battery storage at a cost of more than £50,000. Or we build nuclear. It's a weighty decision.
Looking forward, the problem becomes worse when other energy uses are considered: heat is 55% and transport 25% of Scottish energy use. In winter, demand for heat is about six times that for electricity. That heat is supplied by methane gas to over 90% of Scottish homes. To progress the Scottish – and UK – reduction in carbon emissions, we cannot continue to burn gas in dispersed homes and businesses after 2030. So what replaces gas? Another big decision looms. We could go all-electric for heating and increase renewable generation at least six-fold, with back-up storage equivalent to 120 Cruachan sites. Or we consider multiple sources of energy.
Leading the options race just now is the possibility of replacing methane in gas grids with hydrogen gas. Not as daft as it sounds. Before North Sea gas, every household used "town gas" with a 50% hydrogen content, made from gasifying coal. And, by good fortune, the recent programme of renewing local gas grids to prevent methane leakage has created networks suitable for piping hydrogen.
The cheapest source of hydrogen right now is from splitting methane into hydrogen and CO2 by a process called steam methane reforming. This is half the price of producing the gas by electrolyzing water using off-peak renewable electricity. And that price advantage is only overcome if renewable electricity is generated for less than £0.03 per kilowatt hour. But this affordable hydrogen must also be low in carbon, so its production must include CO2 removal and geological storage.
Here are three wins for Scotland. Firstly, there is a suitable empty pipeline that could carry the captured CO2 from central Scotland to St Fergus in the north east; secondly, there are suitable empty pipes from St Fergus to ideal CO2 storage sites beneath the North Sea (the Goldeneye gas field and the Captain Sandstone); thirdly, a plentiful supply of CO2 can be put to commercial use for enhanced oil recovery to produce an additional 3 billion barrels of oil, with the added value of a low-carbon footprint, when viewed in a global context.
To reduce Scotland's CO2 emissions by 2050 also needs long-term planning with industry. The Grangemouth and east Scotland industries produce 4 million tonnes of CO2 yearly. That includes brewers, distillers, glassworks, cement, and paper as well as the more obvious petrochemicals. Capturing CO2 already occurs at some of these sites and that can be expanded without waiting for UK carbon capture and storage (CCS) mega projects.
A CO2 removal service from central Scotland can provide an opportunity unique in Europe for Scotland to become a low-carbon manufacturer and innovation centre, helping to evolve, retain, and attract many thousands of high-value jobs.
All this needs vision from the Scottish Government alongside bold decisions by industry and businesses to grasp these new opportunities. But the first decisions are needed within months, or even weeks. The pipeline networks so crucial to transporting CO2 from hydrogen production and industry clusters are facing imminent decommissioning under conventional UK oil and gas rules.
We must keep these pipes in the ground while we work out the best transition not just to low-carbon electricity but to a truly low-carbon economy.  And this can include affordable electricity and heat services, which can be owned and operated in Scotland.
Stuart Haszeldine is a Professor of CCS at University of Edinburgh, and Director of Scottish Carbon Capture & Storage (SCCS).
Recommended for you

NorthLink ferries to plug into Port of Aberdeen's carbon-busting mission