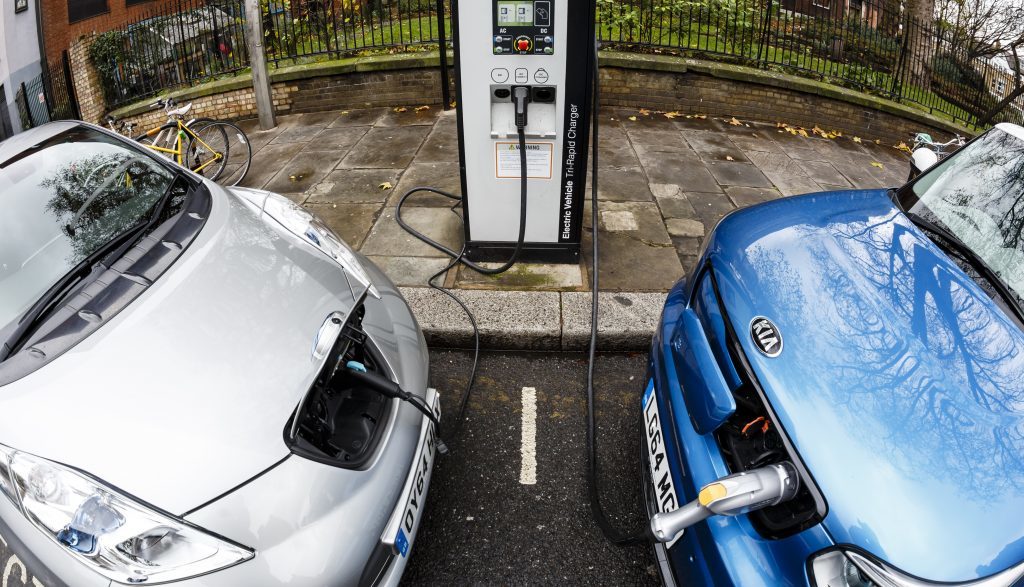 Once upon a time, it was only Elon Musk making shoot-for-the-stars statements about the glittering future of electric cars. Now, even the most sober of his rivals are getting in on the act.
Chongqing Changan Automobile Co. and BAIC Motor Corp., China's fourth- and fifth-largest automakers, announced in October and this month that they'll end deliveries of petroleum-powered cars by 2025. A target for hybrids and electric vehicles to be 90 percent of Geely Automobile Holdings Ltd.'s sales by 2020 is still on track, according to a company presentation last week, despite making up about 1.5 percent of the total in the first half.
Annual EV sales expected by 2030
8 million
It's not just China that's changing fast. One in four Daimler AG cars sold in 2025 will be electric, according to the company's research chief Ola Kallenius, and by 2030, the same will apply to two-thirds of Honda Motor Co. vehicles. Even Toyota Motor Corp., which for many years has favored hybrids and hydrogen fuel-cell vehicles over battery-electric models, will release 10 purely electric cars by the early 2020s and plans to have such models account for 50 percent of deliveries by 2030, the company said Monday.
In June, automakers had already announced plans to sell as many as eight million electric vehicles a year by 2030, equivalent to about nine percent of current global sales, according to Colin McKerracher and Nikolas Soulopoulos of Bloomberg New Energy Finance.
This ambition is welcome. As Gadfly has argued, changing regulations in China and India and the rapidly falling cost of electric batteries mean we're already past the tipping point in the switch from petroleum- to lithium-powered cars.
Electric models will start undercutting traditional vehicles on price by around 2025. Given that most people own their cars for about six years, if you've bought a vehicle recently it's likely that, like Royal Dutch Shell Plc Chief Executive Officer Ben Van Beurden, your next model might well be electric. The few automakers that lack strategies for dealing with this new world are in trouble.
At the same time, a strange dichotomy has grown up between automakers' bold words about the future and their more cautious actions in the present.
Take fuel economy. Daimler, for all its leadership in the transition to EVs, was the loudest industry voice in calling on the European Union to adopt a less ambitious target for auto emissions this year, seeking a 20 percent reduction from 2021 levels compared to the 30 percent desired by the European Commission.
"Currently, the reality is that the market uptake of electrically chargeable vehicles is low, and this is not due to lack of availability and choice," Automotive News Europe quoted Daimler's Chief Executive Officer Dieter Zetsche as saying in September in relation to the EU targets. Could this be the same Dieter Zetsche who a year earlier was exhorting drivers to "join the revolution" of electrification?
Consumer tastes present challenges more profound than that. One of the strangest aspects of the line-ups presented at the world's automotive shows during 2017 has been the stark divide between zippy electric sedans and hatchbacks, and lumbering gas-guzzling SUVs.
While every automaker is chasing the holy grail of an electric (or at least plug-in hybrid) SUV like Mitsubishi Motors Corp.'s Outlander and Tesla Inc.'s Model X, in reality it's hard to reconcile the two ideals. As a result, companies are pushing smaller, more-fuel-efficient designs while consumers ask for larger, less-fuel-efficient ones. Something in that equation has to give.
This is a discomfiting thought. This Gadfly believes the world will — must — make a rapid transition to electrified transport so as to reduce carbon emissions globally as well as tailpipe pollution in its crowded cities. Thanks to cheaper batteries, advances in lightweight materials, and the combined muscle of the world's automakers, chemical giants, utilities, and energy companies, ambitions to phase out internal combustion engines by the late 2030s are eminently achievable. Getting to that point a decade sooner looks a stretch.
Daimler's Zetsche, to be fair, has been admirably forthright on this subject, warning that the first generation of EVs will probably devour an outsize share of capital and produce disappointing margins. His Chinese counterparts, though, appear to be breaking into a run when they've barely learned to walk.
That dynamic isn't without risks. Beijing doesn't like to bankrupt its state-owned firms, and carmakers that get over-extended in their rush to electrify can be expected to lobby hard to roll back any regulations that later prove too onerous. That may leave us with rules less ambitious than ones that would have resulted from a more orderly transition.
While there's nothing wrong with ambition, carmakers should temper their vision with a dose of realism. Switching to electric vehicles is a necessary change. But be prepared for an awful lot of blood, toil, tears and sweat in the interim.