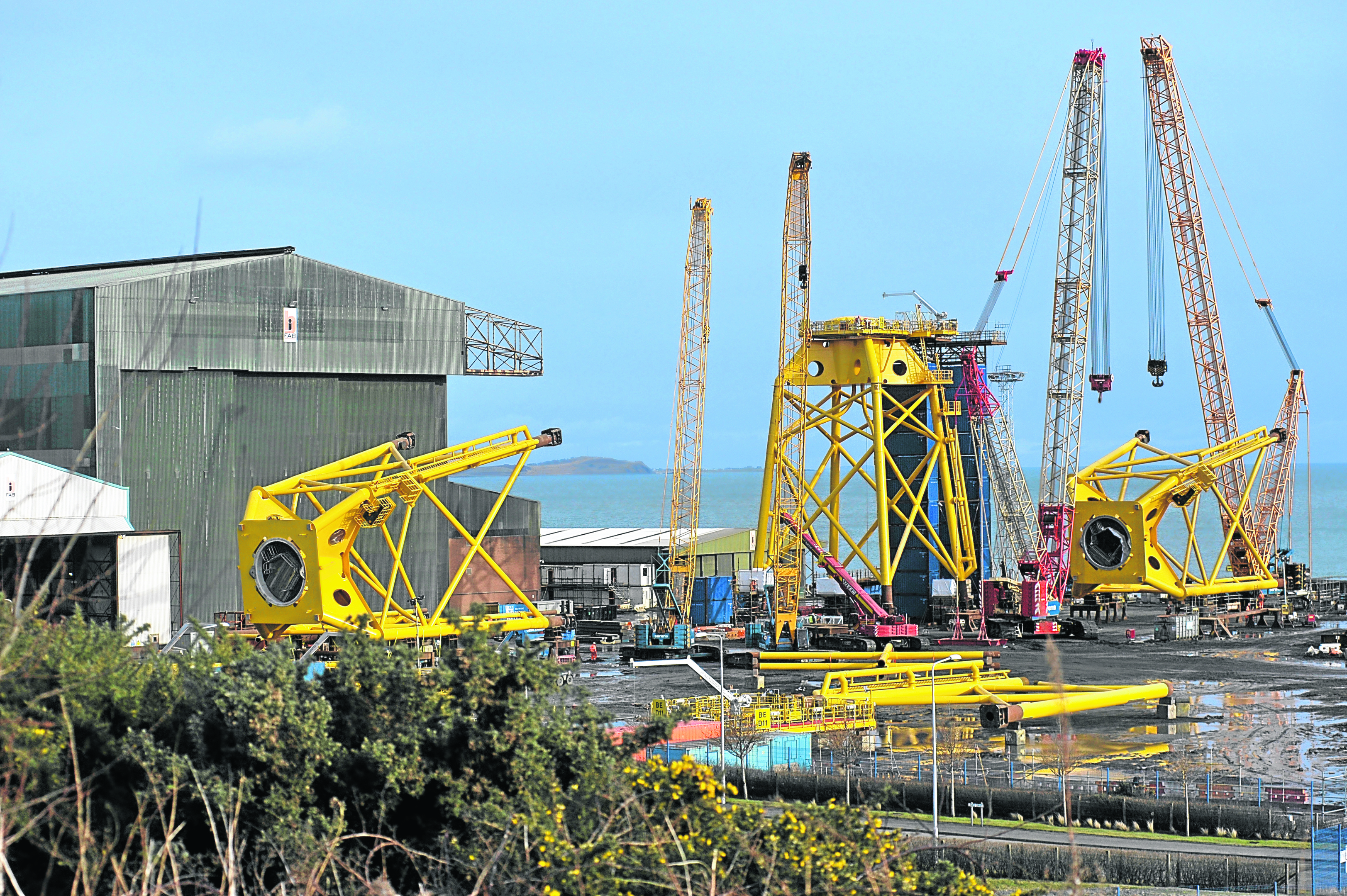 Opinion by Jeremy Cresswell
Emeritus editor, Energy
That the BiFab yard has been rescued from oblivion is good news; that the arm which reached out is Canadian is good news, too.
The situation will certainly be a talking point at this year's All Energy bash in Glasgow.
The rescue has been effected even though the company has nothing on its books beyond completing and loading out the current batch of offshore wind turbine jackets.
Had the Fife facility been picked up by UK interests, I'd be really worried, unless it had been someone of the calibre of Jim McColl, who in any case has his hands full trying to secure a real future for the Ferguson Shipyard on the Clyde, to which he threw a lifeline in September 2014; or perhaps even Global Energy Group up on the Cromarty Firth, which has enough issues to deal with.
I've no idea whether either of the above parties expressed interest in picking up BiFab. Maybe they did. And there will doubtless have been a number of expressions of interest from other UK entities that I suspect might have been more interested in asset stripping – like the steel rolling plant in the Arnish yard for starters – than in finding a genuine future for the company.
BiFab is a survivor, that's for sure. A few years ago I was regaled with some of the stories by the late JR Robertson, who was one of the co-founders of Burntisland Fabrications, which was created through a management buy-out of the business in 2001.
It is under JR's leadership that BiFab developed to a three-centre company – Burntisland, Arnish and the former Kvaerner yard at Methil. He had the foresight way back then to realise that offshore renewables were poised to become a major North Sea opportunity and wanted a piece of the action.
On one of my visits to the Methil site, he proudly showed me the company's early work on the development of oil and gas style mini-jackets for offshore turbines while at the same time handling substantial pieces of work for North Sea clients too.
By 2010, BiFab was possibly the only yard in the UK that was successfully handling both business streams successfully – one based on large one-off lumps of engineering fabrication, the other centred on manufacturing of relatively simple structures.
Indeed it pioneered the jacket style by building the jackets for Talisman and Scottish & Southern's Beatrice demonstrator.
After Beatrice came Ormonde with 30 jackets, plus the six jacket substructures for the Alpha Ventus demonstrator in Germany.
But it was always stop-start. The biggest turbine jacket orders for the UK sector always seemed to go to foreign competition. Prior to his untimely death in August last year, JR was looking at a reasonable order book with 26 substructures for the full-scale Beatrice development owned by SSE (40%), Copenhagen Infrastructure Partners (35%) and Red Rock Power
(25%).
However, that was only part of the overall requirement. In fact the upper jacket parts went to Smulders in Belgium; while lower jacket parts went to the Smulders Projects UK yard on the Tyne.
The jacket foundations for the 84-turbine project were divvied up as follows: Smulders (28), BiFab (26) and Bladt (30).
In my view, BiFab was short-changed over Beatrice and this will have put JR under enormous stress.
In my view too, Seaway Heavy Lifting (SHL), which won the EPCI contract for the Beatrice foundations and array cables, had taken a heavy-handed approach to BiFab.
As was extensively reported last year, there was a dispute between the companies and this led to the company's financial difficulties.
That the Scottish Government became involved in trying to find a way forward is telling in itself; or indeed that it has a small stake in the rescued BiFab, which shows real faith.
The last time I met with JR a few years back he expressed frustration that the BiFab dream was not properly understood either by government or its agencies, particularly Scottish Enterprise, despite the Fife Energy Park, which, in essence, hinged on BiFab's presence and success.
Had BiFab simply been allowed to go under instead of being
rescued by Canadian interests, it would have ripped the guts out of Fife Energy Park and created a massive headache for both Scottish Enterprise and the local authority.
Little wonder then that the Scottish Government became so involved.
Anyway, back to the last significant conversation with JR, which was about five years ago, when I was also still chairman of Aberdeen Renewable Energy Group.
We chimed over the deep, intractable issues that have always dogged offshore renewables in the UK when it comes to the supply chain. We buy them in; we build little of what's needed.
"If you look at turbines, they're coming from overseas, blades too. The only opportunity we have at this time is sub-structures and tower fabrication," JR said. "The threat is real and even China is getting UK work.
"We're the only UK player at this time with a substructure solution. We're also playing to our strengths from the oil and gas sector, which is very important.
"The other area where we can be of tremendous benefit is our experience in operations and maintenance; and that's probably it for us in the UK, other than maybe increasing the supply chain and possibly getting turbine assembly into the UK in a couple of areas."
There are now more than 3,000 wind turbines planted out there in the North Sea; the majority in UK waters. The population will in just a few years hit 10,000 and counting. Someone is going to make a lot of money out of this staggering Capex commitment. But it's not going to be the Brits, I fear.
JR's ambition was to build up to 100 substructures a year. But he never got the chance; I hope that JV Driver through subsidiary DF Barnes does.
Put it this way, anyone familiar with Bombardier knows how tenacious Canadian companies can be. But for this company, sizeable chunks of UK domestic aviation and rail rolling stock capability might have disappeared over the past 30 or so years.