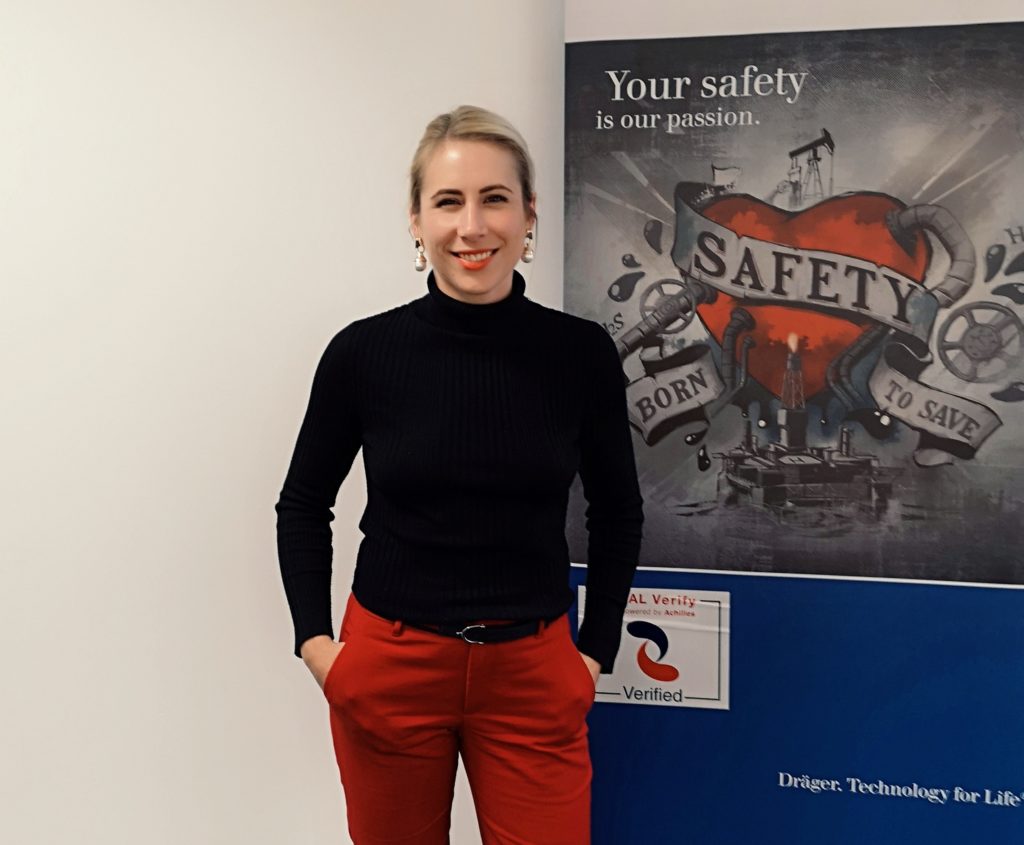 Major gas leaks remain a serious concern in the North Sea according to figures in Oil & Gas UK's annual health and safety report, with at least two per year plus dozens of smaller category releases. The study urges the industry to invest more in improved procedures and technologies to better protect people, assets and the offshore environment.
Latest statistics show that of 255 incidents reported to the HSE last year, more than 90 were due to gas leaks. As the number of independent operators working in the UK Continental Shelf (UKCS) grows and existing, aging assets and fields change hands, the need to ensure gas detection systems are reliable is paramount.
Megan Hine has recently joined Dräger Safety UK as a key account manager for fixed gas detection. She said: "Fixed gas detection systems, which typically use wired systems, have been deployed to 'sense' hydrocarbons for decades. However, they are time-consuming and costly to install. With the move towards generating efficiencies through digitalisation, the industry is now looking at wireless technology to reduce risk and cost."
Wireless systems are becoming a viable alternative to costly and complex cable systems to reliably monitor atmospheric conditions and are estimated to save more than 80% in offshore project costs.
"Traditionally, improvements to technologies have been slow to reach the oil and gas market due to the industry's inherent reluctance to move away from tried and tested methods," Hine explained. "However, fixed wireless gas detection technologies represent an opportunity for operators to work smarter and leaner."
Dräger Safety UK is the leading manufacturer and service provider of a new suite of wireless gas detection systems, which have already been deployed on many UKCS platforms.
Developed with Dräger company GasSecure, the GS01 model is the world's first truly wireless infra-red (IR) gas detector. The single-beam triple-wavelength IR technology is combined with extremely low power consumption to detect the presence of hydrocarbon gases and alert operators to the risk of fire or explosion. Its calibration-free design is compatible with most other commercially available devices and control systems.
Compared to the short life of wired systems, the GS01 has a battery life of up to two years due to its ultra-low power design and integrated battery. Customers have reported savings of between 60 and 80% on total project costs because of dramatically reduced time and installation costs.
"The new generation of digital gas detection technologies boasts rapid and more accurate response times, meaning improved safety and reassurance for workers offshore," Hine added. "Dräger is committed to using the latest technology to solve any issues that can impact on the wellbeing of workers. We have made significant investment in research and product development to ensure safety-critical technology is compatible and approved for global use."
As well as reducing installation cost and time, the deployment of wireless systems means less manpower is required. This accrues extra savings on bed space, transport offshore and the associated risks of being in a hazardous workspace. A conventional cable system can take up to six people around six months to fit and run: cable-free devices take one person just six days. Also, compared to alternative solutions, maintenance of the longer lasting wireless device is minimal.
"After a challenging few years, it is encouraging to see interest and activity in the North Sea basin flourish again with many independent operators now owning assets in mature fields which they are adapting and extending," said Hine. "The draw of promising new exploration areas, higher oil prices, lower development costs are being bolstered by a fresh mindset to embrace innovative solutions. Regardless of size or experience, all operators have a duty to protect their workforces, their acquired infrastructure and the surrounding environment.
"Our aim is to work with operators to make hazardous working environments safer than they have ever been. Progressive shifts in technology are part of that answer."
Recommended for you

Innovation cements Aberdeen's 'pioneering energy legacy'