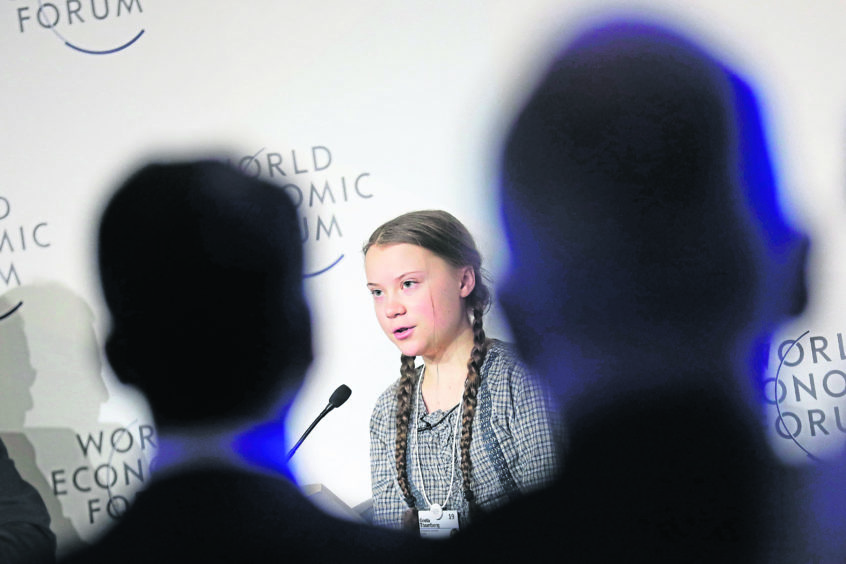 It is said that more than 1.4 million students skipped school on March 15 to protest about the climate change crisis that threatens life as we know it on Earth.
From Australia and New Zealand, to Asia, Europe, Africa, North America and South America, young people took to the streets to demand change.
Organisers said there were more than 2,000 protests in 125 countries. Many more are planned and you can bet that offshore Europe will be in their sights.
The student movement was inspired by 16-year-old schoolgirl Greta Thunberg, now nominated for a Nobel Prize, who kicked off a global movement after she sat outside the Swedish parliament every Friday starting last August.
She also shook delegates at the UN's COP24 climate change conference in Poland when, as a guest speaker, she delivered this powerful warning: "Until you start focusing on what needs to be done, rather than what is politically possible, there is no hope. We can't solve a crisis without treating it as a crisis.
"We need to keep the fossil fuels in the ground, and we need to focus on equity. And if solutions within the system are so impossible to find, maybe we should change the system itself."
Meanwhile, on March 20, the Unite trade union warned of strikes set for BP Platforms in the UK North Sea.
It claimed that Petrofac employees had voted "emphatically" for industrial action.
The dispute centres on Unite members working three weeks on, three weeks off (3:3) rotas with no holiday entitlement and who want a change to 3:4, or to secure the allocation of extra holidays.
This is separate from the rota dispute, now brought to a conclusion, which involved Unite's membership at Total's Shetland Gas Plant, and the Alwyn, Dunbar and Elgin platforms, and which involved Petrofac and Aker Solutions, another North Sea contractor.
Planned strikes at those installations were called off last week after most workers accepted new contracts reflecting a move to 3:3, 3:4 schedules amid "intense pressure and threats of intimidation".
These rows point to growing unrest among rank and file workers over changes in shift patterns that broadly stem from the most recent oil price slump, when changes to shift patterns regarded as foolhardy and heartless were imposed, with operators bent on cost-cutting basically forcing main contractors to turn the screws.
So, what on earth is the connection between these two apparently totally different issues and what are the implications for the oil and gas companies and especially their main contractors?
The link is green energy.
First the youngsters
Ask most young people about energy and they're very clear – they want it green. They see no place for oil and gas in the equation, though I believe it does have a valid long-term future as a source of feedstock.
But I agree with the youngsters: There is no place for gas, let alone oil, in future power generation. While gas is seen by those in power (corporate and political) as a bridging fuel, I have a simple view – it is a colossal waste of high-grade energy.
Burning gas to generate electricity is akin to catching millions of tonnes of anchovies off Chile and Peru every year, converting it to fishmeal and then feeding it to pigs and farmed salmon for our tables. It's a shocking waste of resource, leaving aside emissions issues.
You can therefore bet your bottom dollar that the movement sparked by Greta will not lie down. They will ratchet up the pressure and make life increasingly hard for Big Oil.
As they move from school into university, college and/or apprenticeships, students will increasingly shy away from going anywhere near anything that smells of oil and gas.
Universities and colleges offering oil and gas-related education will find themselves out in the cold if they do not change or evolve their offerings to at the very least address the energy "transition" – which is the latest fashionable buzzword around the North Sea since "collaboration" loses its gloss.
The Aberdeen and the Robert Gordon universities had better look out in that regard.
Oil companies and their supply-chain pyramid will find it even harder than it already is to attract fresh, young talent, who will increasingly engage only with those companies that have credible transition plans.
In this regard Equinor is unquestionably the leader and it appears to be a popular choice for young energy professionals, as are the power utilities with large, green-generating capacity.
Basically, Big Oil has been rumbled and knows it.
UKCS industrial action
So where do fractious labour relations on the UK continental shelf fit into the green-shift?
Again, it really is quite simple: For 50-odd years, oil companies have ruled the roost and dictated the manner in which main contractors do business.
Of course, when the value of the two commodities upon which the North Sea industry is dependent plummet, every company has to play its part in ensuring that there is a future.
In a nutshell, that means cost-cutting by whatever means available, even if it is dressed up in fashionable management speak.
The most recent downturn that echoes today was especially brutal, with a huge number of workers paid off.
Except this time, as commodity prices recover and activity picks up again, operators, contractors and their supply chain are finding it very hard to recruit.
It seems that many of those who were dumped have gone elsewhere and have especially been picked up by the renewables industry. Check out the job ads on Energy Voice and they're mostly renewables-related.
I'll warrant that if industrial relations are not properly fixed then the guys will quite simply walk, fed up with the rollercoaster ride that has characterised the North Sea story.
So, like the young, the more highly-experienced oil and gas workers will be lured by high-quality opportunities offered by a fast-growing industry with green credentials, that has now built genuine critical mass with remarkable speed, with a lot more growth yet to come, and the prospect of long-term stability thereafter.
Then what will North Sea Big Oil do?
Recommended for you

North Sea strikes: 'Wildcat action is in no one's interest' says trade body