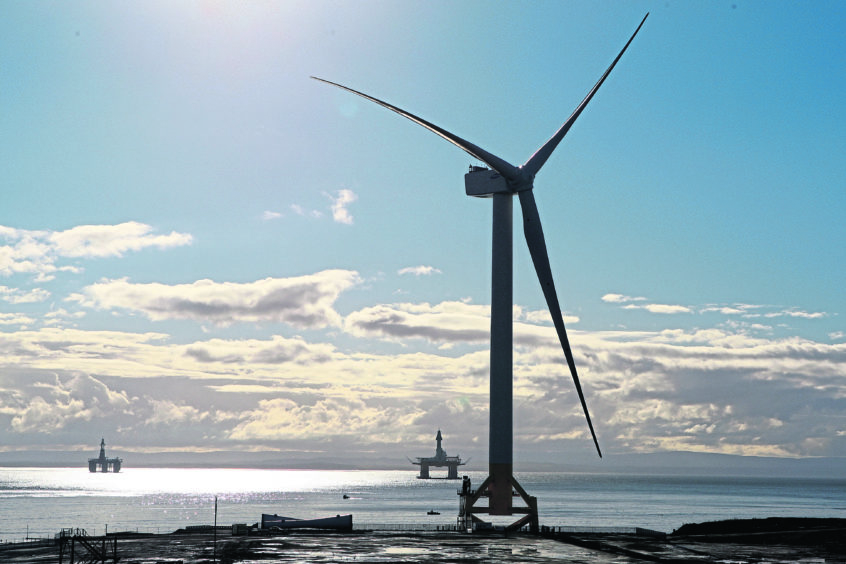 I have not lost hope completely with regard to the establishment of a meaningful Scottish renewables technology supply chain.
But I've pretty much reached the point where any aspirations I might have had about the creation of a world-class industry, employing tens of thousands and exporting high- value hardware around the planet, have faded away.
There would appear to be three things going on.
The first is that in those sectors where we can develop a niche position such as tidal energy and heat storage we have done quite well in terms of technology development.
However, the size of the markets for these is relatively small and slow in building up compared to wind turbines, solar and now, based on developments elsewhere, batteries, fuel cells and hydrogen production.
This means building global export markets in these constrained sectors is much more difficult.
Secondly, the push to develop a supply chain is pretty tepid at best.
I've not noticed Scottish Enterprise, Scotland's economic development agency, putting a huge amount of effort into proactively attempting to build the sector up.
Why aren't they trying to pull teams together to design and build more zero carbon technology products?
Not that I consider battery vehicles anything more than an interim solution but, as I've mentioned before, they didn't even bother to look at making an EV charger even though the Scottish Government was putting up lots of cash to install them across Scotland.
Thirdly, in Aberdeen, the one place in Scotland where one might have reasonably expected a renewables industry to emerge to replace oil and gas, the private-sector economic development company Opportunity North East, or One, is effectively ignoring it.
I consider this to be a massive strategic mistake but it's not a surprising result given One developed the proposal for and established the Oil and Gas Technology Centre (OGTC) and that the leading player behind One is Sir Ian Wood, who was responsible for producing the UKCS Maximising Recovery Review in 2014.
We were told at the time that the OGTC "will serve all sectors".
So why call it an oil and gas technology centre then?
Of course, there was no intention that it would serve any sector other than oil and gas because those behind it are from that industry.
In fact, their entire board is made up of people from the oil and gas sector.
This is not – to put it mildly – helpful and it's particularly irksome that there were actually some good ideas in the original thinking around the Aberdeen City Deal programme, which were developed before One came on the scene.
These included an advanced manufacturing centre which could well have led to the manufacturing of fuel cells, electrolysers and other 21st Century net-zero technologies including perhaps, housing and maybe even vehicles and vessels.
Talking of "deals" one shouldn't forget the recently announced Offshore Wind Sector signed off by Business Secretary Greg Clark.
It's claimed by the UK Government that this marks a revolution in the offshore wind industry, which 20 years ago was only in its infancy.
It could see the number of jobs triple to 27,000 by 2030.
It's worth pointing out, perhaps, that the Danish company MHI Vestas, which builds the majority of the world's wind turbines, already employs nearly as many as the 27,000 jobs this deal hopes to create.
It also needs to be said that "boosting" exports to £2.6 billion per year by 2030 isn't much of an ambition for "Global Britain" when you consider that the turnover of Vestas all on its little own is close to £7bn and most of that will actually be exports.
It's all too late.
Services?
Yes, we supply services such as surveying, environmental studies, inspection, trenching and even project management, but these are generally reproducible elsewhere and don't represent as large a chunk of a project's value as manufacturing the hardware.
It's the same trap we fell into with oil and gas. It's valuable but not valuable enough. We need to do the sector-critical stuff to ensure we can be a serious player in global markets.
So what to do?
Firstly, the Scottish Government must limit funding going to the OGTC unless it comes up with a plan and project proposals to decarbonise the use of oil and gas.
Climate change demands such action now.
Secondly, leapfrog the UK Government's Offshore Wind Sector deal and move on to next-generation issues, such as an advanced manufacturing centre.
We need some ambition.
Settling for the table crumbs as we did with oil and gas is no longer acceptable.
We have more to offer than that but I still doubt that building a meaningful supply chain will ever happen.
The vested interests won't allow it.
Dick Winchester is on the Scottish Government's Energy Advisory Board
Recommended for you
X

Bringing isles' energy assets to the market