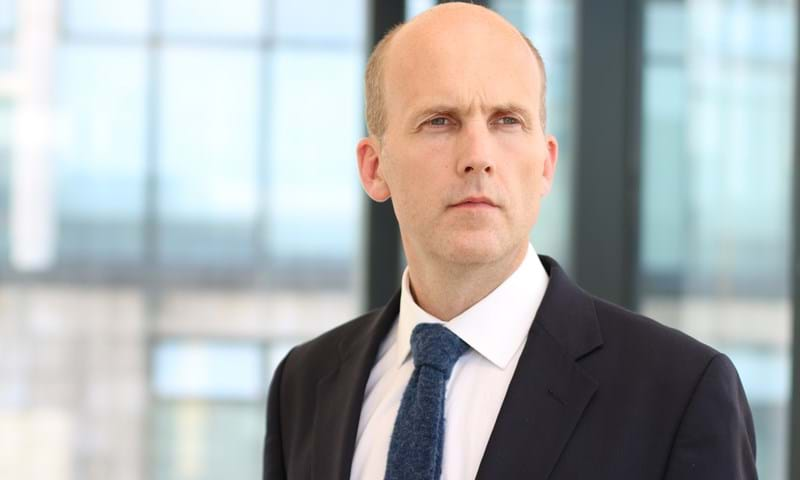 The oil and gas sector is sharpening its digital game. The downturn was a wake-up call. It forced companies to be more resilient in a low oil price environment. And it brought digitalisation to the fore.
Digitalisation is normally viewed in terms of the operational benefits it delivers: principally, lower-cost barrels and improved safety. But for the upstream supply chain, many of the ideas and new operating models disrupt their current business. For a sector that is still experiencing the impact of the worst downturn in a generation, digitalisation is both an opportunity and a threat.
The era of digitalisation is upon us
In the space of a few years, digitalisation  has become vital to corporate strategies. Timing has been an important factor: an oil price shock leading to existential concerns; technology maturity; and the innovation in Lower 48 tight oil operations all creating the environment for broad adoption.
For the supply chain, this golden era of innovation should be a boon. But with the pace of change, the disruptive nature of technologies and the competitive threats, digitalisation brings opportunities and challenges in equal measure. How these balance out across the different sectors will dictate which oilfield services  companies win, which survive and which lose.
The integrated oilfield services providers are some of the most technically sophisticated companies within the upstream supply chain. Their core equipment, services and systems sit at the heart of upstream operations. Their tools, sensors and technologies are used throughout the well development process and their proprietary software is core to company workflows, supporting analysis and decision-making. But this relationship is under threat from digitalisation.
One of the objectives of digitalisation is to break down data silos and make data more fungible. Cloud-based platforms can manage multiple types of data, simplifying data management and reducing the need for different proprietary systems. For the incumbents, this disrupts the traditional model in which they control the data and systems. And as operators increase their capacity to measure and benchmark all facets of their work, it is likely new business models will emerge.
We expect service contracts to evolve from fixed-price models, such as day rates and lump-sum costs, to risk-reward agreements, and in time, to outcome or performance-based models. Despite such challenges, these technically adept companies will evolve and develop new offerings. But it won't be easy. At a time when the sector is still struggling from cyclical headwinds, the challenges of structural upheavals are magnified.
The other oilfield services category incorporates a wide range of services, including well services and equipment, logistics, drilling, seismic and inspections. Like much of the rest of the upstream supply chain, this sector suffers from overcapacity. As digitalisation permeates further, we will see increasingly efficient use of resources. This will increase the operating time of some equipment and personnel, and so a smaller sector will be required to support operations. At a time of oversupply, this exacerbates the challenge. For companies that have refinanced through the downturn and are relying on a cyclical recovery, early engagement in digital technologies will be a competitive necessity.
Original equipment manufacturers (OEMs) and engineering, procurement and construction (EPC) companies also sit at the core of the upstream business. Digitalisation will enable them to enhance their offering to operators to provide real-time monitoring and maintenance services of their equipment or facilities. The installation of sensors on critical equipment enables predictive maintenance but also allows OEMs to provide life-of-field support services. Engineering services will become increasingly streamlined with AI supporting design and project management. This will mean fewer billable hours in the design phase; but the ongoing monitoring of facilities with digital twins is a significant opportunity for the EPC companies.
Automation companies stand to be big winners in the coming years. Equipment and systems that can facilitate  increased automation will naturally be winners. A note of caution: automation is a focus of new entrants, so while the incumbents are well positioned, they will also meet increased competition.
The upstream industry has developed a unique supply chain. One of the defining characteristics of digitalisation has been the rapid rise of new entrants and the proliferation of new ideas from outside the oil business.
New entrants have always provided innovation, but never on this scale before. As the industry genuinely challenges its habits and behaviours, it is these new entrants that will gain most from digitalisation.
Big tech firms are bringing cloud services and analytics to the whole industry. Cloud storage and computation services are now dominated by Amazon's AWS, Google's Cloud and Microsoft's Azure. IBM and Oracle also have specialised cloud capabilities, which are applied to more niche situations. The attraction for these new entrants is twofold: the prospect of huge unstructured datasets; and becoming the custodians of highly valuable datasets in a high-margin industry facing an existential challenge. Altogether, it's a compelling environment in which to be a solution provider.
At the other end of the scale are the digital disruptors providing innovative technologies to the upstream business, supporting digital transformation within operators in different ways.
Digital disruption in the supply chain
The oil and gas business has hitherto been characterised by an attitude of 'if it ain't broke, don't fix it'. But it is now realising that the price of doing the same old thing is far higher than the price of change.  We are seeing operators engage with these disruptors in an unprecedented way.
The disruption of the operator-supply chain model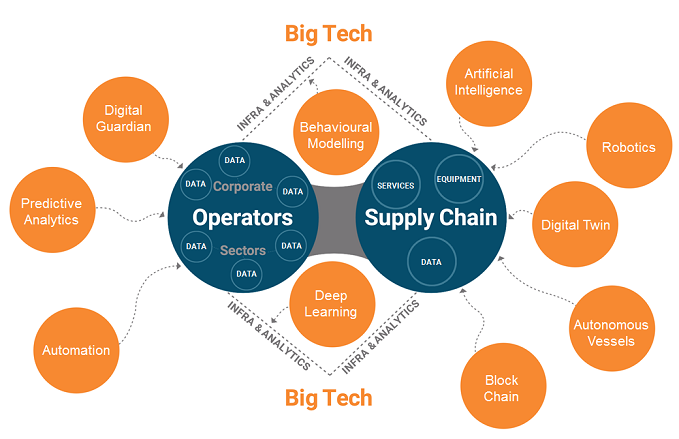 In our view, digitalisation will transform the upstream supply chain both vertically, led by the ripple effects of oil companies' digital ambitions, and horizontally, driven by oilfield services'  companies' digital investment and alliances.
Vertical impact – the changing shape of demand
Smarter operations and reduced activity will eventually affect demand prospects, specification requirements and contracting practices of many segments of the supply chain.
In the deepwater drilling sector alone, a 30% efficiency improvement through automation and digital transformation would reduce rig demand by more than 20 rigs. Old assets with aged equipment and obsolete software will see accelerated attrition, while demand for highly digitalised drilling equipment and rigs will increase.
Similarly, when autonomous inspection and preventive maintenance become the industry norm, traditional IRM and in-field support services will see demand crater. However, requirements for autonomous vehicles and robots will exponentially increase.
Digitalisation will also change contracting practices. Service contracts will evolve from fixed price models to outcome-based business models. For instance, drilling service providers will have a higher incentive to invest in digital and automation technologies to shorten drilling durations if the compensation model is based on performance rather than day rate. While outcome-based contracts have had little success in the past, the ability to measure, monitor and benchmark performance will make them a reality. The Aker BP Framo smart contract for seawater pumps is a good example of how the performance-based contract can work. Data from sensors on the pumps is shared with  Framo so they can predict how the pumps will perform and take responsibility for uptime, facilitating a performance-related reward model.
We expect supply chain offerings to evolve from industrial products to digital services, from a single point of service to part of an integrated solution, and from limited after-sale services to lifetime engagement with active monitoring, optimisation, maintenance and upgrading. Revenue patterns will inevitably be impacted, especially for equipment providers, spreading receipts over the life of the field rather than concentrated up front. This is a complete overhaul of the way business is done – how many companies are ready for it?
Horizontal impact – defining the competitive landscape
Horizontally, digitalisation will define the competitive landscape of the supply chain. With the opportunity to boost efficiency and reduce costs, companies need to invest wisely in analytics, industrial internet of things and automation. With a clear strategic plan and the right digital alliances, these companies will establish systematic competitive advantages, while companies slow to adopt and adapt will be marginalised.
The emerging trend of digital alliances compounds the impact on competitiveness. Joint R&D in digital technology will promote sharing of resources and services, eventually leading to industry-wide digital ecosystems with certain protocols and specifications. The integrated service players are well positioned given their established relationships, data connections and spec integrations. But the operators may also see this as an opportunity to reassert ownership of certain processes.
The pace of digital development will differ between supply chain sub-sectors and from region to region. Sector-specific analysis of demand outlook, technology changes, core competence, client exposure and competition is necessary to determine the extent and direction of demand transformation for each specific OFS company.
In the long run, digitalisation will have a profound impact on the upstream supply chain's activities and business models.  The changes will manifest in the way services are delivered and contracted, as operators reimagine how they run their businesses.
Malcolm Forbes-Cable, Vice President, Upstream Consulting and Supply Chain Lead, Wood Mackenzie
Recommended for you

Decommissioning oil and gas 'megastructures' set to clash with offshore wind