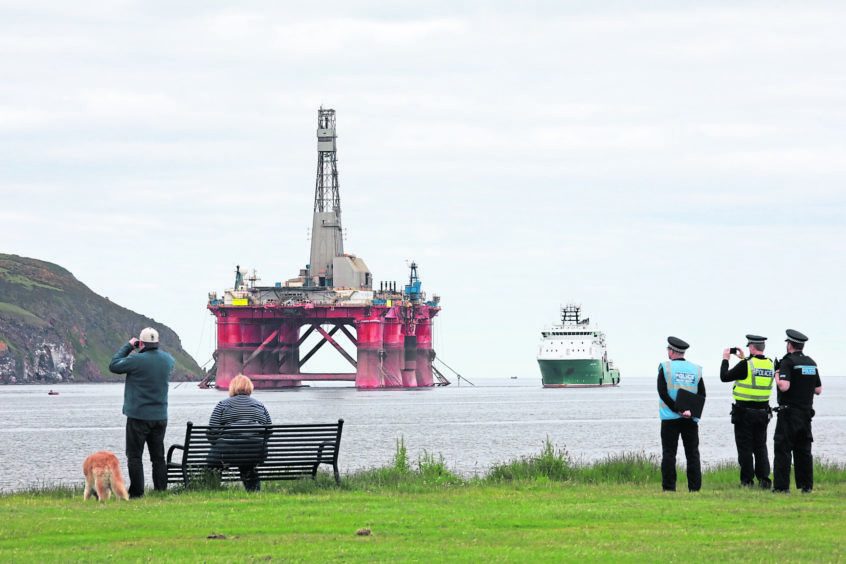 It did not take long for declarations of a climate emergency to prompt the kind of episode they are assumed in some quarters to legitimise.
Boarding the Transocean rig on its way to the Vorlich field will be the first of many such stunts.
The zeal of the righteous is of necessity selective. It is not very brave to focus on the North Sea just because the law is conveniently liberal in its responses and publicity can be guaranteed, thereby implying this is where the problem lies.
It isn't. The need for oil, no matter how many emergencies are declared, will continue for decades to come, albeit at a declining rate.
My friend Ian Taylor, chairman of oil trader Vitol, said recently: "We have to understand UK emissions are a pinprick, the real problem is the consumption of coal in Asia."
In Germany, he points out, it is coal that is fuelling the electric cars.
Yet Ian was far from sanguine – "my kids are passionate about it". He sees oil demand peaking around a decade from now coupled with the growth of renewables and the transition to electric cars. His own company will go with that flow, investing in offshore wind and solar. BP's response to the Transocean incident stated: "We share the protestors' concerns… We support the Paris agreement. We are working every day to advance the world's transition to a low carbon future."
In a sense then, everyone – if you leave the Trump administration out of it – is singing from the same hymn-sheet, just to different beats of the drum. Things must change and at a faster rate. The co-ordination of international action is essential. But anyone who thinks it can be done by gestures is kidding themselves.
Germany has had Green politicians for decades but their focus was on getting rid of nuclear power – not on carbon reduction or climate change. The result is that the UK now has a far better environmental record than Germany but far worse headlines.
The same happened in Scotland. I decline to be lectured by pious Greens and political fellow-travellers who devoted decades to killing off Scotland's carbon-free nuclear industry. We could have had the best low-carbon mix in the world – renewables and baseload.
But what of current options? The Royal Society of Edinburgh has spent the past two years contemplating "Scotland's Energy Future".
The deputy chair of the inquiry, Professor Rebecca Lunn, warned: "Dismissing technologies or potential solutions simply because they do not fulfil every possible criterion is likely to lead to Scotland increasing the amount of energy it imports, which should not be done without due consideration of the risks."
In other words, either do more to create indigenous solutions or take whatever we are sent – German coal, English nuclear, fracked American gas – while claiming environmental virtue. The RSE report is about energy rather than electricity, which is an important distinction.
On that basis, 80% of Scotland's energy consumption still comes from fossil fuels with heating (51%) and transport the biggest contributors.
In these areas there is huge potential for rapid action, within Holyrood's powers. For example, our record on applying joined-up thinking that leads to district heating schemes is feeble compared to most of Europe.
Waste-to-energy power stations hardly exist because there is no outlet for the heat, which is how they do it elsewhere. You don't need to declare an emergency to get your political teeth into a challenge like that.
The RSE report does not make specific recommendations so much as set out the scale of the challenges and the costs of meeting them. And it notes: "Scotland will likely find itself importing electricity from the future Hinkley Point nuclear power station." Great result, my Green friends?
But there's the crunch. The report states: "The Scottish Government target to generate half of overall energy consumption from renewable sources by 2030 is laudable, but very ambitious. In 2015 over 87% of Scotland's total energy consumption could be attributed to fossil fuels or nuclear power.
"Either significant additional generating capacity will need to be built, an unprecedented reduction in demand facilitated, or the amount of energy imported from outside Scotland will need to rise markedly. Avoiding a proactive decision will simply lead to the final option of increased importation occurring."
So that's the fine mess we've got ourselves into. We've wilfully turned from net exporter into importer.
Scotland's contribution to reducing that "pinprick" the UK represents in terms of causing climate change does not lie in grand declarations which encourage self-righteous stunts.
The proof of the pudding will lie in implementation of ambitious programmes, sufficient to avoid "the final option of increased importation occurring". Are we capable?
Brian Wilson is a former UK Energy Minister
Recommended for you

So far, there are not many signs of a 'just transition'