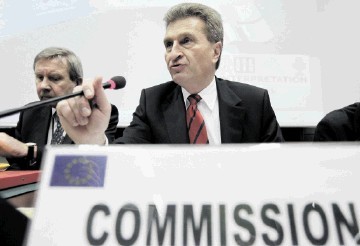 It is not necessary to be a raging opponent of the European Union and its works to believe that sometimes it becomes involved in matters that are better left to the discretion of national governments.
Indeed, I am very far from being anti-EU, far less anti-European. In many areas of legislation and regulation, particularly to do with equality and rights at work, the EU has set standards which have been of great assistance to British workers.
However, the current intention of the European Commission to establish an EU Regulation on Offshore Safety is contradictory in its stated motives and perverse in terms of possible consequences. Instead of raising standards, it could create a common denominator which lowers them.
The European Commission has stated that its objective is to raise standards to those which already prevail in the North Sea. These have been finely honed over the years and in the light of dreadful experience.
Superceding them with a new regulatory regime seems to approach the issue from entirely the wrong direction.
Why does the EU want to get involved in this matter at all?
After all, 90% of EU offshore oil and gas production comes from the North Sea where safety regimes have been developed over a period of 40 years. It is a bit late for the EU to seek a role.
However, there is increasing interest in offshore exploration and development elsewhere in the EU, particularly around the Mediterranean. The argument is that it is necessary to extend the same standards which apply in the North Sea to these other, emerging territories.
This is where the confusion comes in. The North Sea – and the UK in particular – is being held up as an exemplar. Indeed, much of what is being proposed is based very closely on the prevailing UK system.
Yet we are being asked to subordinate that system to a new set of regulations which would inevitably have to be tested against what already exists.
UK Oil and Gas has run a vociferous campaign against the proposed regulation. It claims that EU intervention would be little more than "a bureaucratic exercise, but one which would heap such a huge burden on both operators and national regulators that there is a real risk of a knock-on effect to safety".
UK Oil and Gas warns that implementation of the proposed Regulation "would tie up considerable if not the majority of Regulator inspector resource . . . away from the active intervention approach that has been adopted for the last six to seven years". The challenge provided by inspectors visiting platforms and asking difficult questions would be reduced.
In other words, the regulators in the HSE and DECC would become desk-bound box-tickers, ensuring that every safety case that is already in place corresponded with this new layer of regulation from Brussels.
Even allowing for a bit of hyperbole from the industry's trade body, it is difficult to see what would be gained from such a scenario.
More constructively, UK Oil and Gas has put forward a compromise position which is that the EU should produce a Directive rather than a Regulation.
To the man on the Aberdeen omnibus, the distinction might seem elusive but in fact they are two very different creatures.
Whereas a Regulation would take the EU into the nitty-gritty of rule-setting and enforcement, for which it is simply not equipped, a Directive lays down standards and principles which all member states are obliged to conform to.
And if the existing North Sea regimes are indeed the "gold standard" then they could easily become the models for the rest of the EU.
In arguing for that position, we should have the humility to acknowledge that everyone, including the EU, has a legitimate interest in safety and that there is a lot of history to be learned from.
Indeed, from Piper Alpha to the Gulf of Mexico, they can point to evidence that disasters do happen in oil and gas provinces that are assumed to be sophisticated, safety-conscious and alert to all risks.
Reciprocally, however, the EU has to make a case based on the current state of affairs rather than merely in pursuit of uniformity. In order to justify intervention in the North Sea, Brussels must first point to areas of existing deficiency where its own role as regulator would bring benefit.
Nobody has so far made that case in any convincing way – in fact, we are up against the old EU problem of "faceless men".
Energy Commissioner, Gunther Oettinger, has described "securing best practice in all our offshore operations" as an "indisputable must".
But then he has to offer at least some guidance on where "best practice" does not currently apply in the North Sea. Praising the current regime in one sentence and then saying in the next that a new one is "an indisputable must" simply does not sound rational.
Before this becomes a cause célèbre for the Euro-sceptics, the Commissioner should step back and consider whether the alternative proposal for a Directive would not satisfy his needs.
I think that this would be a beneficial balance between existing best practice and the need to set inescapable standards.
It is also worth bearing in mind that there are many oil and gas provinces in the world where standards of regulation are desperately poor because of national governments' inability to enforce them.
Support from the EU for a global gold standard of health and safety in the offshore industry might be more useful than arguing about who runs the regulatory show within the EU itself.