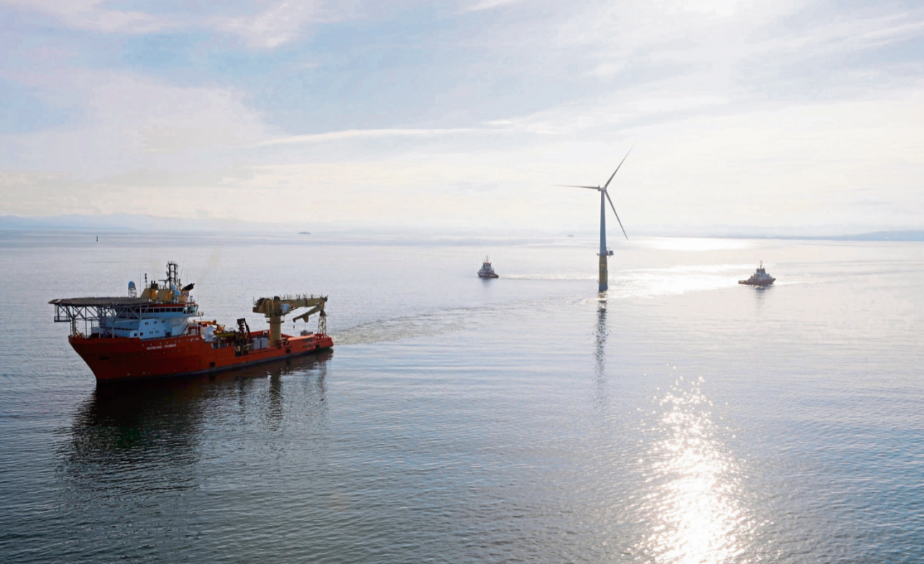 Crown Estate Scotland's (CES's) announcement of an offshore wind leasing round has caused great excitement around the Scottish coast, reflected in comments from communities standing to benefit.
While the CES document makes clear it is up to developers to specify "the most effective technology", there is an expectation many will use "floating wind" rather than static offshore structures, and this could help give Scotland a global lead in that technology.
It is slightly disappointing that construction on the first of these projects is not expected until 2025.
The bad news is that our post-pandemic economic needs will be a lot more urgent than that.
The good news is that, this time, there is no excuse for not using the intervening time to prepare.
Time lapse apart, at a time of general economic depression, the CES announcement seemed like a rare piece of good news – a major industrial opportunity right here on our doorstep with sites designated all around the Scottish coast, from Islay to Angus.
Small wonder coastal communities were keen to highlight the potential.
Joanne Allday of the Port of Cromarty Firth foresaw a "50-year pipeline of work" which could make the region a "global epicentre" for floating wind technology.
There were similar sentiments from the Western Isles (where the Arnish yard lies idle) to Aberdeen which faces the oil downturn.
Let's hope they are right and offshore/floating wind is a solution to economic woes, but I must point out we have heard it all before. First onshore and then offshore wind have already been the second industrial revolutions that never arrived.
Will floating wind be any different?
There can hardly fail to be some benefit. The CES has talked about this ScotWind Leasing round generating £8 billion of investment.
So the question is not whether any share of that bounty will come to the Scottish economy, but how much? More than the 5% we are getting from offshore wind? I certainly hope so.
John Robertson, CES head of energy and infrastructure, enthused: "Today is a huge step forward in kick-starting Scotland's green recovery, meeting net-zero targets and bringing multi-billion-pound investments to benefit communities across the nation".  Fine words, but what will they mean?
As ever, that will depend on how much planning and investment goes into preparing. That is where there has to be a dramatic improvement in the performance of the Scottish Government in using its powers and resources to ensure this does not turn into another set of headlines which end up yielding little more than missed opportunities.
The CES document places emphasis on the Scottish supply chain, which is to be commended. Applicants to ScotWind Leasing will be required to submit a supply chain development statement, setting out the level and geographic breakdown of supply chain impact they anticipate from their proposed project.
Good start.
However, it gets a bit convoluted after that. The process does not impose supply chain requirements on prospective developers, while commitments they make (or do not make) "will not be used in the assessment or scoring of applications but will be incorporated into the option agreements of successful applicants".
I'm sure it is well-intentioned on the part of CES, but how enforceable will it be?
Experience suggests developers will promise anything to get the leases. At some point along the way, these projects are quite likely to change hands, as we have already seen with big offshore wind developments in Scottish waters. Without binding contractual obligations, owners will be hard to pin down.
Optimism about a brave new tomorrow for the offshore wind supply chain should be tempered with the continuing reality, which is the vast majority of work being exported not just to far-off lands like Indonesia and Turkey but also EU countries with far better facilities.
That leads to the central question: How much work on these projects can be carried out in Scotland even if the will exists and can be enforced?
At present, the get-out argument is that state-of-the-art facilities do not exist here, so sort that before you start complaining. There is an urgent need to quantify the undeniable element of truth in that argument.
The same issue was illustrated in a different context recently with an outcry about Shell taking the FPSO Curlew from Dundee to Norway for decommissioning – another sector where much talk in the past decade has not been matched by action.  It then turned out there are no sufficiently large yards in Scotland licensed under EU regulations to carry out the work.
Hard, then, to argue with Shell.
Before it is possible to define what should be done here, it would be useful to know what can be done here, rather than vaguely speculating. An audit of existing capacity would be a good start. There are plenty locations, some of them idle or underused; others like the Fife yards, suffering from chronic under-investment; a few, like Nigg and Rosyth, busy but capable of expansion.
There is no point in generalisations about what "should" be done in Scotland if capacity does not exist.
Where should public investment go to ensure we get the loaf rather than the crumbs?
As far as the CES round is concerned, there are five years to get it right, but there will be other opportunities to win or lose along the way.
Brian Wilson is a former UK energy minister
Recommended for you

Ocean Winds submits key paperwork for 2GW Caledonia wind project