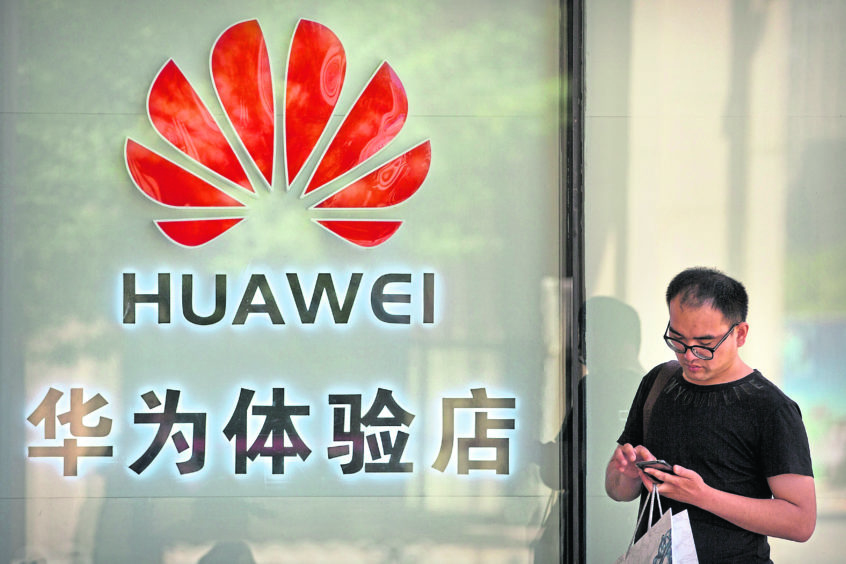 In the world of geopolitics, it is remarkable how quickly a valued business partner can turn into the object of suspicion and candidate for sanction. The UK's relationship with China now hangs in that delicate balance.
For the past couple of decades, Chinese investment was ushered in, not least to the North Sea. Even people who might have been expected to know seem unaware that a chunk of North Sea output is in the hands of a Chinese state company, Cnooc, which operates the Buzzard field, one of the North Sea's top three biggest producers.
When the Government announced its change of tack on Huawei, the Scottish Nationalist Party leader at Westminster, Ian Blackford, complained on the Today programme that it had taken too long to reach that decision. Asked if, in that case, he was comfortable with a Chinese state company producing UK oil, he appeared surprised and said the issue with Huawei (a private company) was about "security". Other Chinese investment was welcome.
However, the problem is that once you start taking action against China (or anyone else), it is not necessarily one side of that dispute who will determine the weapons used. It is very much in the UK interest not to see this stand-off escalate in the way that is already being demanded by some of the government's own MPs, who have been given the taste of blood over Huawei.
China gained its position in the North Sea as recently as 2013 when Cnooc bought the Canadian company Nexen. This gave it Buzzard, as well as the Golden Eagle and Scott fields.
Buying Nexen was the biggest Chinese takeover of a foreign business and signified the country's need to consolidate its sources of imported oil. This is a huge strategic priority for China since its own domestic production accounts for less than half the needs of its economy. The UK remains a relatively minor source of these imports, accounting for less than 3%.
The biggest oil exporters to China are Saudi Arabia, Russia, Iraq, Angola and Brazil with its imports spread over 43 countries. The nine Middle East oil producers account for almost half of Chinese imports. In spite of American sanctions, China imported more oil last year from Iran than from the UK.
In other words, China has spread its net far and wide in order to ensure its own security of oil supply.  Its massive Belt and Road Initiative is extending this reach into dozens of countries which are desperate for the investment and can be the future providers of oil and other natural resources in which China has a deficit.
That creates a global perspective within which the UK is bound to recognise that while our country has been a destination of choice for Chinese investment over the past couple of decades, in what was until recently a positive and welcoming environment, we are not exactly essential to Beijing's longer-term economic interests.
The immediate target for those in the UK who see China as a threat rather than a partner is its participation in the nuclear industry.  Again, the turnaround is startling – or at least must seem so when viewed from the other side of the table. Until Huawei became an issue, Chinese participation in the UK's nuclear new build programme was greeted as its saviour rather than something to keep us awake at night.
The Chinese General Nuclear Power Group (CGN) is a partner in both Hinkley Point and Sizewell C, using French designs. At the proposed Bradwell plant, which is still a long way off, CGN would be the senior partner using its own designs. That is the prize the Chinese want.
All of this was agreed as recently as 2016 under David Cameron's Prime Ministership. The Chinese effectively bailed out the UK's nuclear new build programme on which our own energy security and carbon reduction targets have significant dependence. Now, having scored a hit on Huawei, a group of Tory MPs led by the former leader, Iain Duncan Smith,  has turned its attention to the nuclear industry  declaring it the "new Huawei".
The basic question is whether all of this is driven by a change in the facts or in the politics. It seems hard to believe that the security risks involved in allowing Chinese access to the UK's G5 network have been transformed over the past year since being given the all-clear under Theresa May. It seems unlikely that China could gain much it does not already know from helping to build our nuclear power stations.
The alternative version of events is that the escalation of anti-Chinese attitudes is being driven from Washington where President Trump has his own political reasons for keeping alive the trade war and the rhetoric which accompanies it at least until the other side of the November election. Then it might all calm down again.
The danger for the UK is of being drawn further into that conflict without having any control over where it leads. The longstanding principle of separating trade and diplomacy has much to be said for it. Without it, there are many countries with which we would not be doing business. China should be no different.
There are already warnings from Beijing that the Huawei slight will not go unavenged. The form this retaliation takes will be watched with close interest.  For everyone involved in the UK energy sector, there is a particular interest in ensuring they are not caught up as collateral damage in someone else's argument.
Brian Wilson is a former UK energy minister
Recommended for you
X

South Sudan sets scene for recovery