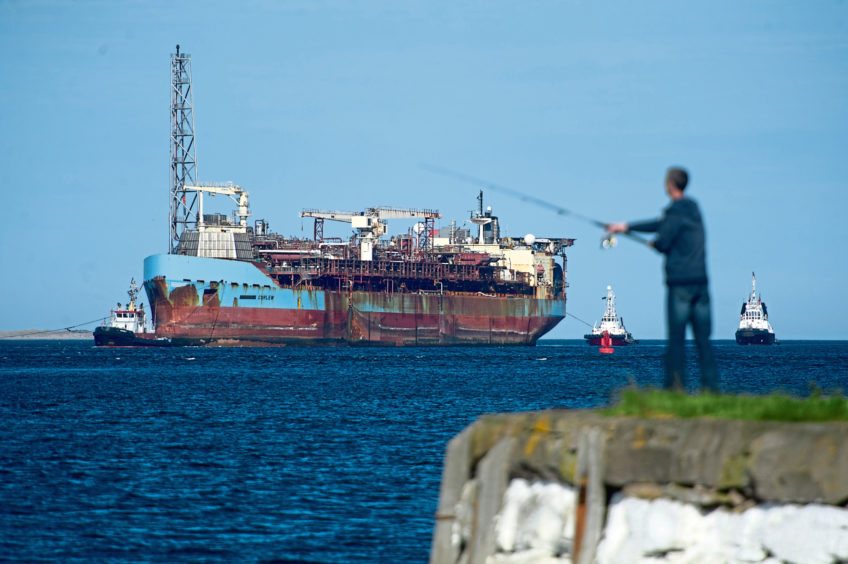 I'm baffled by the Curlew decommissioning saga that will now see the life-expired FPSO be dismantled in Norway rather than via the original arrangement whereby it was to be prepped in Dundee prior to being towed to Turkey for chopping up.
Among various issues, to me it mostly begs a question regarding the quality of Shell's due diligence in selecting Dundee in the first place as it didn't have a track record as a decommissioning centre of significance.
It's around 18 months since the Forth and Tay Decommissioning Alliance was formed by various decommissioning companies based in Dundee and port owner Forth Ports in a bid to bring major projects to the City of Discovery's port.
It was an understandable ambition. After all, Dundee has been a major service centre for drilling rigs for several decades and had sustained a modest level of supply-chain activity, though nothing like what had been hoped for when the North Sea took off big-time in the late 1970s into 80s.
Digging back through EV's archive to a news item published in April, I note that Callum Falconer, the head of Dundeecom and, as I understand it, a key figure in trying to bring decom to the Tay, laid a claim that now rings rather hollow.
He said: "The key message that we are putting out is that we can offer a complete end-to-end decommissioning solution.
"We are looking to offer decommissioning safely, with due care of the environment at best value for our customers while also embracing our circular economy vision."
Which is a fair enough ambition to have and one helped by the arrival of a metal recycling facility by John Lawrie at the Port of Dundee, as part of a major investment programme to enable large structures such as jackets and topsides to be dismantled and then shipped directly to smelters overseas.
In the article, Falconer went on to say that the claim that Dundee's first major decommissioning project — cleaning hazardous waste from Curlew — should be considered a major success despite the problems encountered.
To my mind that's a rather fatuous claim.
Curlew was towed to Dundee last year, and according to Falconer, decontamination contractor Augean NSS had been advised that there was around 100 tonnes of hazardous waste aboard the vessel to be removed.
By March this year when it was announced that work was to stop, the Scottish firm had apparently removed more than 1,000 tonnes while expending over 200,000 man-hours on the project.
It also turned out that Augean had been unable to complete the clean-up without the vessel first being partially dismantled. But Dundee isn't equipped or licenced to break/partially dismantle ships.
Why was the estimate for contaminants so far out?
Curlew was built as the trading tanker Maersk Dorset. Her two-stroke diesel-based propulsion system will have been fuelled by heavy oil. It's nasty, tarry stuff and stowed in bottom/deep and cofferdam tanks. It has to be pre-heated and put through separators before a ship's main engine can use it.
That begs the question. How much of the stuff was still in the Curlew's deep-tanks at the point of conversion in the late 1990s and had it been forgotten about as the original B&W main engine will have been rendered redundant when the ship became an FPSO?
If so, the heavy fuel will have gone solid and would require partial dismantling to get at and/or specialist steam heating plant to render mobile.
The long and the short of it is that Augean couldn't complete its job and then, under the original decom plan, wave the Curlew off to Turkey for final dismantling.
Little wonder Shell stepped in and, in a face-saving move, made the rapid decision to send the Curlew to AF Gruppen's excellent offshore decom facilities in Norway.
This has been a steep learning curve for Dundee. Embarrassing too. But at least the alliance is taking steps to address the short-comings that the Curlew debacle has exposed.
Perhaps the discussions begun with the Scottish Environment Protection Agency about the feasibility of obtaining a shipbreaking licence for the port will in time bear fruit.
But there is a warning for others in this.
A while back I wrote a rather critical commentary about the rush to make Scotland/wider UK a centre of excellence for offshore decommissioning.
I said then that, if we were going to achieve this then it must be done properly. The UK is already a laughing stock in so many ways when it comes to energy without screwing up on the decom front too.
And in my view, that's precisely what happened with the Curlew.
Recommended for you

AF Gruppen secures decom contract for North Sea platform