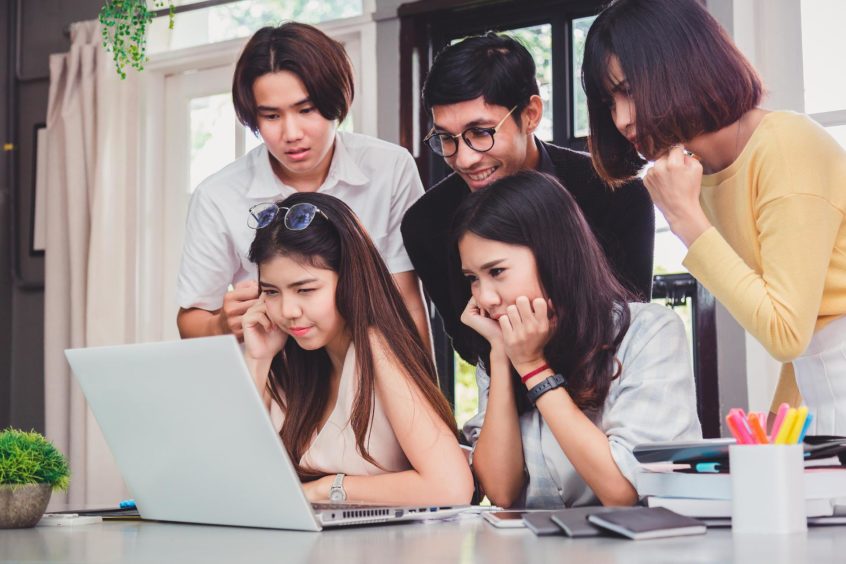 As opposition politicians were lambasting government ministers over this year's school results the economy was noisily crashing round our heads. GDP fell by over 20%, UK debt rose to £2 trillion and unemployment is back on the rise again.
This situation is likely to get worse if the coronavirus pandemic persists and will be exacerbated even further by Brexit, especially if the UK Government chooses a so called "no-deal" Brexit.
The issue over how the 2020 class of youngsters on their way to university, college or employment gained their qualifications is something which will occupy academics for a long time to come.  Ultimately, it is relatively unimportant because the real issue is all about what these youngsters will eventually do for a living.
Thirteen years ago – in May 2007 – I wrote an article entitled "Low investment in renewables technology is damaging our education system".  My aim was to demonstrate that if a country is unable to provide worthwhile opportunities for our youngsters to aspire to then inevitably many of them would become less enthusiastic about education. From the feedback I had it seemed to work in that some at least could recognise the connection.
I am sorry to say that the situation has not changed and has probably got worse.  Certainly, the oil and gas industry for a variety of reasons no longer has the allure it did then. It is also a sad fact that many other countries of a similar size population to Scotland are leaving us in their wake when it comes to the development and manufacturing of net-zero technologies.
We also have a situation where increasing numbers of people are losing their jobs not just in the oil and gas industry but in other sectors where a net-zero approach could make a big difference.
For example, the Canadian owned bus manufacturer Alexander Dennis in Falkirk is planning to cut 650 jobs including 160 in Scotland. This company has access to fuel cell drive train technology through its Canadian owners and a deal with Arcola Energy and could have provided the 15 hydrogen fuel cell buses Aberdeen City Council is acquiring from Northern Irish company Wright Bus. Alexander Dennis already has a deal to provide hydrogen fuel cell buses to Liverpool.
Across the UK it is estimated the automotive industry has already lost 11,000 jobs and the aerospace industry which includes companies such as Airbus and Rolls Royce could lose up to 7,500.  Both these sectors have a huge amount to contribute to achieving net-zero
Scotland does not have an automotive industry of note and most of the aerospace industry here is foreign owned. We built aircraft here 40 years ago and they were highly successful, but politics and the usual lack of investment put a stop to it.  Not a great deal different to Scotland's shipbuilding story which is another sector that could and is beginning to contribute to the aims of net-zero, but not here.
The UK government recently relaunched its £200m programme to provide grants for research and development for making air travel "safer and greener". By way of comparison France launched a £13.5bn plan to assist its aerospace industry achieve more rapid progress towards achieving greener aviation. Germany on its own has put together a €50bn industry support fund aimed at "climate change, innovation and digitisation"
The EU as whole is aiming to produce 1m tonnes of hydrogen from 6 GW of electrolysis capacity by 2024 and by 2030 to have made progress towards producing 10m tonnes from 40 GW capacity.
It's now quite clear that in terms of any genuine ambition to create a high value Green Deal type economy the UK is lagging well behind, which is not perhaps too surprising given the huge increase in the UK national debt, the record collapse in GDP and – according to the Office of National Statistics – the huge inequality across all 12 regional economies, with only London, the south-east and the east of England actually producing fiscal surpluses.
So, in terms of the energy sector in Scotland what can Mummy and Daddy tell their offspring they can be when they grow up? In fact, what do you tell any youngster who wants to become an engineer in any discipline?  Because of the narrowness of the economy in Scotland there are now so many things we do not do anymore, but should, and plenty that we never started doing in the first place, whilst our peers such as Norway and Denmark did.
This dramatically limits what they can aspire to and begs the question as to why so many want to go to university to do engineering and science degrees in the first place,
Maybe they are all planning to emigrate to Europe and Scandinavia where the opportunities are really mounting up.
Dick Winchester is a member of the Scottish Government's energy advisory board