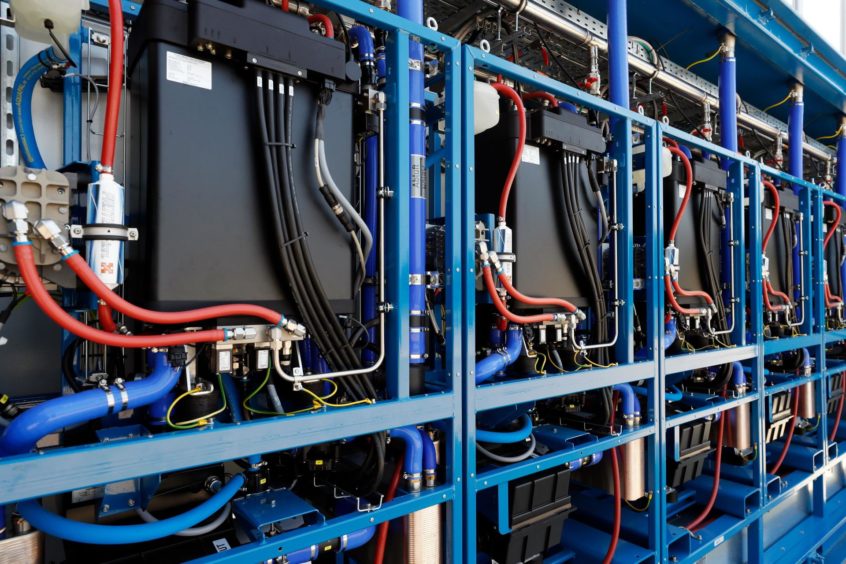 As most science nerds will know hydrogen is the most abundant element in the universe. It's everywhere we look although the vast majority is out of reach until we develop the ability to travel at warp speed. Yes, I admit it. I am a Star Trek fan.
Fortunately, we have all the hydrogen we need right here on earth. It is mostly locked up in water although some can be obtained by various processes, including the reforming of natural gas.
The latter is not my preferred method because of the carbon it produces, but it is currently the main method of producing hydrogen.
Despite howls of protest from the various lobbies opposed to the oil and gas industry, it's the only way we currently have of producing hydrogen in bulk until we roll out sufficient electrolysers or other forms of "green" production units.
Fact is, though, that this rollout is happening relatively quickly. The hydrogen industry is now moving ahead in Europe, parts of the US and Canada, Australia and Asia, including China, and several other countries. Many have developed their own strategies on how to use hydrogen across all the energy consuming sectors and, critically, most are putting serious sums of money behind those strategies. Recognising the potential size of the industry, which Goldman Sachs says could be worth more than 10 trillion euros by 2050, nations are also developing their own exportable technologies.
Indeed, just as I sat down to start writing this column I received notification that the Chinese Government is issuing "fresh policies to support hydrogen fuel cell vehicles to improve the industry's supply chain and technologies". Good move.
But we also know that the Indian Government is going to set targets for hydrogen energy development over and above their aim to develop 175 gigawatts of renewable power by 2022.
In Canada, British Columbia has allocated $10m for the construction and operation of 10 hydrogen fuelling stations and the silicon solutions manufacturer HPQ Silicon Resources has extended its partnership with the French company Apollon Solar SAS which includes the production of clean renewable hydrogen.
France will use around €9 billion to support the development of a hydrogen economy as part of the country's Covid-19 recovery. Of that sum, €65m will go into an R&D and skills development program across research institutes, universities and engineering schools next year. The French government wants 6.5 GW of hydrogen generation capacity in place by 2030.
Also, in France, the aircraft manufacturer Airbus has released details of three hydrogen powered commercial aircraft designs which it intends to bring into service by 2035. Each design explores different technology pathways and aerodynamic configurations to achieve net zero.
The Belgian company John Cockerill is manufacturing electrolysers for the Taiwanese. Who knew Belgium even did this sort of thing and wasn't just the best chocolate maker in the world?
In Germany, Bosch will start producing fuel cell drive technology for heavy trucks in 2022-23. This in line with the German Government's recently announced hydrogen strategy, which also includes the ongoing roll out of hydrogen stations. More than 100 now, I believe.
In the US, Plug Power has teamed up with fuel logistics company Universal Hydrogen to develop a hydrogen fuel cell-based 2-megawatt propulsion system designed to power commercial regional aircraft.
Staying in the same country, the California Energy Commission is funding a programme to build 36 new hydrogen stations. Another 87 stations were also recommended for funding so that California could soon have 123 new hydrogen stations in total to expand its "early commercial light-duty hydrogen refuelling and fuel cell electric vehicle markets."
In Scandinavia, Norway is already a global leader in electrolyser manufacturing but fuel cell technology businesses there, in Denmark and in Sweden are developing fast. Norway is also one of a handful of countries involved in building marine fuel cell drive trains for ferries and other vessels.
What I've described here is just a fraction of what's now going on globally in relation to hydrogen. It is evolving rapidly into a position where it will soon displace large swathes of fossil fuel use.
Needless to say whilst there is some activity in the UK including gas grid trials, the development of a hydrogen central heating boiler by Worcester Bosch and an increase in international sales by the electrolyser manufacturer ITM Power, it is not anywhere close to the level of commitment and funding from some of our European and Scandinavian friends.
Scotland will introduce a hydrogen strategy in December this year and I hope it will be accompanied by an industrial strategy. Westminster hasn't yet introduced a strategy but "Hydrogen Strategy Now", a cross-industry campaign group that includes those well-kent UK companies Vattenfall, Siemens, Orsted and Uniper, said MPs and industry are "calling on the Government to move fast" to realise the hydrogen opportunity and "achieve the maximum economic benefit".
Can't see that happening myself but in Scotland there is the possibility that on the back of the Scottish Government strategy to finally get some semblance of an indigenous hydrogen technology manufacturing supply chain established before it's too late and the rest of the world leaves us in its wake again.
Dick Winchester is a member of the Scottish Government's energy advisory board
Recommended for you

Green hydrogen: a driver for success across the Highlands